This is the story of how a remarkable young immigrant from Ghana started his life in the US as a janitor and, along the way, founded two nonprofit organizations, garnered invitations to the White House, and ultimately achieved his dream of pursuing a career in neurosurgery.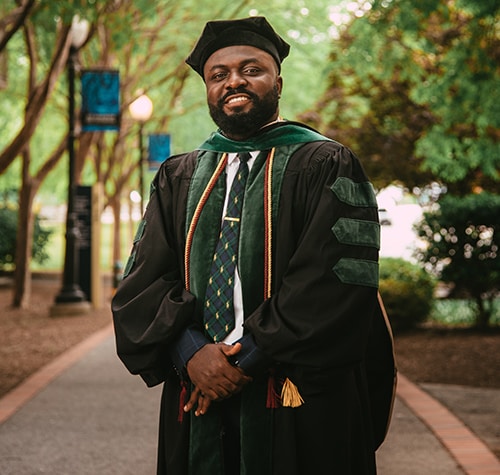 Dr Kwadwo Sarpong at his medical school graduation.
In 2010, Kwadwo "Kojo" Sarpong, MD, was working at what is now the Northside Hospital Gwinnett in Lawrenceville, Georgia, cleaning rooms and making beds when he began to consider a career in medicine.
The then 21-year-old Black man and recent immigrant from Ghana saw how his job led others to make assumptions about him. They figured he had wasted his life or spent time in prison, he said. Some asked what he had done wrong to end up in this position, while others dismissively pushed trash toward him.
Eventually, Sarpong began to ask the hospital's physicians about their jobs. Ultimately, a thoracic surgeon asked Sarpong about his educational goals and invited him to observe the medical staff at work.
Twelve years later, Sarpong has co-founded two nonprofit organizations, has been invited to the White House several times, and this past weekend graduated with an MD from Georgetown University School of Medicine in Washington, DC.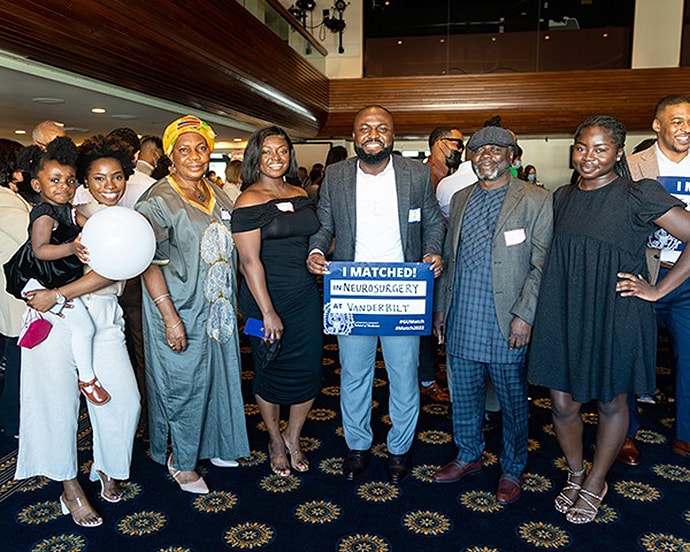 Match Day 2022, when Sarpong was accepted into the neurosurgical
training program at Vanderbilt University.
Sarpong told Medscape Medical News he hopes that sharing his story will inspire other underrepresented students to believe that they, too, can become physicians.
He also enjoys receiving messages through social media from people who have read about him. "They're like, 'Wow, I thought I would not be able to do this. But you inspired me that I should just keep pushing on'," he said.
Culture Shock, Racism
Born in 1988, Sarpong grew up in Kumasi, Ghana's second largest city, as the youngest of four boys. His mother, who was not allowed to attend school as a child, worked as a housekeeper. His father, whose education stopped in middle school, had a job working in security.
Sarpong studied business for a year at a university in Ghana. Then in 2009, after obtaining a visa through a lottery-based program, he immigrated to the United States. Other relatives had applied in the past without success. Passing up the opportunity was not an option, he said.
Sarpong moved to Atlanta because his father's nephew was willing to house him. The culture shock was immediate.
Based on music videos, TV shows, and rumors from home, Sarpong assumed that life in the US would be smooth sailing and that it would be easy to find a job and earn income. However, this was not the case. He was also shocked to encounter racism for the first time.
"In Ghana, there was nobody who was constantly reminding me that I'm Black," he said. "I came to the United States, where everything that you do is, 'Oh, yeah, he's a Black guy.' I was like, 'Wait, why is it strange in this country?' "
Wanting an education, he started exploring nearby colleges. However, the advice Sarpong received from the immigrant community, which turned out not to be true, was that he needed to work for a while to get into the tax system before attending school. Soon he had two jobs. He was a cashier at a retail store and worked in a warehouse.
Six months later, he switched to a job as a janitor at Northside Hospital Gwinnett. This is where Sarpong started shadowing doctors and began dreaming of a future in medicine.
After enrolling at a community college in the fall of 2011, Sarpong continued his custodial work at the hospital and stayed at this job even after transferring to Emory University in 2013, where he had to adjust to a more rigorous academic environment.
I came to the United States, where everything that you do is, 'Oh, yeah, he's a Black guy.' I was like, 'Wait, why is it strange in this country?'
Visits to the White House, Giving Back
In the summer after his first year at Emory, Sarpong was selected to work as a researcher in a program funded by the National Institutes of Health. That position allowed him to reduce his janitorial hours and inspired him to start his first nonprofit organization.
The African Research Academies for Women connects African women to paid research positions over the summer break at University of Ghana's Noguchi Medical Research Institute.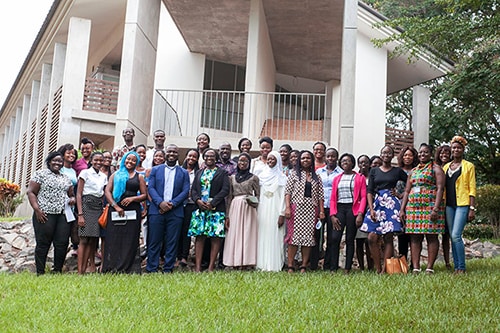 Sarpong and some of the alumni and faculty members in Ghana in 2017.
Sarpong's goal was to increase the number of African women in the fields of science, technology, engineering, and mathematics (STEM). So far, more than 60 students have completed the program and a mentorship initiative has served more than 300 students.
Starting the organization earned Sarpong an invitation to the White House in May 2014 — but he thought it was a scam and declined. When another invitation came a few months later, he accepted. The visit, he said, was surreal.
"I just could not believe that an immigrant who was barely 5 years in America would have such an invitation," Sarpong said.
In 2016, he returned as a speaker at the White House United State of Women Summit to discuss how empowering young women has the potential to drive economic growth. The speaker lineup that year also included Michelle Obama and Oprah Winfrey.
After graduating college, he ran the nonprofit for another 2 years until 2017 and then stepped back to continue his studies. The organization is still running and Sarpong serves on its board of directors.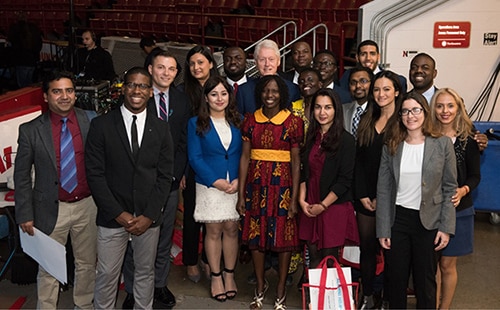 Sarpong next to former President Bill Clinton in 2017, when he received
an award through the Clinton Global Initiative.
In part, Sarpong credits his interest in neurosurgery to one of his brothers, who has paralysis and needs crutches and a wheelchair to get around. In Ghana, he said, neurologic conditions are stigmatized and their cause often attributed to "evil spirits."
"It is my goal to return to Ghana at various stages in my career armed with the knowledge and skills necessary to help disprove the cultural misinformation associated with neurological diseases," he said.
Sarpong's interest in the field of global neurosurgery spurred the creation of his second nonprofit — the Ghana Neurosurgical Alliance. He started this organization in 2020 with other Ghanaian physicians to grow the number of neurosurgeons in his home country.
He also founded an organization to mentor immigrant and Black undergraduates who want to go to medical school in the United States. Sarpong said he doesn't want them to have to figure it all out for themselves the way he had to.
My ultimate goal is to be able to let people who look like me or people who do not look like me to just read my story and get some level of inspiration from it.
Many of those struggles are still fresh, he said. After years of custodial work, he still helps make beds and clean floors at the hospital in between seeing patients. He makes sure to treat everyone with respect, knowing they have their own backstories. Inspiring others to believe they can become physicians is another priority.
"That is my ultimate goal: to be able to let people who look like me or people who do not look like me to just read my story and get some level of inspiration from it," Sarpong said.
Sarpong's journey highlights the major hurdles that inhibit diversity in neurosurgery, said Edjah Nduom, MD, a neurosurgeon at Emory University who mentored him in a summer research program during medical school.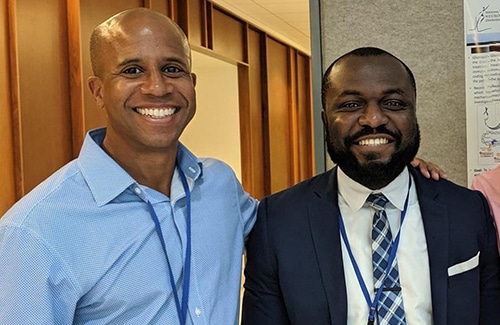 Dr Edjah Nduom with Sarpong.
The first Black neurosurgeon was board certified in 1953. Nevertheless, the field has remained one of the whitest subspecialties in medicine, Nduom told Medscape Medical News. In 2021, he co-authored a letter in the journal Neurosurgery as a call to action to increase Black representation in neurological surgery.
In 2018, fewer than 3.8% of 5645 active US neurosurgeons were Black. In 2019, 4.6% of residents training in the field identified as Black and as of 2020, there were just 13 Black women residents in neurosurgery.
This year, the number of Black first-year residents was 24 out of 240 — up from between 6 to 12 per year over the last decade, Nduom said. This increase may be a result of the 2021 founding of the American Society of Black Neurosurgery, but it's too soon to know if it's a trend, he added.
Sarpong overcame many obstacles through an exceptional combination of grit, resilience, optimism, persistence, an ability to connect with people, and luck, Nduom said.
However, he added, "his success does not mean that we don't still have to work to make the field more diverse, to make it more welcoming, to make sure that everybody truly does have an opportunity."
Breaking Barriers
Neurosurgeon Lola Chambless, MD, the residency program director for neurological surgery at Vanderbilt, where Sarpong will soon be attending, agrees that diversity is a priority in the field.
Fewer than 1% of neurosurgeons are Latinx or Native American, she told Medscape Medical News.
In addition, 2019 data show only about 9% of US neurosurgeons are female. Although the number of women in neurosurgical residency programs is growing, individuals from underrepresented groups are more likely to leave their training programs before finishing, Chambless said.
Nduom noted that patients benefit from diversity among clinicians. Black physicians are more likely to work with underserved populations and enroll more diverse participants in clinical trials, he said.
A lack of diversity has long kept talented people from underrepresented groups out of the field, Nduom said.
"You don't know what you can do if you don't see people that are similar to you having accomplished that path," he added.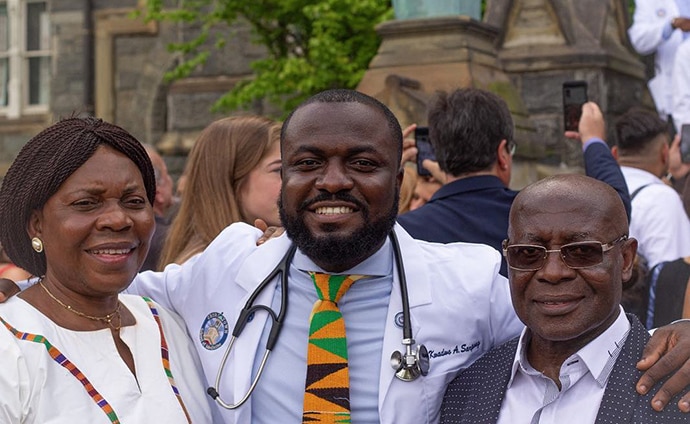 Sarpong and his parents at his White Coat Ceremony.
For more Medscape Neurology news, join us on Facebook and Twitter
Credits:
Lead Image: Georgetown SNMA
Image 1: Georgetown SNMA
Image 2: GUMC News
Image 3: African Research Academies for Women (ARA-W)
Image 4: Clinton Global Initiative
Image 5: Dr Kwadwo Sarpong
Image 6: GUMC News
Medscape Medical News © 2022 WebMD, LLC

Send news tips to news@medscape.net.
Cite this: Neurosurgeon in the Making: The Amazing Journey of Kwadwo Sarpong - Medscape - May 23, 2022.