Most doctors leave their jobs without a separation agreement. They resign, give the required notice, and leave at the appointed date. They may not need one if they left on good terms and had a comprehensive employment contract, say healthcare attorneys who advise doctors on employment.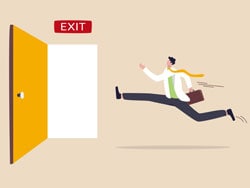 However, the lack of a separation agreement can harm many physicians' reputations and job prospects for years to come, making them wish they had obtained one.
A legal separation agreement covers the rights and obligations of the physician and employer after the employee leaves that go beyond each parties' termination rights that are described in the employment contract. The agreement can serve as a reminder of restrictive covenants, such as noncompete and nonsolicitation clauses, outstanding payments the physician owes, how patients will be notified, and the departure date.
The departing physician may also want to negotiate a separation agreement in which the employer pays for "tail insurance" coverage or that has a nondisparagement provision that limits what the employer can say about the physician to prospective employers.
"Protections need to be built into the separation agreement so, going forward, the doctor's reputation is not at the mercy of someone who may or may not like the doctor," says Charles Bond, Esq, founder and senior attorney at Physicians' Advocates in Lafayette, California. The problems typically arise when a potential new employer calls a candidate's former employer for a reference.
Bond described a scenario that involved a highly trained physician client who was being repeatedly rejected by employers despite having had great interviews. (He didn't name the physician, owing to attorney-client confidentiality.)
"We traced the problem to a former employer with whom she had no separation agreement but who was disclosing complaints that three members of the office staff had made against her," says Bond.
The doctor didn't know that the complaints were included in her personnel records and the medical staff file and were being disclosed to prospective employers.
"The process of negotiating a separation agreement would have rooted out the problem before she lost out on several great employment opportunities," says Bond.
Physicians can also protect their reputation by including nondisparagement provisions in a separation agreement, says Jeff Segal, MD, JD, founder and CEO of Medical Justice.
The provision can spell out exactly what the human resources department or a supervisor can say and how much information they can provide. The reference can be limited to employment dates or a neutral-sounding reference letter, says Segal.
Nondisparagement Falls Short
But to be effective, those provisions need to be specific, says Ericka Adler, JD, a partner at Roetzel & Andress, in Chicago, Illinois. Otherwise, an employer may still divulge negative information to a prospective employer.
Elisa Gallo, MD, a dermatologist, thought she had covered her bases when she left Mayo Clinic in Wisconsin to pursue another job. She had hired an attorney to write a separation agreement with two nondisparagement provisions that Mayo Clinic agreed to: they would destroy her personnel records and provide "neutral" reference letters, according to court documents. Mayo Clinic declined to comment on Gallo's court case.
When Gallo was offered a new job at Refuah Clinic, which is affiliated with Mount Sinai Hospital in New York, the offer was contingent on a credentialing form, which was sent to Mayo Clinic. Her former supervisor gave her positive ratings except in two categories in which he rated her as "fair."
Refuah Clinic rescinded the job offer, and Gallo sued Mayo Clinic for allegedly breaching the separation agreement. Gallo lost the case because the judge ruled that the credentialing form wasn't specifically mentioned in the separation agreement and that Gallo had not provided proof that that was the reason the job offer had been rescinded, the court documents state.
Bond says, "We cover the credentialing process in separation agreements whether we are representing the medical group or the doctor. We want to establish a script and often a reference letter based on a mutual understanding of what would be said and who will say it. We try to work out the language in advance so the doctor isn't looking over his or her shoulder after leaving," says Bond.
The agreement requires the employer to respond to inquiries, including a credentialing form, in a manner that's consistent with the agreed upon script, adds Bond.
Employers Want Separation Agreements
Employers may initiate separation agreements with doctors when they want to cover details that were not in the employment contract. These typically include the physician's departure dates, how patients will be notified, and money the physician may owe the practice, such as signing bonuses, advances, relocation allowances, and prepaid expenses, such as malpractice premiums, license fees, and conference fees, says Adler.
"Doctors leaving a practice sometimes feel that they are abandoning patients and that they should tell patients where they're going. Separation agreements can include scripts on how to inform patients of their departure and where they are going; it depends on the contract that was signed and any deal that was made and relevant state laws," she says.
When the relationship with a doctor has soured, an employer may want to speed up the physician's departure by waiving a long notice period that the employment contract requires, says James Wall, JD, a partner at Waldrep Wall Babcock & Bailey in Winston-Salem, North Carolina. They may offer to pay the doctor a lump sum equivalent to their salary for that period, plus 1 month's pay, he adds.
If "tail insurance" coverage isn't listed as the employer's responsibility in the employment contract, Wall recommends that doctors ask their employers to cover it in the separation agreement to avoid having to pay for it themselves.
What Doctors Can Negotiate
Segal says most doctors have less leverage on their way out than on their way in, when everyone was optimistic about the relationship. They should be prepared to give up something in return to get what they want.
Employers want to avoid lawsuits, so the biggest leverage doctors have when they negotiate is releasing the employer from future claims, says Wall. That assumes that they are not planning to file a lawsuit for discrimination or breach of contract.
"If the employee agrees to that, they will be given more consideration faster," says Wall. Doctors may get better severance packages or less restrictive noncompete agreements, he adds.
If the doctor has not yet been board certified and is collecting cases, Adler includes language in a separation agreement that the employer will cooperate in allowing the doctor full access to cases and sign off on any documents needed for the boards.
"I have had employers refuse to do this in the past and just ruin a doctor's trajectory," she says.
Another potential area of dispute is over who owns the doctors' social media accounts when they leave a practice. Adler mentioned a doctor who was using her personal social media account to promote the practice, and most of the followers on that account were patients for the practice.
That question was settled in a separation agreement when the practice agreed to buy the account from the doctor who was leaving, says Adler.
The time to start thinking about how you will leave a job is when you start a job, say healthcare attorneys. Ideally, post-employment issues such as "tail insurance" and access to patient records are covered in a comprehensive employment agreement. But no one can anticipate that a relationship will sour or that they will be terminated, and the best way to protect your reputation is to have a legal separation agreement.
Christine Lehmann, MA, is a senior editor and writer for Medscape Business of Medicine based in the DC area. She has been published in WebMD News, Psychiatric News, and The Washington Post. Contact Christine at clehmann@medscape or via Twitter @writing_health.
For more news, follow Medscape on Facebook, Twitter, Instagram, and YouTube.
Credits:
Images: Medscape Illustration/Dreamstime
Medscape Medical News © 2022

Cite this: Christine Lehmann. How a Separation Agreement Could Save Your Career - Medscape - May 20, 2022.