In April, the Iowa Supreme Court dismissed a knotty claim against a local doctor and hospital accused of concealing a woman's renal cancer, according to a story in the Iowa Capital Dispatch, among other news outlets.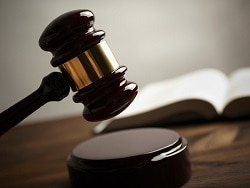 In 2004, Linda Berry visited Mercy Medical Center in Cedar Rapids for an unspecified ailment. At the hospital, Berry underwent a CT scan, which revealed a benign cyst on her right kidney. According to the suit later filed by her family, she was not informed about the growth during this visit — nor during four successive visits to the same hospital over the next decade.
The first of these four visits occurred in 2006, when Berry was again seen at Mercy, this time for a urinary tract infection. Despite undergoing a second renal scan, Berry was not informed of the mass on her right kidney.
Three years later, in October 2009, she arrived with her daughter at the Mercy emergency department (ED) complaining of abdominal pain. She was examined by Paul Grossmann, MD, a general surgeon. Berry underwent an abdominal scan that showed her renal abnormality. Grossmann diagnosed her as having constipation and released her from the ED. According to the family, he made no mention of the mass on her right kidney.
En route home, however, Berry and her daughter received a call from a resident under Grossmann's supervision. Returning to the hospital, Berry learned that her constipation was actually colitis. She was prescribed an antibiotic and was again released from the ED. Her post-release instructions made no mention of the now larger mass on her kidney.
Two days later, still complaining of abdominal pain, Berry returned to the Mercy ED. Examined by another ED doctor, she underwent a fourth CT scan, which also showed the kidney mass. A radiology report urged Grossmann, her previous physician, to pursue the matter in order to rule out renal cancer. Grossmann followed up with Berry's primary care doctor. In doing so, though, he mentioned only the patient's ongoing colitis, not her kidney mass, according to the plaintiffs' claim.
In 2016, following a fall, Berry returned yet again to the Mercy ED, this time with a broken arm. During her treatment, she underwent a fifth CT scan, which revealed the same kidney mass. This time, though, a discharge nurse mentioned the abnormality to Berry — allegedly the first time in more than a decade that a medical professional had alerted her to the potential problem.
The alert may have been too late, however. Berry was diagnosed shortly thereafter with metastatic renal cell carcinoma. She died on May 22, 2019.
Before her death, Berry filed a suit against Grossmann, Mercy, and its parent company, Catholic Health Initiatives. After her death, her family continued her claim.
By this point, more than a decade had passed since the alleged medical negligence first occurred. This time frame placed the Berry family's claim outside of Iowa's 6-year statute of limitations. Citing this fact, Grossmann, Mercy, and Catholic Health Initiatives sought to have the suit dismissed.
But Berry's family stood its ground: Noting that the statute permitted an exception in cases in which the original negligence had been fraudulently concealed, the family argued that its suit move forward.
They encountered a roadblock, however, in district court, which ruled that the plaintiffs had failed to identify the alleged fraudulent concealment as separate from the alleged acts of medical negligence, which the 6-year filing exception required. Having failed in their claim to distinguish concealment from medical negligence, the plaintiffs would not be allowed to proceed with their suit.
The Berry family then asked the Iowa Court of Appeals to review the district court decision. In its review, the appeals court found that the lower court had erred when it disallowed the suit from moving forward. The Berry suit would once again be permitted to continue.
And that's where matters stood until late last month, when the Iowa Supreme Court weighed in, stating: "The liability-producing conduct was Grossmann's alleged failure to disclose to Berry the concerning findings on her CT scan.... But the plaintiffs then rely on these same acts...as his acts of concealment," which were simply "successive occasions" on which he was said to have acted negligently.
In light of this, argued the high-court justices, the Berry case effectively hinged not on allegations of fraudulent concealment but of medical negligence. And since the state's statute of limitations was explicit in indicating that such negligence suits had to be brought within the 6-year filing deadline, the lower-court ruling stood, and the Berry case was dismissed.
The content contained in this article is for informational purposes only and does not constitute legal advice. Reliance on any information provided in this article is solely at your own risk.
Wayne J. Guglielmo, MA, is an independent journalist based in Mahwah, New Jersey.
For more news, follow Medscape on Facebook, Twitter, Instagram, and YouTube.
Credits:
Lead image: iStock/Getty Images
Medscape Business of Medicine © 2022

Cite this: Wayne J. Guglielmo. Doctor Accused of 'Fraudulent Concealment' Can't Be Held Liable - Medscape - May 18, 2022.