BOSTON — Though hydroquinone, retinoids, steroids, and triple combination cream remain gold standards for the topical treatment of melasma, new synthetic and botanical topicals are emerging as adjuvant and alternative treatments, according to Nada Elbuluk, MD, MSc.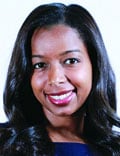 One such agent is topical tranexamic acid, an antifibrinolytic medication that inhibits plasminogen activator from converting plasminogen in epidermal basal cells and keratinocytes to plasmin. "What makes tranexamic acid exciting is that it's not just targeting melanogenesis; it's also targeting the vascular component of melasma," Elbuluk, director of the University of Southern California Skin of Color Center and Pigmentary Disorders Program, said at the annual meeting of the American Academy of Dermatology. "We really don't have any topical agents that are doing that."
Topical tranexamic acid is available in cream and solution formulations ranging from 2% to 5%. It has been studied in different drug delivery carriers (liposomal, liquid crystalline nanoparticle, and glycol co-enhancer carriers), has been combined with other lightening agents, and has been found to reduce Melasma Area and Severity Index (MASI) scores and reduce melanin while also improving erythema. "That's where it really stands out from hydroquinone and triple combination cream," Elbuluk said.
One study of patients with melasma found that topical tranexamic acid can decrease the number of CD31-positive vessels and expression of vascular endothelial growth factor (VEGF), and downregulated endothelin-1.
"Compared to hydroquinone, some studies have found a similar efficacy; others have found it inferior," she continued. "But none of our patients can be on hydroquinone yearlong, so you have to bring in other agents that are efficacious. This is why you could consider having patients on topical tranexamic acid at different times of the year. It can cause some irritation for patients, but overall, it's pretty well tolerated, and patients are often very happy with the overall improvement in the texture and appearance of their skin."
Another emerging option, flutamide, is an anti-androgenic agent used topically and orally to treat acne, hirsutism, and hair loss. "It has not been excessively studied for melasma, but it may improve the condition through modifying alpha-MSH [alpha melanocyte-stimulating hormone] or cAMP [cyclic adenosine monophosphate] agents that play a role in melanin synthesis," Elbuluk said. A randomized, controlled trial of 74 women with melasma treated with 1% flutamide vs. 4% hydroquinone showed a significant improvement in the MASI score and patient satisfaction but no difference in the mexameter melanin assay results.
"We need more data, but I think this is the right approach for us to start thinking about different factors that are addressing all of the components of the pathogenesis of melasma," she said.
Other synthetic topicals that are being used or studied for melasma include N-acetyl glucosamine, linoleic acid, pidobenzone, methimazole, metformin, magnolignan, N-acetyl-4-S-cysteaminylphenol, dioic acid, melatonin, and silymarin.
Botanicals
Botanically-derived topicals for melasma are also being evaluated, including niacinamide, an anti-inflammatory agent that inhibits melanosome transfer to keratinocytes. Niacinamide decreases mast cell infiltrate and solar elastosis and enhances the epidermal barrier.
The antioxidants ascorbic acid (vitamin C) and zinc are also being studied. Ascorbic acid has photoprotective effects, inhibits tyrosinase, and promotes collagen synthesis. "One of the challenges with vitamin C is that it's not very stable and it has limited permeability and bioavailability in the skin," Elbuluk said. Zinc, meanwhile, boasts anti-inflammatory, photoprotective, and exfoliative properties and is a cofactor in wound healing.
Other botanical lightening agents being studied, in addition to silymarin, include arbutin, aloe vera, bakuchiol, soy, Ananas comosus (pineapple), parsley, Bellis perennis (daisy), mulberry extract, ellagic acid, gentisic acid, cinnamic acid, Hippophae rhamnoides (sea buckthorn), Cassia fistula extracts, licorice root extract, lignin peroxidase, and Polypodium leucotomos.
"I do think there really is a place for these in our therapeutic armamentarium, but we need more studies," she said. "There aren't many randomized, controlled studies looking at these agents specifically." A recent systematic review on the efficacy and safety of topical therapy with botanical products for treating melasma included 12 trials composed of 695 patients from seven countries. The authors concluded that the trials lacked sufficient pooled evidence on efficacy and safety. However, many of the studies showed that these agents did improve melasma and MASI scores.
Platelet-Rich Plasma
Platelet-rich plasma (PRP) is being used as monotherapy and adjuvant therapy for melasma. "It's believed to release platelet-derived growth factors, which can affect collagen synthesis," Elbuluk explained. "It also has effects on TGF-B1 [transforming growth factor-beta 1], which inhibits melanin synthesis and epidermal growth factor, which has a downstream effect on lowering melanin production."
A 2021 systematic review of 10 studies involving 395 adults with melasma found that PRP plus microneedling was most efficacious compared with PRP alone or combined with intradermal injection.
A separate systematic review of seven trials evaluating PRP for melasma found that most studies showed moderate improvements in melasma, which led the researchers to assign a moderate grade recommendation to PRP for melasma.
"I think we need more studies, but you may see PRP being used more commonly for melasma," Elbuluk said. "The reality with melasma is that you are rarely using just one agent. Combination therapies are often superior to monotherapies in efficacy." Combination therapy does not include just topicals, she added, but consideration of topicals with procedural modalities "and figuring out what your patient can tolerate and what they can afford."
Since melasma is a chronic condition, "you want to emphasize to your patients that there is no cure for melasma. We are constantly trying to keep it in remission and keep it in control. That's an active process."
Other Emerging Topical Therapies
Meanwhile, researchers continue to evaluate new targets for emerging treatments including a topical combination of an anti-estrogen with a VEGF inhibitor. In a separate pilot study of six women with melasma, investigators described treatment success with a novel combination of 12% hydroquinone, 6% kojic acid, and 5% vitamin C cream. "It's the right thinking, combining different factors that address different aspects of pathogenesis of melasma," Elbuluk said.
The mode of topical drug delivery also plays a role in treatment success. For example, she said, liposomal formulations have been found to enhance drug delivery and skin permeation and to improve the moisturizing effect, stability, and tolerability.
Elbuluk disclosed that she is a consultant for Avita, Scientis, VisualDx, Zosana, Incyte, La Roche-Posay, and Beiersdorf. She is an advisory board member for Allergan, Galderma, Incyte, and Janssen.
This article originally appeared on MDedge.com, part of the Medscape Professional Network.
Credits:
Lead image: DermnetNZ
Image 1: Dr. Nada Elbuluk
Medscape Medical News © 2022 WebMD, LLC

Cite this: Synthetic, Botanical Agents Emerging as Promising Melasma Treatments - Medscape - May 17, 2022.