BOSTON – As a former active-duty cavalry officer in the U.S. Army who served a 15-month tour in Iraq in 2003, Adam C. Byrd, MD, isn't easily rattled.
On any given day, as the only dermatologist in his hometown of Louisville, Miss., which has a population of about 6,500, he sees 35-40 patients who present with conditions ranging from an infantile hemangioma to dermatomyositis and porphyria cutanea tarda. Being the go-to specialist for hundreds of miles with no on-site lab and no immediate personal access to Mohs surgeons and other subspecialists might unnerve some dermatologists, but not him.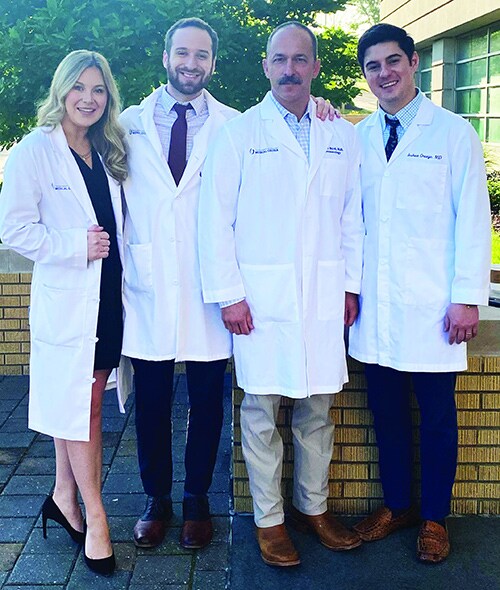 Dr Adam Byrd (third from left) poses with University of Mississippi Medical Center rural dermatology residents Dr Hannah Badon, Dr Ross Pearlman, and Dr Joshua Ortego.
"They're a text message away, but they're not in my office," he said during a session on rural dermatology at the annual meeting of the American Academy of Dermatology. "I don't have a mid-level practitioner, either. It's just me and the residents, so it can be somewhat isolating. But in a rural area, you're doing your patients a disservice if you can't handle broad-spectrum medical dermatology. I consider myself a family dermatologist; I do a little bit of everything." This includes prescribing treatments ranging from methotrexate for psoriasis, psoriatic arthritis, eczema, and other conditions; cyclosporine and azathioprine for pediatric eczema; propranolol for infantile hemangiomas; to IV infusions for dermatomyositis; phlebotomy for porphyria cutanea tarda; and biologics.
With no on-site pathology lab, Byrd sends specimens twice a week to the University of Mississippi Medical Center in Jackson via FedEx to be read. "I have to wait 3 days for results instead of 2," he said. At the end of each workday, he personally carries microbiology samples to Winston Medical Center in Louisville – the area's only hospital and where he was born – for processing.
After completing a 5-year integrated internal medicine-dermatology residency at the University of Minnesota in 2016, Byrd worked with Robert T. Brodell, MD, who chairs the department of dermatology at UMMC, and other university officials to open a satellite clinic in Louisville, where he provides full-spectrum skin care for Northern Mississippians. The clinic, located about 95 miles from UMMC's "mothership" in Jackson, has become a vital training ground for the university, which created the only rural-specific dermatology residency of the 142 accredited dermatology programs in the United States. Of the three to four residents accepted per year, one is a rural track resident who spends 3-month–long rotations at rural clinic sites such as Byrd's during each of the 3 years of general dermatology training, and the remaining 9 months of each year alongside their non–rural track coresidents.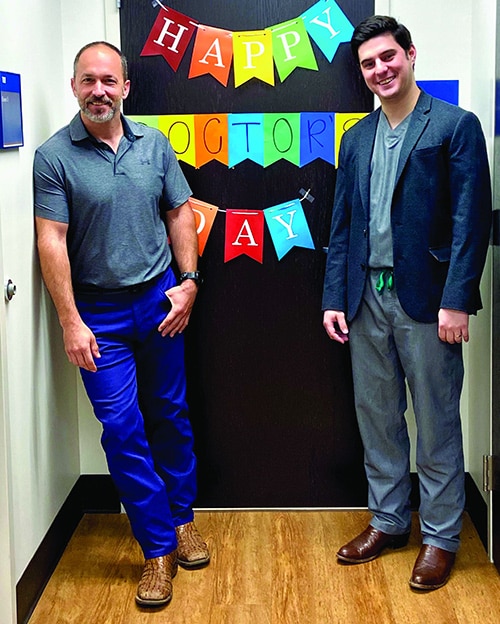 Dr Adam Byrd (left) and Dr Joshua Ortego on National Doctor's Day at the dermatology clinic in Louisville, Miss.
One of the program's rural track residents, Joshua R. Ortego, MD, worked in Byrd's clinic during PGY-2. "It's unique for one attending and one resident to work together for 3 months straight," said Ortego, who grew up in Bay St. Louis on the Gulf Coast of Mississippi, which has a population of about 9,200. "Dr Byrd learns our weaknesses and knows our strengths and areas for improvement. You get close. And there's continuity; you see some patients back. With all the shuffling in the traditional dermatology residency model, sometimes you're not seeing patients for follow-up appointments. But here you do."
Rural dermatology track residents who rotate through Byrd's Louisville clinic spend each Monday at the main campus in Jackson for a continuity clinic and didactics with non–rural track residents, "which allows for collegiality," Ortego said. "My coresidents are like family; it would be hard to spend 3 months or even a year away from family like that." The department foots the cost of lodging in a Louisville hotel 4 nights per week during these 3 months of training.
Ortego said that he performed a far greater number of procedures during PGY-2, compared with the averages performed in UMMC's general dermatology rotation: 75 excisions (vs. 17), 71 repairs (vs. 15), and 23 excisions on the face or scalp (vs. none). He also cared for patients who presented with advanced disease because of access issues, and others with rare conditions. For example, in one afternoon clinic he and Byrd saw two patients with porphyria cutanea tarda, and one case each of dermatomyositis, bullous pemphigoid, and pyoderma gangrenosum. "We have an autoimmune blistering disease clinic in Jackson, but patients don't want to drive there," he said.
Then there are the perks that come with practicing in a rural area, including ready access to hiking, fishing, hunting, and spending time with family and friends. "Rural residents should be comfortable with the lifestyle," he said. "Some cities don't have the same amenities as San Francisco or Boston, but not everyone requires that. They just love where they're from."
The residency's structure is designed to address the dire shortage of rural-based dermatologists in the United States. A study published in 2018 found that the difference in dermatologist density between metropolitan and rural counties in the United States increased from 3.41 per 100,000 people (3.47 vs. 0.065 per 100,000 people) in 1995 to 4.03 per 100, 000 people (4.11 vs. 0.085 per 100,000 people in 2013; P = .053. That's about 40 times the number of dermatologists in metro areas, compared with rural areas.
Residents enrolled in UMMC's rural dermatology track are expected to serve at least 3 years at a rural location upon graduation at a site mutually agreed upon by the resident and the UMMC. Ortego plans to practice in Bay St. Louis after completing his residency. "The idea is that you're happy, that you're in your hometown," he said.
According to Byrd, the 3-year commitment brings job security to rural track residents in their preferred location while meeting the demands of an underserved population. "We are still tweaking this," he said of the residency track, which includes plans to establish more satellite clinics in other areas of rural Mississippi. "Our department chair does not have 100% control over hiring and office expansion. We are subject to the Mississippi Institutions of Higher Learning, which is a branch of the state government. This has to be addressed at the council of chairs and university chancellor level and even state government. It can be done, but you really must be dedicated."
Meanwhile, the effect that dermatologists like Byrd have on citizens of his area of rural Mississippi is palpable. Many refuse to travel outside of Louisville city limits to see a specialist, so when surgery for a suspicious lesion is indicated, they tell him, "You're going to do it, or it's not going to get done," said Byrd, who continues to serve in the Mississippi Army National Guard as a field surgeon. "I don't say 'no' a whole lot." He refers patients to Mohs micrographic surgery colleagues in Jackson daily and is transparent with patients who hesitate to elect Mohs surgery. "I'll say, 'I can do the job, but there's a higher risk of positive margins, and a Mohs surgeon could do a much better job.'"
He acknowledged that rural dermatology "isn't for everyone. It requires a physician that has a good training foundation in medical and surgical dermatology, someone with a 'can do' attitude and a healthy level of confidence. I try to do the best for my patients. It's endearing when they trust you."
Mary Logue, MD, who practices dermatology in Minot, N.D., finds the structure of UMMC's rural dermatology track inspiring. Upon completing her dermatology residency at the University of New Mexico, where she remains on the volunteer faculty, she had hoped to return to serve the community of Gallup, N.M., and help bridge the gap in dermatology health care access for residents of rural New Mexico, especially those on Native American reservations. That opportunity never transpired, but Logue was able to pursue her passion for rural medicine in North Dakota.
"It is my hope that more programs will implement a similar structure to UMMC's rural dermatology track and get more dermatologists practicing in rural areas," Logue told this news organization. "They have developed a very practical and financially sustainable model, which I think every state could benefit from."
She added that the UMMC "has found a way to bring dermatology to disadvantaged rural communities while also addressing the problem of underrepresented minorities in medicine. Medical students of color and medical students from rural communities are the least represented groups in dermatology, but the most likely to return to their communities to practice. Every day I see patients with adverse dermatologic outcomes as a direct result of lack of access to a dermatologist. This is happening across the country, which is why the efforts of UMMC Dermatology and their department chair, Dr Brodell, are so important."
This article originally appeared on MDedge.com, part of the Medscape Professional Network.
Credits:
Lead Image: Tetra Images/Getty Images
Images 1 & 2: Dr Adam Byrd
Medscape Medical News © 2022 WebMD, LLC

Cite this: Unique Dermatology Residency Track Focuses on Rural Placement of Graduates - Medscape - May 11, 2022.