Madhu Manivannan, a third-year student at Emory School of Medicine, is on the vanguard of a new approach to clinical education. Manivannan, co-president of Emory Medical Students for Climate Action, was in the first class of Emory's medical students to experience the birth of a refined curriculum ― lobbied for and partially created by students themselves. The new course of study addresses the myriad ways climate affects health: from air pollution and its effects on the lungs and cardiovascular system to heat-related kidney disease.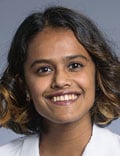 "We have known that climate has affected health for decades," Manivannan said in a recent interview. "The narrative used to be that icebergs were melting and in 2050 polar bears would be extinct. The piece that's different now is people are linking climate to increases in asthma and various diseases. We have a way to directly communicate that it's not a far-off thing. It's happening to your friends and family right now."
Hospitals, medical schools, and public health programs are stepping up to educate the next generation of doctors as well as veteran medical workers on one of the most widespread, insidious health threats of our time ― climate change ― and specific ways it could affect their patients.
Although climate change may seem to many Americans like a distant threat, Marilyn Howarth, MD, a pediatrician in Philadelphia, is trying to make sure physicians are better prepared to treat a growing number of health problems associated with global warming.
"There isn't a lot of education for pediatricians and internists on environmental health issues. It has not been a standard part of education in medical school or residency training," Howarth, deputy director of the new Philadelphia Regional Center for Children's Environmental Health, said. "With increasing attention on our climate, we really recognize there's a real gap in physician knowledge, both in pediatric and adult care."
Scientists have found that climate change can alter just about every system within the human body. Studies show that more extreme weather events, such as heat waves, thunderstorms, and floods, can worsen asthma and produce more pollen and mold, triggering debilitating respiratory problems.
According to the American Lung Association, ultrafine particles of air pollution can be inhaled and then travel throughout the bloodstream, wreaking havoc on organs and increasing risk of heart attack and stroke. Various types of air pollution also cause changes to the climate by trapping heat in the atmosphere, which leads to problems such as rising sea levels and extreme weather. Plus, in a new study published in Nature, scientists warn that warming climates are forcing animals to migrate to different areas, raising the risk that new infectious diseases will hop from animals ― such as bats ― to humans, a process called "zoonotic spillover" that many researchers believe is responsible for the COVID-19 pandemic.
The Philadelphia Regional Center for Children's Environmental Health
One of the latest initiatives aimed at disseminating information about children's health to healthcare providers is the Philadelphia Regional Center for Children's Environmental Health (PRCCEH), part of Children's Hospital of Philadelphia (CHOP) and Penn Medicine. CHOP and Penn Medicine are jointly funding this center's work, which will include educating healthcare providers on how to better screen for climate-caused health risks and treat related conditions, such as lead poisoning and asthma.
Outreach will focus on providers who treat patients with illnesses that researchers have linked to climate change, Howarth said. The center will offer clinicians access to seminars and webinars, along with online resources to help doctors treat environmental illnesses. For example, doctors at CHOP's Poison Control Center are developing a toolkit for physicians to treat patients with elevated levels of lead in the blood. Scientists have linked extreme weather events related to climate change to flooding that pushes metals away from river banks where they were previously contained, allowing them to more easily contaminate homes, soils, and yards.
The initiative builds on CHOP's Community Asthma Prevention Program (CAPP), which was launched in 1997 by Tyra Bryant-Stephens, MD, its current medical director. CAPP deploys community health workers into homes armed with supplies and tips for managing asthma. The new center will use similar tactics to provide education and resources to patients. The goal is to reach as many at-risk local children as possible.
Future Generation of Doctors Fuel Growth in Climate Change Education
Lisa Doggett, MD, co-founder and president of the board of directors of Texas Physicians for Social Responsibility, announced in March that the Dell Medical School at the University of Texas at Austin, Baylor College of Medicine in Houston, and the University of Texas Southwestern in Dallas have all decided to begin offering a course on environmental threats. Emory's new curriculum has become more comprehensive every year since its start ― thanks in part to the input of students like Manivannan. Faculty members tasked her with approving the new additions to the curriculum on how climate affects health, which in 2019 had consisted of a few slides about issues such as extreme heat exposure and air pollution and their effects on childbirth outcomes.
Material on climate change has now been woven into 13 courses. It is discussed at length in relation to pulmonology, cardiology, and gastropulmonology, for example, said Rebecca Philipsborn, MD, MPA, FAAP, faculty lead for the Environmental and Health Curriculum at Emory.
The curriculum has only been incorporated into Emory's program for the past 2 years. Philipsborn said the school plans to expand it to the clinical years to help trainees learn to treat conditions such as pediatric asthma.
"In the past few years, there has been so much momentum, and part of that is a testament to already seeing effects of climate change and how they affect delivery of healthcare," she said.
At least one medical journal has recently ramped up its efforts to educate physicians on the links between health issues and climate change. Editors of Family Practice, from Oxford University Press, have announced that they plan to publish a special Climate Crisis and Primary Health Care issue in September.
Of course, not all climate initiatives in medicine are new. A select few have existed in obscurity for decades.
But only now are physicians widely seeing the links between health and environment, according to Aaron Bernstein, MD, MPH, interim director of the Center for Climate, Health, and the Global Environment at Harvard T. H. Chan School of Public Health (C-CHANGE), Boston.
C-CHANGE, founded in 1996, was the first center in the world to focus on the health effects of environmental change.
"It's taken 20 years, but what we're seeing, I think, is the fruits of education," Bernstein said. "There's clearly a wave building here, and I think it really started with education and people younger than the people in charge calling them into account."
Like the Philadelphia center, Harvard's program conducts research on climate and health and educates people from high schoolers to healthcare veterans. Bernstein helps lead Climate MD, a program that aims to prepare healthcare workers for climate crises. The Climate MD team has published several articles in peer-reviewed journals on how to better treat patients struggling with environmental health problems. For example, an article on mapping patients in hurricane zones helped shed light on how systems can identify climate-vulnerable patients using public data.
They also developed a tool to help pediatricians provide "climate-informed primary care" ― guidance on how to assess whether children are at risk of any harmful environmental exposures, a feature that is not part of standard pediatric visits.
Like the other programs, Climate MD uses community outreach to treat as many local patients as possible. Staff work with providers at more than 100 health clinics, particularly in areas where climate change disproportionately affects residents.
The next major step is to bring some of this into clinical practice, Bernstein said. In February 2020, C-CHANGE held its first symposium to address that issue.
"The key is to understand climate issues from a provider's perspective," he said. "Then those issues can really be brought to the bedside."
For more news, follow Medscape on Facebook, Twitter, Instagram, and YouTube.
Credits:
Lead image: Ig0rzh/dreamstime
Medscape Medical News © 2022

Cite this: Lindsay Kalter. Medical Education Programs Tell How Climate Change Affects Health - Medscape - May 10, 2022.