SAN DIEGO – Lasers can be used to safely and effectively remove permanent eyebrow and eyelid tattoos in patients with Fitzpatrick skin types I–V, results from a single-center retrospective study showed.
There is a market for these types of cosmetic tattoos today, "and a need for removal," David Orbuch, MD, MBA, said during a clinical abstract session at the annual meeting of the American Society for Laser Medicine and Surgery.
Orbuch, a fellow at the Laser & Skin Surgery Center of New York, and his colleagues retrospectively reviewed the charts of 57 adults who underwent laser tattoo removal of eyebrow and eyelid tattoos at the center from January 2018 to December 2021. Data recorded included demographics, site location, initial parameters, colors treated, and clinical safety and efficacy. The mean age of the patients was 46 years, 98.8% were female, 50.9% were Fitzpatrick skin type I-II, and the remainder were types III-V.
Among the most common sites treated were the bilateral eyebrows (35%). Other common sites were the upper eyelids (21.1%), the lower eyelids (10.5%), and both the upper and lower eyelids (12%). Each patient underwent an average of 2.5 treatments (range, 1-11). The most common lasers used were a 755-nm picosecond laser (79%), a high‐power 1,064-nm picosecond laser (12.3%), a high‐power 532-nm picosecond laser (3.5%), and a 10,600-nm carbon dioxide laser (1.7%). The most common tattoo colors were black (94.7%), the far most common, followed by red (3.5%), and yellow (1.7%).
For removal of black tattoos, the most common treatment parameters for the 755 picosecond laser were a 2.5-mm spot size and a fluence of 3.36 J/cm2. For the 1,064-nm picosecond laser, the most common treatment parameters were a 2-mm spot size and a fluence of 4 J/cm2.
For removal of red tattoos, the most common treatment parameters for the 532-nm picosecond laser were a 3.3-mm spot size and a fluence of 2 J/cm2. For the 10,600-nm CO2 laser, the most common treatment parameters were a spot size of 7 mm and a fluence of 28.2 J/cm2.
As for removal of yellow tattoos, the most common treatment parameters with the 532-nm picosecond laser were a 3.3-mm spot size and a fluence of 0.5 J/cm2.
There were no documented cases of scarring, eyelash/eyebrow loss, necrosis, burns, prolonged erythema, prolonged swelling, or prolonged dyspigmentation noted.
"With all of these treatments, you can get a great effect, but you have to do it safely," Orbuch said. "With all of these wavelengths, the 1,064 nm especially, there can be serious eye damage if done improperly," he added. "As such, placement of the metallic eye shields is important. If they're not properly placed, they can fall out. Make sure you are comfortable using these shields before doing these treatments."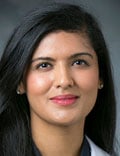 Pooja Sodha, MD, director of the Center for Laser and Cosmetic Dermatology at George Washington University, Washington, who was asked to comment on the study, said that cosmetic tattoos pose treatment challenges for several reasons. First, "there can be variability in the composition of the pigments since they are often tailored to fit the location and complexion of the patient," she said. "Second, there can be placement of multiple layers of tattoo pigment to provide the final effect. Third, the pigment may contain two metal oxides (titanium dioxide and ferric oxide), which are often used to calibrate skin tone colors."
Unfortunately, she noted, "these metal oxides are prone to reduction reactions with laser exposure, causing paradoxical darkening of tattoo pigment. In the past, these darker colors were treated with continued laser therapy and even fractional or fully ablative CO2/Er:YAG resurfacing."
Sodha noted that prior studies have shown picosecond lasers to be effective cosmetic lasers, "and this study further supports this with a larger cohort of patients who were treated with the array of picosecond wavelengths (532, 755, and 1,064 nm) without long-term sequelae. Interestingly, there did not appear to be long-term sequelae with dyspigmentation or paradoxical darkening, with fewer than 2% necessitating treatment with a carbon dioxide laser."
Neither Orbuch nor Sodha reported having financial disclosures.
This article originally appeared on MDedge.com, part of the Medscape Professional Network.
Credits:
Lead image: Pongmoji/Dreamstime
Image 1: Duke Photography
Medscape Medical News © 2022 WebMD, LLC

Cite this: Removing Eyebrow, Eyelid Tattoos Possible With Laser, Case Series Finds - Medscape - May 06, 2022.