CHICAGO – Geno Merli, MD, associate chief medical officer at Thomas Jefferson University Hospital, Philadelphia, and long-time hospital medicine expert, recalled a recent situation at his center, during a panel discussion.
It involved a 70-year-old man who had a history of prostate cancer, obstructive sleep apnea, and hernias. In January, he had a surgery for hernia repair. On the 3rd day after the procedure, he was transferred to the hospital medicine service at about 9 p.m. and was on a patient-controlled pump for pain and had abdominal drains. Because of the extensive surgery and because he had begun to walk shortly after the procedure, he wasn't on thrombosis prevention medication, Merli explained at the annual meeting of the American College of Physicians.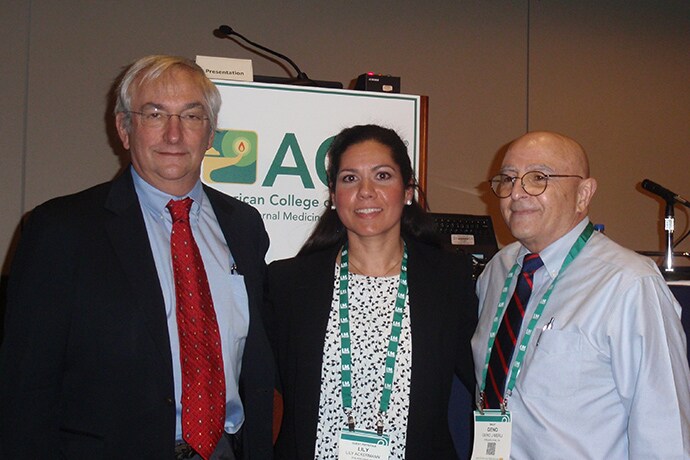 Left to right: Dr Murray Cohen, Lily Ackermann, and Dr Geno Merli.
The day after his transfer he was walking with a physical therapist when he became short of breath, his oxygen saturation dropped, and his heart rate soared. Bilateral pulmonary emboli were found, along with thrombosis in the right leg.
What was remarkable, Merli noted, was what the patient's medical record was lacking.
He added, "I think if we start looking at this at our sites, we may find out that communication needs to be improved, and I believe standardized."
This situation underscores the continuing need to refine handoffs between surgery and hospital medicine, a point in care that is primed for potential errors, the other panelists noted during the session.
Most Important Information Is Often Not Communicated
A 2010 study in pediatrics that looked at intern-to-intern handoffs found that the most important piece of information wasn't communicated successfully 60% of the time – in other words, more often than not, the person on the receiving end didn't really understand that crucial part of the scenario. Since then, the literature has been regularly populated with studies attempting to refine handoff procedures.
Lily Ackermann, MD, hospitalist and clinical associate professor of medicine at Jefferson, said in the session that hospitalists need to be sure to reach out to surgery at important junctures in care.
"I would say the No. 1 biggest mistake we make is not calling the surgery attending directly when clinical questions arise," she said. "I think this is very important – attending [physician in hospital medicine] to attending [physician in surgery]."
Murray Cohen, MD, director of acute care surgery at Jefferson, said he shared that concern.
"We want to be called, we want to be called for our patients," he said in the session. "And we're upset when you don't call for our patients."
Hospitalists should discuss blood loss, pain management, management of drains, deep vein thrombosis prevention, nutrition, infectious disease concerns, and timing of vaccines post procedure, Ackermann said during the presentation,
The panelists also emphasized that understanding the follow-up care that surgery was planning after a procedure is important, and to not just expect surgeons to actively follow a patient. They also reminded hospitalists to look at the wounds and make sure they understand how to handle the wounds going forward. Plus, when transferring a patient to surgery, hospitalists should understand when getting someone to surgery is urgent and not to order unnecessary tests as a formality when time is of the essence, they said.
IPASS: A Formalized Handoff Process
The panelists all spoke highly of a formalized handoff process known as IPASS. This acronym reminds physicians to ask specific questions.
The I represents illness severity and calls for asking: "Is the patient stable or unstable?
The P stands for patient summary and is meant to prompt physicians to seek details about the procedure.
The A is for action list, which is meant to remind the physician to get the post-op plan for neurological, cardiovascular, gastrointestinal, and other areas.
The first S is for situational awareness, and calls for asking: What is the biggest concern over the next 24 hours?
The final S represents synthesis by the receiver, prompting a physician to summarize the information he or she has received about the patient.
Natalie Margules, MD, a clinical instructor and hospitalist at Jefferson who did not present in the session, reiterated the value of the IPASS system. Before it was used for handoffs, she said, "I was never taught anything formalized – basically, just 'Tell them what's important.' "
Margules noted that she considers the framework's call for the synthesis to be one of it most useful parts.
Merli, Ackermann, and Cohen reported no relevant financial disclosures.
This article originally appeared on MDedge.com, part of the Medscape Professional Network.
Credits:
Lead Image: DigitalVision/Getty Images
Medscape Medical News © 2022 WebMD, LLC

Cite this: Surgery Handoffs Still Risky, but More Communication Can Help - Medscape - May 05, 2022.