Editor's note: Find the latest COVID-19 news and guidance in Medscape's Coronavirus Resource Center.
Over half of practicing US physicians are prepared to recommend a second COVID-19 booster shot for eligible patients, even though only 36% of doctors believe that current evidence supports that fourth dose, a recent survey shows.
Medscape polling shows that 56% of 1636 practicing physicians who believe in the COVID-19 vaccine support a second vaccine booster for certain populations, while 17% said they would not recommend it, and 27% were unsure as of April 4–13, 2022, when data were collected.
Similar results emerged from 287 practicing nurses and advanced practice nurses (APNs) who believe in the COVID-19 vaccine: 55% would recommend a fourth shot, 15% would not, and 30% were unsure.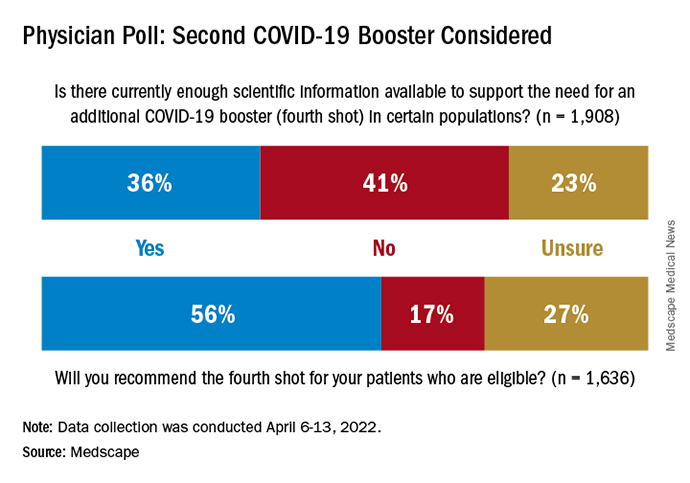 Support for the science behind a second booster, however, was not as strong, with the largest share of the 1908 total physicians who responded, 41%, believing that current evidence is not yet sufficient. Just 36% of the physician respondents think that the data back a second booster, and 23% are still unsure, according to the survey results.
An equal proportion of the 385 total nurses and APNs surveyed (36%) agreed with the current evidence for a fourth shot, but their dissent was somewhat lower (35%), and uncertainty was slightly higher (29%).
Consumer Poll Results
Support for a second booster dose of COVID-19 vaccine was not particularly strong among those who might end up on the other end of the syringe, as indicated by data from 743 consumers surveyed April 7–13, 2022, by WebMD.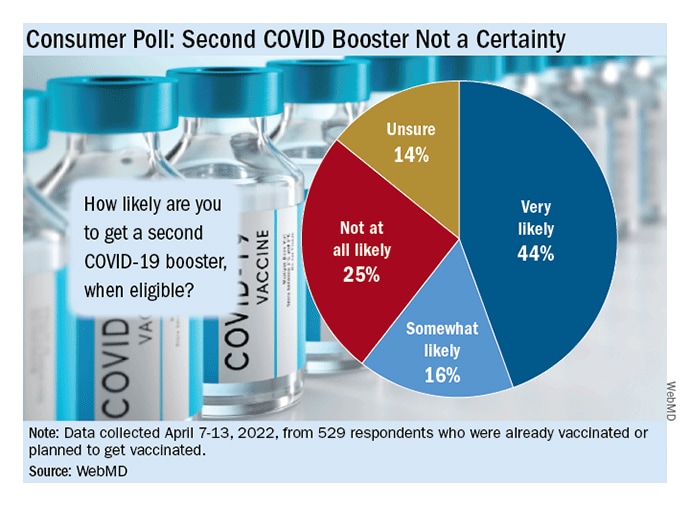 Although a majority of the respondents who had already been vaccinated or planned to get vaccinated said that they were very likely (44%) or somewhat likely (16%) to get the second booster when they were eligible, 25% said they were not at all likely, and 14% were unsure. This survey question, however, excluded the 23% of total respondents who said that they had no plans to get vaccinated.
Age made a significant difference in the respondents' chances of getting a second dose, with 52% of those aged 45 years and older saying that it was very likely, vs 37% of those younger than 45. The situation reversed for "not-at-all-likely" responses: 32% for respondents younger than 45, and 18% for those 45 and older.
Among consumers, 3% of the 743 respondents were partially vaccinated, 27% were fully vaccinated, 40% were fully vaccinated and had received one booster, 7% were fully vaccinated and had received two boosters, and 1% were unvaccinated but planned to get their shots, which leaves the aforementioned 23%. Men were significantly more likely than women (26% vs 18%) to have no plans to get vaccinated.
A Question of Confidence
Both the consumer survey and the healthcare professional survey asked respondents whether their confidence in the vaccine would be affected by the recommendation regarding a fourth dose.
Almost half of physicians (49%) and 44% of nurses/APNs said that their confidence would not be affected, vs 26% of consumers.
Distribution of the other possible responses was similar among the three groups:
Positive affected: physicians, 17%; nurses/APNs, 19%; consumers, 19%

Negatively affected: physicians, 24%; nurses/APNs, 24%; consumers, 24%

Unsure: physicians, 10%; nurses/APNs, 14%; consumers, 10%
Another 21% of the consumers, it should be noted, chose a response that only 26 physicians and eight nurses took: "I don't believe in the COVID-19 vaccine."
For more news, follow Medscape on Facebook, Twitter, Instagram, and YouTube.
Credits:
Lead Image: Digital Vision/Getty Images
Image 1: WebMD News
Image 2: Richard Franki, Medscape
Medscape Medical News © 2022

Cite this: Richard Franki. Second COVID-19 Booster Could Be Facing an Uphill Battle - Medscape - May 04, 2022.