The U.S. Supreme Court may be on the cusp of overturning 50 years of American abortion law, according to a draft opinion in a Mississippi case that was leaked to the news outlet Politico.
The draft opinion, written by Justice Samuel Alito, outlines ways a presumed majority of the nine justices believes the 1973 ruling in Roe v. Wade was incorrect. If signed by a majority of the court, the ruling would eliminate the protections for abortion rights that Roe provided and give the 50 states the power to legislate abortion.
"We hold that Roe and Casey must be overruled," Alito wrote in the draft. "It is time to heed the Constitution and return the issue of abortion to the people's elected representatives."
While a final ruling was not expected from the court until June, the leaked draft – a nearly unprecedented breach of the court's internal workings – gives a strong signal of the court's five most conservative members' decisions.
The Supreme Court on Tuesday confirmed that the draft opinion is genuine and Chief Justice John Roberts said he has launched an investigation to find the person who leaked it.
President Joe Biden, meanwhile, said his administration was already preparing for a potential ruling that struck down federal abortion protections.
The White House, he said in a statement, is working on a "response to the continued attack on abortion and reproductive rights, under a variety of possible outcomes in the cases pending before the Supreme Court. We will be ready when any ruling is issued."
But if the draft opinion becomes final, he said, the fight will move to the states.
"It will fall on our nation's elected officials at all levels of government to protect a woman's right to choose," he said. "And it will fall on voters to elect pro-choice officials this November."
With more pro-choice members of Congress, it would be possible to pass federal legislation protecting abortion rights, "which I will work to pass and sign into law."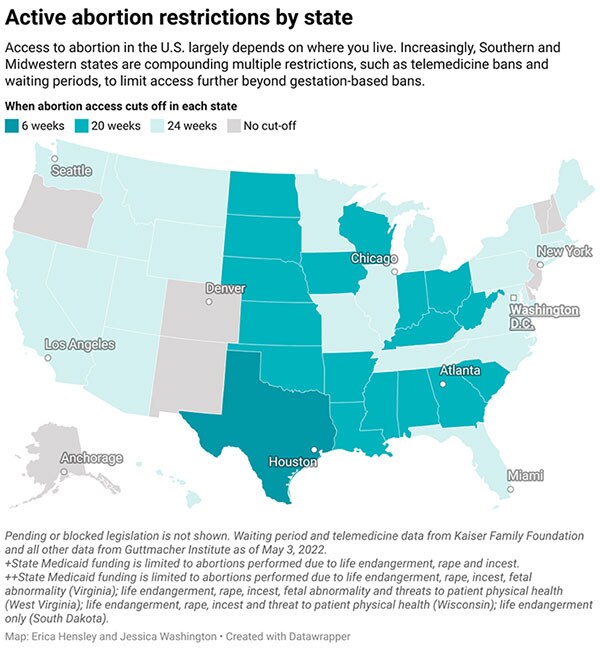 Should the Alito draft become law, its first impact would be to allow a Mississippi law that bans abortions after 15 weeks to take effect.
But quickly after that, abortions would become illegal in many states. Several conservative-leaning states, mostly in the South and Midwest, have already passed laws severely restricting abortions well beyond what Roe allowed. Should Roe be overturned then, those laws would take effect without threat of lengthy lawsuits or rulings from lower-court judges that have blocked them.
But, nearly half of the states, mostly in the Northeast and West, would likely allow abortion to continue in some way. In fact, several states, including Colorado and Vermont, have already passed laws granting the right to an abortion into state law.
But the leaked draft is still a draft, meaning it remains possible Roe survives. Anthony Kreis, PhD, a professor of law at Georgia State University, says that could have been the point of whomever leaked the draft.
"It suggests to me that whoever leaked it knew that public outrage was the last resort to stopping the court from overturning Roe v. Wade and letting states ban all abortions," he says. "The danger that abortions won't be legal in most of the country is very real."
Sources
Politico: "Supreme Court has voted to overturn abortion rights, draft opinion shows."
Anthony Kreis, PhD, assistant professor, Georgia State University College of Law, Atlanta.
Credits:
Lead Image: Kevin Dietsch/Getty Images
WebMD Health News © 2022

Cite this: Aaron Gould Sheinin. Supreme Court Appears Ready to Overturn Roe - Medscape - May 03, 2022.