Going into residency can be a daunting task for any student, but according to a new study from the University of Michigan, the emotional toll is much worse for those who identify as gay, lesbian, and bisexual.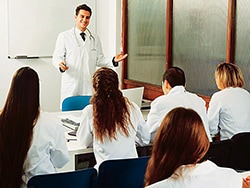 The study combines gay, lesbian, bisexual, and "other" (this includes self-identifying as asexual or pansexual) under the umbrella of "sexual minority": anyone who doesn't identify as heterosexual. The study's linear data show the disparity in depressive symptoms between heterosexual interns and interns who are of a sexual minority.
"The proportion of people identifying as a sexual minority seems to be growing each year," the study's lead author, Tejal Patel, told Medscape Medical News. "With this in mind, it is even more imperative that we highlight and address any disparities seen which disproportionately and negatively affect marginalized groups."
Sexual Minority Trainees Sustain Greater Depressive Symptoms
Interns who enrolled in the National Institute of Health's Intern Health Study completed surveys using the Patient Health Questionnaire–9 2 months before beginning the internship. The interns took the same survey quarterly, throughout 2016, 2017, and 2018. In the survey, which assessed depressive symptoms, a higher score indicated greater depressive symptoms.
The data show the trajectory of these symptoms over time. Heterosexual interns reached a "peak" 6 months into the program, after which their scores began to decline, implying some recovery from those depressive symptoms. In contrast, the sexual minority interns' scores steadily increased after the 6-month peak.
The data prove what many know to be the case: that LGBT+ trainees and physicians are more likely to experience mental health problems, usually caused by discrimination or microaggresions. The study did not evaluate the reasons behind the increase in depressive symptoms. The researchers call for further research into the "drivers of mental health disparities among sexual minority and heterosexual physician trainees."
"Much research is still needed to determine the specific factors that cause sexual minorities to experience a large growth in depressive symptoms during training," Patel said. "However, based on previous literature, it seems that the workplace environment is not as friendly towards sexual minority physicians."
According to Patel, the likely culprits include discrimination or harassment from attending physicians, peers, and patients when a trainee's sexual orientation has been disclosed, but it's important for future research to determine the specific factors. Additionally, the researchers posit that the outcome is typically a higher rate of burnout, suicidal thoughts, and attrition among trainees who are sexual minorities. After more concrete information is gathered about the factors that drive the disparity, more "actionable steps" can be taken to address them, Patel said.
More Study Needed on "Negative Workplace Environment"
Acknowledged in the report are the study's limitations: the small proportion of self-identifying trainees led to combining gay, lesbian, bisexual, and other into one category, and the study does not include a separate category for transgender or gender nonconforming trainees.
Of the 8261 interns the study enrolled, 84.9% were included in the analysis after disclosing their sexual orientations and completing at least one of the quarterly follow-up surveys. Only 7.1% of those individuals were of a sexual minority. Other characteristics noted in the study's participants were speciality (such as surgical or nonsurgical), weekly work hours, and daily sleep hours.
The study is an important step forward for medical institutions in terms of gaining awareness. By understanding the rates at which minority students, trainees, faculty, and staff have negative experiences related to their identities, the better equipped the institution can become to address the disparity. Currently, there are very few data regarding the mental health and wellness of sexual minority students and residents in medical institutions.
"It's important for institutions to recognize the disproportionate way that sexual minority trainees experience depressive symptoms," Patel said, "because greater symptoms can likely lead to greater burnout. If we see more sexual minorities getting burnt out, the workplace diversity is getting reduced, which means patients may have a harder time finding a physician who is the right fit for them."
On why there is a lack of data on the experiences of LGBT+ people in healthcare, Patel said: "I think the lack of information may be due to fear of speaking out. More work needs to be done to create an open, welcoming environment for feedback so that additional research can be done to reduce the causes of a negative workplace environment that sexual minority trainees experience."
JAMA Health Forum. Published online April 29, 2022. Full text
For more news, follow Medscape on Facebook, Twitter, Instagram, and YouTube.
Credits:
Images: Dreamstime
Medscape Medical News © 2022

Cite this: Jay Lankau. LGBT+ Residents Show Greater Rates of Depression: Study - Medscape - May 02, 2022.