A Canadian woman who officials allege faked being a registered nurse for some 30 years in Canada and the US is scheduled to appear in court next month after being sentenced to 7 years in prison.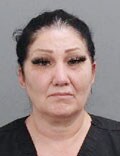 Brigitte Cleroux, 50, is scheduled to appear May 18 on charges in Vancouver, British Columbia , of impersonating a nurse while working inside a local hospital. She was previously sentenced April 22 in an Ontario court after she pled guilty in January to seven offenses, including impersonation, assault with a weapon, and assault, according to CBC Radio-Canada.
Cleroux, who uses several aliases, had a long history of deception in three provinces in Canada, as well as in Colorado and Florida. The sentencing in Ontario stemmed from incidents at a medical and dental clinic in Ottawa last year, which included administration of medications to patients through needle injections, Ottawa Police reported in a press statement obtained by Medscape Medical News.
Authorities charged Cleroux in September with assault with a weapon and criminal negligence causing bodily harm, along with "personation to gain advantage," obtaining by false pretense, and using a forged document, Medscape reported.
Cleroux has been in custody since her arrest by Ottawa Police in August.
The Vancouver Police Department (VPD) charged Cleroux last year with fraud of over $5000 and personation with intent. VPD investigated claims that an employee at BC Women's Hospital fraudulently identified herself as a nurse while working there between June 2020 and June 2021, according to a VPD press release.
Nursing colleges in British Columbia and Ontario issued warnings that she had used aliases and purported to be a registered nurse to gain employment. The aliases included Melanie Thompson, Melanie Smith, and Melanie Cleroux.
Cleroux was believed to be a student in a nursing school in Colorado, but she only completed 2 years of a 4-year nursing course and was never certified as a nurse, according to CBC. Her criminal record dates back 30 years and includes 67 adult convictions and other convictions in her youth, CBC reported.
For more news, follow Medscape on Facebook, Twitter, Instagram, and YouTube.
Credits:
Lead Image: Ottawa Police
Medscape Medical News © 2022

Cite this: Roni Robbins. 30 Years of Fake Nursing Ends With 7-Year Prison Sentence - Medscape - Apr 27, 2022.