Women opt for sterilization for a variety of reasons, but the goal is the same: to avoid getting pregnant.
But a head-to-head study of two forms of female sterilization has found surprisingly high rates of failure with the procedures.
The study compared the effectiveness of hysteroscopic sterilization, a nonincisional procedure, and minimally invasive laparoscopic sterilization. Although both methods prevented pregnancy in the vast majority of women, each was associated with more than a 6% failure rate 5 years after the procedure.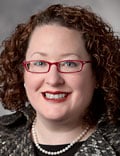 That figure is "much higher than expected," said Aileen Gariepy, MD, MPH, the director of complex family planning at Weill Cornell Medicine, New York City, who led the study.
The American College of Obstetricians and Gynecologists reports that the chance of pregnancy after sterilization is less than 1%, Gariepy said. "Women and pregnancy-capable people considering sterilization should be informed that after the procedure, they have at least a 6% — not 1% — chance of pregnancy in the next 5 years," she said.
The study was published in Fertility and Sterility.
For laparoscopic sterilization, surgeons close or sever the fallopian tubes to prevent eggs from reaching the uterus and becoming fertilized.
Hysteroscopic sterilization involves the implantation of small, flexible metal coils into each fallopian tube, a process that produces inflammation and scarring that in turn prevents pregnancy. This method, called Essure and formerly marketed by Bayer, received approval by the US Food and Drug Administration in 2002. But the agency received thousands of reports of adverse events with Essure, prompting regulators in 2016 to add a boxed warning to the product label about the risk for adverse events, including perforation, migration of the coils, allergic reactions, and pain.
Bayer pulled Essure from the market in 2019, citing decreased sales of the product. Some women did not have the device removed, however, and questions remain about its effectiveness, according to the researchers.
In the new study, Gariepy and her colleagues examined Medicaid claims for 5906 hysteroscopic and 23,965 laparoscopic sterilizations performed in California between 2008 and 2014. They excluded sterilizations that were performed immediately after delivery, which involve a different approach.
The average age of the women in the study was 33 years.
The study found that 5 years after the sterilization procedure, 6% of women in either group had become pregnant.
Despite the surprising new data, Chailee Moss, MD, an assistant professor of gynecology and obstetrics at Johns Hopkins University Medical Center, Baltimore, said she did not think the study would significantly affect the way she counsels her patients.
The main reason, she said, is that the study relied on an analysis of medical claims, which "is likely inferior to careful review of individual patient records or prospective collection of clinical data." She said home pregnancy tests may easily be excluded from such data and that patients can undergo ultrasound and termination procedures that would likely not be included in the data the researchers analyzed.
Moss added that the study was limited to California and that the researchers could not determine pregnancy rates for women who moved out of the state and thus received pregnancy care elsewhere. Nor did the authors account for the use of assistive reproductive technology, which can facilitate pregnancy after sterilization despite the success of the original procedure, she said.
Gariepy, however, said the study may in fact have undercounted pregnancies and that the failure rates might be even higher than 6%. She noted that California is "one of the largest, most populous and most diverse states" in terms of race, ethnicity, and other factors, making the new findings highly generalizable.
"I agree that study results should be confirmed by new nationwide study to determine risk of pregnancy after different sterilization methods," she said. "Nevertheless, this retrospective cohort study delivers a strong signal that doctors and patients need to know about."
Gariepy is on the board of directors of the Society of Family Planning. Moss has received research funding from Merck.
Fertil Steril. Published online April 12, 2022. Full text
Kate O'Rourke is a medical writer in Maine.
For more news, follow Medscape on Facebook, Twitter, Instagram, and YouTube.
Credits:
Lead Image: Science Source
Image 1: Weill Cornell Medicine
Medscape Medical News © 2022

Cite this: Kate O'Rourke. How Effective Are Sterilization Procedures? Study Raises Questions - Medscape - Apr 21, 2022.