In their heydey, drug reps had big expense budgets and would wine and dine physicians, golf with them, and give gifts to their potential physician clients.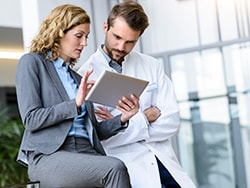 But in 2002, pressure from Congress and increased scrutiny from the American Medical Association prompted the Pharmaceutical Research and Manufacturers of America (PhRMA) to adopt a set of voluntary ethical codes to regulate the gifts given to physicians. Now, physicians must report even small gifts or meals to the National Practitioner Data Bank.
Before the restrictions, physician/pharmaceutical rep relationships relied on face-to-face meetings. These included lunches with a limited budget or sharing a cup of coffee during a morning visit to a practice. The parties got to know each other, which led to trust and long-term relationships.
During the COVID-19 pandemic, everything changed. "It was culture shock for us," admits Craig F, a career pharmaceutical rep who asked to keep his last name private due to his current employment. "We didn't know what we were going to do."
The pharmaceutical industry pivoted and quickly got up to speed with Zoom, Microsoft Teams, and the like. "We began by reaching out to doctors via email and cell phones to set up virtual meetings," says Craig. "Most of the doctors were working from home, doing telehealth whenever possible. For new sales reps, this was particularly difficult, because they couldn't visit offices and get to know doctors."
Many physicians didn't want to devote time to Zoom meetings with pharma reps, says Craig. "We worked around their schedules, and sometimes this even looked like Sunday calls," he says.
As vaccination levels increased and medical offices began to reopen, so too did some of the old-school, face-to-face pharma rep/doctor meetings. But most proceeded with caution. "Some pharmaceutical companies didn't put reps back into the field until the fall of 2020," says Craig. "If we weren't welcome in an office, we didn't push it."
Once much of the population was vaccinated, the thaw began in earnest, although the drug reps continued to tread cautiously, mask up, and respect the wishes of physicians. Today, Craig estimates that about two thirds of his appointments are in person.
Still, it's unlikely that the drug rep–supplied "free staff lunch" will ever regain its former popularity. Medical office staff are still keeping distance, owing to COVID; office schedules may be more crowded and may not allow the time; and many physicians are still nervous about having to report "gifts" or "paid lunches" from pharma. A new paradigm has emerged in the physician/pharma rep relationship, and it's unlikely things will ever be the same.
The Post-COVID Paradigm Shift
The pandemic put a dent in the pharma rep/doctor relationship, says Suzy Jackson, managing director of life sciences at Accenture and an author of The "New" Rules of Healthcare Provider Engagement . "COVID started moving power away from reps because they lost the ability to simply wander into a building and have a conversation with a healthcare provider," she says. "We're seeing the pandemic evolve the meeting model into a hybrid in-person and virtual."
"Many doctors are operating in a slower fashion because they're balancing a hybrid model with patients, as well," says Craig. "Some of my visits now involve talking to nurses or front-office staff, not getting in to see the doctors."
The push from some doctors to see reps virtually as opposed to in person is a challenge for the pharma companies. "We get more done in person, so virtual is not our favorite way to do business," says Craig. "But we're thankful for any time we can get with doctors, so when they ask to do virtual, we agree."
Still, the Accenture survey offered good news for pharma reps: only 4% of respondents didn't want to continue with in-person meetings at all. "I think of this as a positive," Jackson says. "It shows that physicians value these relationships, if they're done in the right way."
But a survey by Boston Consulting Group (BCG) confirms that virtual visits are likely to continue. BCG's Doctors' Changing Expectations of Pharma Are Here to Stay revealed that three quarters of respondent physicians prefer to maintain or increase the amount of virtual engagements with pharma reps after becoming accustomed to the practice during the pandemic.
Under these changing scenarios, says Jackson, pharma reps have to think about more meaningful ways to engage with doctors.
"I feel that doctors are more crunched for time now, managing hybrid environments," says Craig. "They have less time and want more patient-specific information that leads to fewer calls back to their offices."
More physicians now value webinars, virtual training, and speaker programs. Virtual channels, the survey found, "give physicians access to the information they need in an easy and convenient manner."
Still, physicians have noted that the survey indicated that email communications from pharma reps had increased. Often, physicians found the useful information buried in irrelevant "clutter."
Restrictions on Drug Reps Became Tighter
In the 20 years since the guidelines came into existence, PhRMA has continued to strengthen the codes. In 2009, PhRMA issued new recommendations surrounding non-educational gifts and placed a cap of $100 for meals, drug samples, and other items. This year, they added layers to the code that focus on speaker programs. For instance, while companies can provide "modest" meals to attendees as an incidental courtesy, pharma reps can no longer pay for or provide alcohol in conjunction with these programs.
The rules vary from state to state. In Minnesota, for instance, gifts from pharma companies cannot exceed $50 per year. Some institutions — such as the Cleveland Clinic — have even stricter rules. "When we have conventions, we put up signage reminding doctors from the strictest states that they can't even accept a cup of coffee from a rep," says Craig.
However, COVID hasn't completely changed doctor/pharma relationships. In Jackson's words, "In spite of the shift to a more hybrid model, this is a very human relationship yielding real human results."
For more news, follow Medscape on Facebook, Twitter, Instagram, and YouTube.
Credits:
Images: WestEnd61/Getty Images
Medscape Medical News © 2022

Cite this: Amanda Loudin. Are Free Lunches Back? Docs Start Seeing Drug Reps Again - Medscape - Apr 20, 2022.