Mark Rosen was a big fan of TikTok even before he became the star of a viral video he created with his daughter Shannon to remember the emotional moment she would learn if she passed her nursing licensing exam.
"I would come home from work and he'd be scrolling through videos," Shannon Rosen, a 26-year-old Florida registered nurse, told Medscape Medical News.
The video of the father-daughter duo garnering the attention of millions of social media fans runs slightly over 1 minute and captures the increasing anxiety of dad and student building to the great reveal.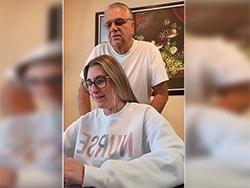 "My heart is beating out of my chest," Shannon shares with her dad standing behind her at the computer screen to learn the test results last month. "Just relax. Just relax," he tells her while gathering her long hair so he could rub her shoulders.
When the pair learn the positive outcome, daughter covers her face with her hands in tears as dad cheers, "She passed! I knew it!" Then with his arms hugging his daughter from behind, he moans tearfully, "I told you, you are gonna do it. … See I told you. All the hard work, for 2 years, she's gonna be a nurse; she's gonna be a trauma nurse … she did it!"
The emotions revealed relief following a period in which the retired 65-year-old Rosen returned to work part-time to help pay for Shannon to fulfill her dream of becoming a nurse. He wanted her to concentrate on her studies and passing the exam, not worry about working to pay for the expense. Now, he says he'll continue working to help her pay off student loans. Then there's Shannon's sacrifice: sleep deprivation, intense studying, giving up free time with friends and family.
In addition to being thankful not to have the take the test again, considering how many friends didn't pass on the first try, Shannon said was very grateful for her family's support. "I am happy my dad is getting this reaction…It's so reassuring for him that he did a great job with me," she said. "It truly shows the support and love and bond he and I share, which is awesome."
At the time of the video, Shannon thought she would be a trauma nurse, but since then she has started training in the operating room of NCH Healthcare System hospital in Naples, Florida. She graduated from Nova Southeastern University with a Bachelor of Science in Nursing degree in December.
Asked why she wants to pursue nursing in the age of COVID, she said, "The pandemic drew a lot of nurses out of the field or to retire early. I'm just happy that I am part of the next generation of nurses who are willing to learn and bring new skills and knowledge and hope to help take away the fear associated with coming to the hospital."
Both father and daughter admit they still cry when viewing the video.
The response has been "really incredible," Mark told Medscape Medical News. "It's truly a nice feeling to have touched so many people in a good way." He said the most common response posted on TikTok about the video was of crying along with the father-daughter duo. "Happy tears," which Mark believes is needed in light of the tragic photos and videos coming out of Ukraine.
Among the comments posted on TikTok: "I wish my dad would have been there to see this happen when I take my NCLEX. Congrats from one student to another." And another viewer inquired: "Can he be this proud of me when I graduate?"
The pair say they may continue making TikTok videos to encourage other nursing students. Mark is even willing to cheer on those who need a supportive parent by their side.
For more news, follow Medscape on Facebook, Twitter, Instagram, YouTube, and LinkedIn
Credits:
Images: @shannonivyy/TikTok
Medscape Medical News © 2022

Send news tips to news@medscape.net.
Cite this: Video of Supportive Dad Calming His Nursing Student Daughter Goes Viral - Medscape - Apr 19, 2022.