A California-based naturopath recently pleaded guilty to falsifying COVID-19 vaccination cards and offering patients lifelong protection from COVID-19.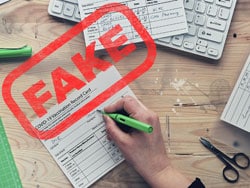 According to court documents, Juli A. Mazi, 41, ND, of Napa, California, offered homeoprophylaxis immunization pellets to patients, telling them that these unproven therapies would provide protection against the pandemic.
She provided fake vaccination cards as well, instructing patients on how to complete the cards to make them appear to be official CDC vaccination cards. Patients were instructed to mark the card to indicate they had taken the Moderna vaccine on the date they ingested the pellets provided by Mazi. According to court documents, in a letter accompanying the pellets, Mazi instructed patients, "Make sure to only use dates on the official record that correspond to the dates you took the homeoprophylaxis. That being said, be sure the COVID-19 vaccine is available to your particular population before using that data on the official record."
The 3-month federal investigation, which was initiated after complaints from patients, revealed that Mazi provided fake cards to more than 200 individuals.
COVID-19 was not the first illness for which the naturopathic doctor provided unproven prophylaxis and fake records, according to authorities. Mazi also provided similar pellets and vaccination-record cards in place of childhood vaccinations required for school attendance, knowing the cards would be submitted to schools to show that the children had received the legitimate required vaccinations, court documents say.
"Mazi's fake healthcare records scheme endangered the health and well-being of students and the general public at a time when confidence in our public health system is of critical importance," Stephanie Hinds, US attorney for the Northern District of California, said in a statement announcing the plea.
Mazi pleaded guilty to one count of wire fraud and one count of making false statements related to healthcare matters. She could face up to 20 years in federal prison when sentenced on July 29.
Washington Medical Center Agrees to $22.7 Million Settlement for Medically Unnecessary Procedures
Providence Health & Services, Washington, has agreed to pay $22,690,458 to resolve allegations that it fraudulently billed Medicare, Medicaid, and other federal healthcare programs for neurosurgery procedures.
The healthcare organization operates 51 hospitals in seven western US states, including Providence St. Mary's Medical Center in Walla Walla, Washington. According to court documents, between 2013 and 2018, Providence St. Mary's paid two neurosurgeons (referred to in court documents as "Dr A" and "Dr B") in an incentive system that rewarded them for performing more surgical procedures and for performing procedures of greater complexity. On the basis of this productivity metric, Providence paid Dr A between $2.5 and $2.9 million per year.
As a part of the settlement, Providence admitted that during the time the two physicians were employed by St. Mary's, medical personnel voiced concerns that the neurosurgeons were endangering patients by performing surgery on candidates who were not appropriate for the surgery, by performing surgeries for which there was an excessive level of complications and negative outcomes, and by failing to properly document their procedures and outcomes. St. Mary's medical personnel had also reported that Dr A falsified and exaggerated diagnoses in documentation in order to obtain reimbursement from providers, that he performed surgical procedures that did not meet requirements of medical necessity of Medicare and other insurers, and that he performed surgeries of greater complexity and scope than were medically appropriate, thus jeopardizing patient safety.
The hospital did eventually place both doctors on administrative leave (Dr A in February 2017 and Dr B in May 2018) and allowed both of them to resign while on leave. The hospital did not report either doctor to the National Practitioner Data Bank or the Washington State Department of Health.
The court did not release the names of the two surgeons. However, in May 2021, Jason Dreyer, MD, was placed on a restricted license to practice as a result of exaggerating what procedures were needed and performing surgeries without clear medical indications. Dreyer practiced at St. Mary's from August 2014 to January 2017 and was identified by an attorney for a patient he allegedly harmed as one of the doctors in the Department of Justice (DOJ) settlement.
"While Providence's conduct was extremely troubling, I do want to commend Providence for stepping up, accepting responsibility, taking appropriate and meaningful corrective action, and for fully cooperating with our investigation as well as agreeing to fully cooperate in our ongoing investigations," said US Attorney for the Eastern District of Washington Vanessa R. Waldref in a statement.
Tampa-Based Pain Clinic Settles False Billing, Statement Accusations
Abraham Rivera, MD, former chief medical officer of Physician Partners of America LLC (PPOA), and Rodolfo Gari, the company's founder, have agreed to pay $24.5 million to resolve accusations of violating the False Claims Act and making false statements in connection with the Paycheck Protection Program (PPP).
The Tampa, Florida–based multistate group of pain clinics is accused of requiring its physician employees to order multiple urine drug tests without determining whether that testing was reasonable or necessary. According to details of the settlement, the government alleges that initial tests were not reviewed before additional testing was ordered and that the same tests were ordered for each patient without patient-specific determination of necessity. PPOA's affiliated toxicology lab would then bill federal healthcare programs, including Medicare and Veterans Affairs programs, for these tests.
In addition, PPOA is alleged to have violated the Stark Law by paying physician employees 40% of the profits from these tests. According to DOJ documents, the clinic also required patients to submit to genetic and psychological testing before being seen by physicians, even though no determination was made as to whether this testing was reasonable and necessary. Federal healthcare programs were also billed for these tests.
The company also ran afoul of the law regarding the Small Business Administration's (SBA's) PPP, designed to protect small businesses and jobs during the pandemic lockdown, the documents assert. The US government alleged that when the state of Florida suspended all nonemergency medical procedures, PPOA responded to lost revenue by requiring its physicians to schedule unnecessary evaluation and management appointments every 14 days, rather than the monthly appointments that had been routine before the pandemic. PPOA also instructed its physicians to bill these visits using inappropriate high-level procedure codes. PPOA made false statements to the SBA in order to obtain a $5.9 million PPP loan, documents say.
The case came to light because of whistleblowers, including physicians Donald Haight (now deceased), Sheldon Cho, Venus Dookwah-Roberts, and Michael Lupi, who are current or former employees of PPOA.
In addition to the payment, the settlement requires that PPOA enter a 5-year corporate integrity agreement with the US Department of Health and Human Services' Office of the Inspector General, under which PPOA will undertake compliance measures that include maintaining a compliance department and oversight board and obtaining claims reviews by an independent review organization.
In a statement, PPOA CEO Mark Wade denied any wrongdoing on the part of the company. The day before the settlement was announced, the Florida Academy of Pain Medicine announced that Rivera had been named president of the organization.
Memphis Hospitals Accused of Violating Federal False Claims, Anti-Kickback Laws
The federal government has decided to intervene in a lawsuit against Methodist Le Bonheur Healthcare (MLH) and Methodist Healthcare Memphis Hospitals over allegations the hospital system violated federal laws.
The alleged wrongdoing was exposed by a whistleblower complaint filed in 2017 by Jeffrey H. Liebman, former president of Methodist University Hospital. Liebman was joined in the lawsuit in December 2019 by David M. Stern, MD, the former executive dean and vice chancellor at the University of Tennessee Health Science Center. Stern also served on the board of directors of MLH from 2011 to 2017.
According to the complaint, unlawful kickbacks were disguised through an elaborate arrangement in which the hospitals (collectively referred to as "Methodist") purchased the bulk of the outpatient locations of the largest oncology practice in the Memphis area, which at the time was owned by West Cancer Center. This made it possible for West's patients to be treated at Methodist locations for both inpatient and outpatient services by physicians employed by West, with West supposedly providing management services to Methodist.
The businesses described the partnership as a cancer "center without walls," where patients could go to Methodist-owned facilities for all their cancer-related care in a facility Methodist called the West Cancer Center. Patients received treatment at Methodist hospitals from physicians who were employed by West.
However, there was no formal partnership between the entities, an arrangement that would likely have violated regulatory requirements. Prior to the purchase of the clinics, Methodist had no outpatient cancer treatment facilities. The deal enabled the hospital to establish a new stream of income from reimbursement for outpatient treatment, as well as income from referrals for inpatient services from West. This deal enabled Methodist to bill Medicare for chemotherapy and other drugs provided to patients as well as for facility charges and professional services.
According to court documents, Methodist knowingly agreed to pay West millions of dollars in kickbacks for the revenues Methodist expected to, and ultimately did, realize from West's referrals. The DOJ alleges that Methodist knew that compensating West for referrals was a violation of the Anti-Kickback Statute and that the hospital also knew that West had not been providing management services. The agreement for management services with West was intended, according to the documents, to obscure what were in fact kickbacks for illegal patient referrals.
The arrangement lasted from January 1, 2012, to December 31, 2018, and continued even after Methodist knew that the DOJ was investigating these allegations following the filing of the whistleblowers' lawsuit, documents say.
In a statement, Methodist insists, "We uphold the highest standards and comply with all legal and regulatory requirements" and that the lawsuit "seeks to portray customary and legal business arrangements between MLH and West Clinic physicians as illegal activities, in effect penalizing the hospital for forging a successful partnership with West Clinic that did exactly what it was intended to do: create an integrated cancer diagnosis, treatment and surgical service that improved cancer care and led to better patient outcomes for the Memphis community."
The matter is currently being investigated by the Department of Health and Human Services' Office of Inspector General.
For more news, follow Medscape on Facebook, Twitter, Instagram, and YouTube.
Credits:
Lead Image: Getty Images
Image 1: Dreamstime
Medscape Medical News © 2022

Cite this: Avery Hurt. Naturopath Admits to Issuing Fake COVID Cards, Offering Lifetime Protection Pills - Medscape - Apr 19, 2022.