Just days after Russia invaded Ukraine, child and adolescent psychiatrist Dennis Ougrin, MBBS, PhD, and his wife Roxanne Litynska, who are both originally from Lviv, drove their car full of critical cargo from London to Przemyśl — a Polish border town that was experiencing a huge influx of refugees fleeing the war.
The vehicle was packed with first-aid kits and a precious device ― a portable ultrasound machine that the psychiatrist and his wife bought for £21,000. For both Ougrin and Litsynska, this was a personal journey.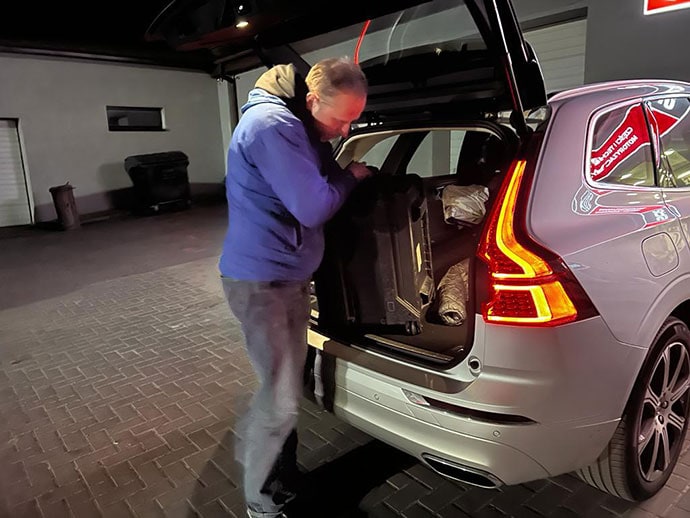 Dr Dennis Ougrin packing the first ultrasound into his car.
Ougrin told Medscape Medical News that when Russia began attacking Ukraine on February 24, he felt helpless. He left Lviv in 1998 for postgraduate training in London and is now a consultant child and adolescent psychiatrist leading the Enhanced Treatment Service at South London and Maudsley NHS Foundation Trust. But his parents, his wife's parents, and an assortment of other family and friends still live in Lviv and refuse to leave, Ougrin said.

He picked up the phone that day and called the Lviv Military Hospital to find out what he could do. He was told the most critical need was for a portable ultrasound to quickly evaluate wounded soldiers with shrapnel injuries. Hospital officials could not quantify what they might need next.
"It wasn't clear how far Putin was going to advance," Ougrin said. "The fear was that he would take over Ukraine within a couple of days."
Ougrin and his wife arrived at the Polish border on Sunday, February 27, and the ultrasound was in service on March 3 ― within a week of the first shots being fired.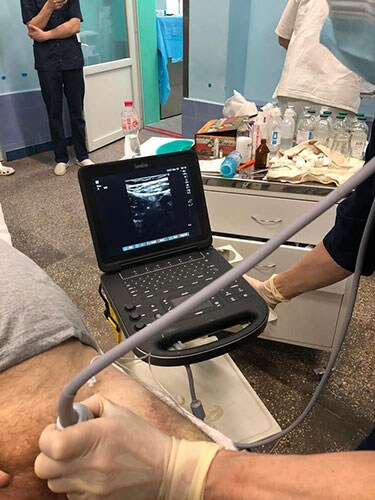 Now, as the war nears month 3, other professional mental health professionals and organizations in the United States and Europe are donating time, money, counseling, and training to help colleagues still in Ukraine and the millions of Ukrainians who have fled their home country or have been displaced internally.
First Aid, Another Ultrasound
Getting that first ultrasound was incredibly lucky, said Ougrin. A friend who was well connected with the supplier tipped him on where to go. They managed to get the last unit in the showroom – and at a big discount.
"It was so amazing that it was on the same day," said Ougrin, who was then able to find a way to have the ultrasound delivered.
In addition, through contacts in Ukraine, including the country's deputy health minister, he discovered that hundreds of thousands of first-aid kits were also needed — not just for everyday citizens encountering wounded people on the streets but also for the country's under-equipped military.
Ougrin set about assembling kits from components he bought himself, funded in part by an online fundraising initiative that had raised more than £73,000 as of press time.
His efforts have also been supported by Medical Aid Ukraine, British-Ukrainian Aid, Ukraine Charity, Plast-Ukrainian Scouts in the UK, and the Ukrainian Medical Association of the UK.
Ougrin said that he's been overwhelmed by the amount of support he's received. "The UK has been amazing," he said, adding that "people have opened their hearts and their doors," with many inviting Ukrainian refugees into their homes.
In mid-March, Ougrin made a second trip to the area. He and his friend Roman Cregg, a Ukrainian consultant anethestist who is also based in London, drove to Lublin, Poland, as part of a convoy of NHS ambulances delivering defibrillators and other supplies.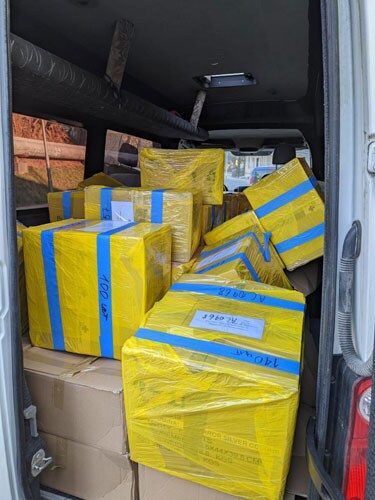 The two physicians brought along their homemade first-aid kits and a donated second portable ultrasound machine. That ultrasound was eventually delivered to Mikolayiv Maternity Hospital, where women have been giving birth in basement bomb shelters.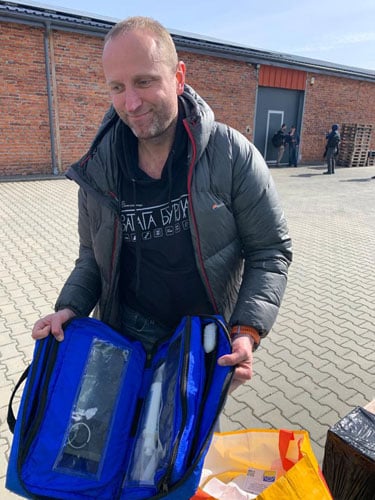 Ougrin is now working on a deal to purchase 5000 first-aid kits from a South Carolina–based supplier. A phalanx of volunteers, including medical students from Kings College London, have in the meantime been assembling homemade kits for further shipments. US Deputy Treasury Secretary Wally Adeyemo helped out one day after learning of the project from discussions Ougrin had been having with the US embassy about helping with the logistics.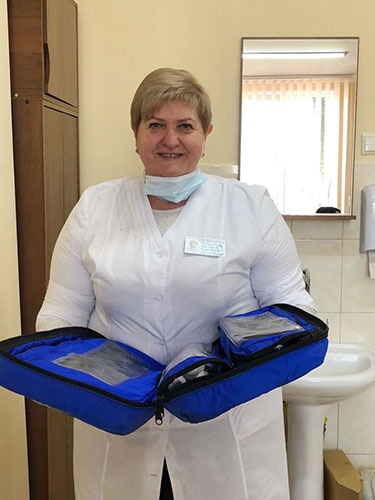 Ougrin noted that once he's established a reliable source for the first-aid kits, he hopes to get back to his work in child and adolescent psychiatry.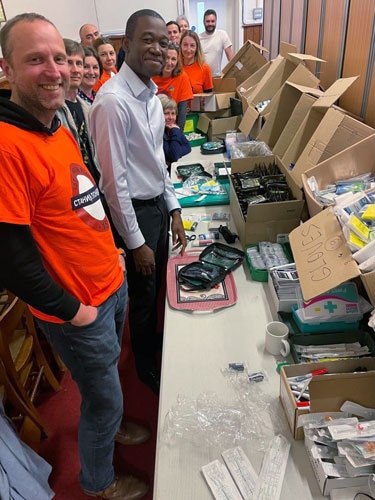 "One of the things to possibly do is go to Ukraine and get on the ground with kids and trainers," he said.
"Help for Helpers"
Martina Rojnic Kuzman, MD, PhD, a Croatian psychiatrist and board member of the European Psychiatric Association (EPA), would welcome Ougrin's assistance.
She noted that the EPA has begun assembling a network of mental health professionals to provide "help for helpers," at the request of colleagues in Ukraine and the nations that border the conflict area, which include Hungary, Poland, Slovakia, Moldova, and Romania.
The first phase of the help for helpers program will be a series of webinars aimed at volunteers assisting refugees. Some of the border countries have little to no experience in dealing with refugees, said Rojnic Kuzman, an associate professor at Zagreb University and a psychiatrist at Zagreb University Hospital Center, Croatia.
First-line individuals who provide help to refugees are usually volunteers, and they may not have a medical or psychological background, she said. So they "usually need some kind of tools in providing psychological first aid, and also they are at high risk of secondary traumatization" from hearing about refugees' experiences, she said. They also "carry their own fears of the situation," which can contribute to secondary trauma, she added.
The webinars will be translated into Ukranian, Hungarian, Polish, Slovakian, Romanian, and English and will provide tools to address both primary and secondary trauma.
As time goes on, Rojnic Kuzman hopes to build a group of mental health professionals who could supervise the volunteers in each country, with the hope of preventing the ripple effects of trauma.
"If you have one member of a family who is traumatized, it affects the whole family," said Rojnic Kuzman, who has distinct memories of how the war in Croatia affected her own family. Although the war zone was not in the region of Croatia where she lived, her mother was a social worker who assisted refugees.
"She would cry every day," said Rojnic Kuzman, who was 12 years old at the time. "War really has so many direct and indirect consequences," she added.
Germany Steps Up
EPA President Peter Falkai, MD, told Medscape Medical News the situation in Ukraine is also personal for him. His parents fled Hungary after the Soviet army quashed the Hungarian Revolution in 1956. Although he was born in Germany, "I know from all the stories in my family what it means if you have to leave the country."
The EPA began formulating plans on ways it could help on March 7 during a call with members from Ukraine and neighboring countries. The organization then compiled a repository of resources on trauma and announced it would make a financial contribution to the United Nations High Commissioner for Refugees.
On the call, the Ukrainians said they needed goods such as diapers, bandages, and medications, said Falkai, who is also director of the Ludwig-Maximilians-University Munich Clinic for Psychiatry and Psychotherapy, Germany.
Two hospitals sent a list of urgent needs, and Falkai was able to enlist his hospital's pharmacy to provide the medications they sought. The vice president of the Bavarian parliament worked with the Ukrainian consul general to make sure the shipment got to Poland and then on to the two hospitals in Ukraine, Falkai reported.
His pharmacy is now helping put together a shipment for two more hospitals, and a German pharmacy company has stepped in to package shipments for another 11 hospitals. The shipments will go through the same route as the first one, said Falkai.
"In a nutshell, what you need are people who are creative and a bit crazy, and then at the end, it works out," he said.
Falkai is also working on an initiative that would give Ukrainian colleagues the option to transfer patients to other European countries.
Germany already has an infrastructure for helping refugees, having received more than a million people fleeing Syria and other nations in 2015, he said. In Munich, a "refugee" hotel accepts individuals and looks after them for a few weeks, and a team of psychologists, headed by one of Falkai's colleagues, goes to the hotel to meet with them. The team has doctors who speak Arabic, Turkish, and Russian.
America's Response
Although the United States may soon find itself also coping with an influx of refugees, major American associations have mostly been focused on providing help to Europe and Ukraine.
The American Psychological Association has given financial support to the National Psychological Association of Ukraine for a 24/7 crisis hotline that is to be staffed by trauma-informed Ukrainian psychologists. Fifty psychologists have begun answering calls, according to information provided to Medscape Medical News, and two training videos have been recorded for clinicians seeking skills in trauma-focused cognitive-behavioral therapy.
The American Psychiatric Association (APA) Foundation has reported that it will donate up to $25,000 for Ukrainian relief, and the APA has compiled a resource page on trauma and refugee assistance.
"The American Psychiatric Association sends our support to all who are experiencing pain and suffering from these deeply troubling events, including those directly exposed to armed conflict, those displaced from their homes and country, those providing care and protection to civilians, friends and family of Ukrainian citizens, and the Ukrainian diaspora around the globe," said the organization in a statement.
Rojnic Kuzman said she has seen how the trauma of war has lingered in Croatia long after the war was over ― and suspects it will be the same for Ukraine.
"This war will have consequences for decades even if it stops now," she added.
Alicia Ault is a Lutherville, Maryland-based freelance journalist whose work has appeared in publications including JAMA, Smithsonian.com, the New York Times, and the Washington Post. You can find her on Twitter @aliciaault.
For more Medscape Psychiatry news, join us on Facebook and Twitter.
Credits:
Images: Dr Dennis Ougrin
Medscape Medical News © 2022

Cite this: Alicia Ault. Psychiatrist Steps Up to Deliver Precious Cargo to Ukraine Hospitals - Medscape - Apr 14, 2022.