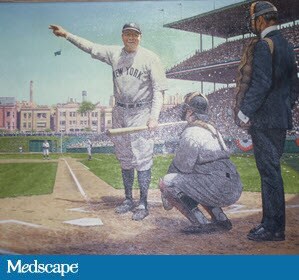 Okay, I'm calling it like Babe Ruth pointing to the center field fence at the 1932 World Series: Therapies using a targeting protein attached to a radioisotope are about to explode.

Lutetium dotatate received US Food and Drug Administration approval in January 2018. The intervening months have seen its use skyrocket. "Lutathera...has been very commercially successful so far. GlobalData forecasts the drug to grow further, reaching $699 million in peak sales." Novartis clearly agreed with the prediction that the drug will continue to perform well, and externally available data seem to indicate that they were correct (pandemic complications notwithstanding).
This last week saw the approval of lutetium vipivotide tetraxetan for use in castrate-resistant metastatic prostate cancer. The drug was already under investigation in a large clinical trial in patients who have not had previous treatment with cytotoxic chemotherapy. The current indication is for patients at a later line of treatment, so use would likely be expanded if the ongoing trial were successful.
The ability to treat other cancers in a similar fashion is limited by our ability to generate molecules that target cancer cells but not their normal cells of origin. Yes, and all we need globally is a never-ending free energy source, I know. Much easier said than done. But it certainly seems like we are on the verge of a great deal of progress in that direction.
Unfortunately, the United States has long lagged in production of radioisotopes, leaving us in a poor position to take full advantage of this technological growth, one that was made more noticeable by the pandemic. I hope that leaders in the field are taking notice of the trend and making plans accordingly.
Are you using targeted radioisotopes in your health center? What do you predict for their future?
Please join the discussion in the comments below, but if you need to communicate with me offline, you can reach me via Medscape-Blogs@webmd.net.
Follow Medscape on Facebook, Twitter, Instagram, and YouTube
Join Medscape's new blog initiative! We're looking for physicians, nurses, PAs, specialists, and other healthcare professionals who are willing to share their expertise in one to two paid blog posts per month. Please email Medscape-Blogs@webmd.net for more information.
About Dr Kate Hitchcock
Kate Hitchcock, MD, PhD, is a radiation oncologist, biomedical engineer, and retired aircraft carrier driver who grew up as a Wyoming cowgirl. When she is not at the hospital, you can find her with Carolyn, Mary, Tyler, Nick, Marlee, and Colby the barking dog, enjoying the natural splendor of the great state of Florida. She thinks you should visit sometime and try to solve the puzzle of why the natives have so carefully shunted all of the tourists toward the House of Mouse. Connect with her on Twitter:
@hitchcock_kate
© 2022 WebMD, LLC

Any views expressed above are the author's own and do not necessarily reflect the views of WebMD or Medscape.
Cite this: Kathryn E. Hitchcock. Do You Have PRRT FOMO? - Medscape - Apr 19, 2022.