UPDATED April 12, 2022 // Editor's note: This article has been updated to include additional comments.
The Journal of the American Medical Association has appointed prominent health-equity researcher Kirsten Bibbins-Domingo, MD, PhD, as the first person of color to serve as editor-in-chief.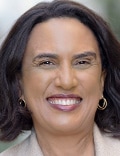 The announcement comes 1 year after the previous editor was put on administrative leave and eventually stepped down amid controversy over a podcast that critics labeled as racist.
Bibbins-Domingo is an epidemiologist and biostatistician at the University of California, San Francisco, School of Medicine. She also served there as the inaugural vice dean for population health and health equity and co-founded the UCSF Center for Vulnerable Populations at the Zuckerberg San Francisco General Hospital.
She will assume the position July 1, taking over for interim editor-in-chief Phil Fontanarosa, MD.
Health equity will be a primary focus for Bibbins-Domingo in her upcoming role, she said Monday during a media conference.
"The entire scientific and medical enterprise has been plagued by the inability to acknowledge these important forces that shape the health of our patients," she said, "and we know that some of this blindness to seeing these forces has to do with who's in the room making the decisions, who's in the room conducting studies, who's in the room shaping policy, who's in the room deciding what gets published."
"Doing the hard reflection on how we do what is best for science and the health of our patients is the important journey that we're all on right now," she said.
In March 2021, the American Medical Association's Journal Oversight Committee announced that its then-top editor Howard Bauchner, MD, was placed on administrative leave.
The shakeup occurred when Edward H. Livingston, MD, who at the time was JAMA's deputy editor, questioned the existence of structural racism while hosting a podcast.
"Structural racism is an unfortunate term," he said in the podcast. "Personally, I think taking racism out of the conversation will help. Many of us are offended by the concept that we are racist."
The audio was deleted from JAMA's website, but the journal subsequently faced harsh criticisms about both the podcast and what many said were years of ignoring and enabling racism in medicine.
Bibbins-Domingo said the journal and the JAMA Network have made "several important changes as a result of that event," including an increased focus on diversity among editors, reviewers, and authors to better "shape the type of content that appears" in the journal.
In addition to health equity, Bibbins-Domingo said she will work on combating some of the mistrust in medicine and science that has become evident during the COVID-19 pandemic.
Black leaders in medicine who have been vocal in their criticisms of the JAMA Network are praising the new appointment, but remain skeptical about the motives at play.
Ray Givens, MD, a cardiologist at Emory Healthcare in Atlanta, Georgia, remembers a 2009 paper Bibbins-Domingo published in the New England Journal of Medicine on racial disparities among heart failure patients, which he says laid the foundation for his own career.
But despite his admiration for Bibbins-Domingo, Givens worries the pick was made to insulate the organization from further criticism.
"I have predicted that JAMA would choose a person of color, and a woman of color, particularly," Givens said. "It makes it tough to really criticize the organization because that makes it seem like you're attacking this person of color."
At the same time, he said, "My hope is that this really is a true step forward for JAMA and that it's the network showing it's ready to change, and not just a concession to quiet the voices."
Herbert C. Smitherman, MD, vice dean of diversity and community affairs at Wayne State University School of Medicine in Detroit, Michigan, said Bibbins-Domingo "will provide a wider lens for what kind of publications will be coming out of JAMA." But, he said, it is unfortunate that her appointment is only now the first time a person of color will take on this role in JAMA's 138-year history.
"Out of many decades and now over a century, there were people who were clearly qualified to do this job who were not allowed to," Smitherman said. "The application pool finally broadened."
He added that Bibbins-Domingo "has the expertise in population health and population equity, along with assessment of how to improve the care of vulnerable populations, that will help the medical community see the world through that prism."
"We are tremendously pleased and fortunate to welcome Dr Bibbins-Domingo as the new editor-in-chief where she will lead JAMA into a new era of publishing the groundbreaking research that is shaping the future of medicine and science," said AMA Chief Executive Officer and Executive Vice President James L. Madara, MD, in a statement.
"As a physician, scholar, and leader, she has focused on health equity, on cardiovascular disease prevention — top priorities for the AMA — and more recently on COVID-19," Madara said. "I am confident Dr Bibbins-Domingo — with her remarkable professional background ranging from basic science to an array of scholarly approaches to clinical studies — will effectively advance JAMA's mission that accelerates clinical research into practice at this critical time in healthcare in the US and in global public health."
Follow Medscape on Facebook, Twitter, Instagram, and YouTube. Here's how to send Medscape a story tip.
Credits:
Lead Images: Courtesy of JAMA
Medscape Medical News © 2022

Cite this: Lindsay Kalter. JAMA Names First Black Editor-In-Chief - Medscape - Apr 11, 2022.