Encouraging improvements in survival have been reported by surgeons who used liver transplants from live donors as a treatment for patients with colorectal cancer (CRC) and unresectable liver metastases. These patients usually have a poor prognosis, and for many, palliative chemotherapy is the standard of care.
"For the first time, we have been able to demonstrate [outside of Norway] that liver transplantation for patients with unresectable liver metastases is feasible with good outcomes," lead author Gonzalo Sapisochin, MD, PhD, an assistant professor of surgery at the University of Toronto, Ontario, Canada, told Medscape Medical News.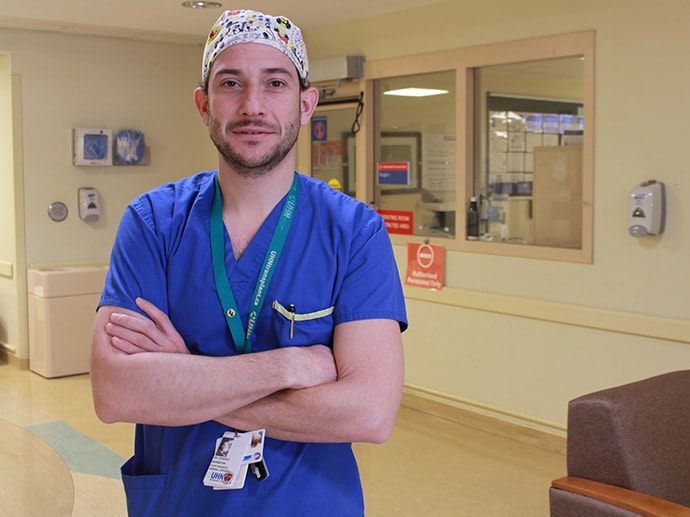 Gonzalo Sapisochin
"Furthermore, this is the first time we are able to prove that living donation may be a good strategy in this setting," Sapisochin said of the series of 10 cases that they published in JAMA Surgery.
The series showed "excellent perioperative outcomes for both donors and recipients," note the authors of an accompanying commentary. They say the team "should be commended for adding liver donor live transplantation to the armamentarium of surgical options for patients with CRC liver metastases."
However, they express concern about the relatively short follow-up of 1.5 years and the '"very high" recurrence rate of 30%.
Commenting to Medscape Medical News, lead editorialist Shimul Shah, MD, an associate professor of surgery and the chief of solid organ transplantation at the University of Cincinnati College of Medicine, in Cincinnati, Ohio, said: "I agree that overall survival is an important measure to look at, but it's hard to look at overall survival with [1.5] years of follow-up."
Other key areas of concern are the need for more standardized practices and for more data on how liver transplantation compares with patients who just continue to receive chemotherapy.
We need to keep studying it and take it one step at a time.
"I certainly think that there's a role for liver transplantation in these patients, and I am a big fan of this," Shah emphasized, noting that four patients at his own center have recently received liver transplants, including three from deceased donors.
"However, I just think that as a community, we need to be cautious and not get too excited too early," he said. "We need to keep studying it and take it one step at a time."
Moving From Deceased to Living Donors
Nearly 70% of patients with CRC develop liver metastases, and when these are unresectable, the prognosis is poor, with 5-year survival rates of less than 10%.
The option of liver transplantation was first reported in 2015 by a group in Norway. Their study included 21 patients with CRC and unresectable liver tumors. They reported a striking improvement in overall survival at 5 years (56% vs 9% among patients who started first-line chemotherapy).
But with shortages of donor livers, this approach has not caught on. Deceased-donor liver allografts are in short supply in most countries, and recent allocation changes have further shifted available organs away from patients with liver tumors.
An alternative is to use living donors. In a recent study, Sapisochin and colleagues showed viability and a survival advantage compared with deceased-donor liver transplantation.
Building on that work, they established treatment protocols at three centers ― the University of Rochester Medical Center, in Rochester, New York, the Cleveland Clinic, in Cleveland, Ohio, and the University Health Network, in Toronto.
Of 91 evaluated patients who were prospectively enrolled with liver-confined, unresectable CRC liver metastases, 10 patients met all inclusion criteria and received living-donor liver transplants between December 2017 and May 2021. The median age of the patients was 45 years; six were men, and four were women.
These patients all had primary tumors greater than stage T2 (six T3 and four T4b). Lymphovascular invasion was present in two patients, and perineural invasion was present in one patient.
The median time from diagnosis of the liver metastases to liver transplant was 1.7 years (range, 1.1 – 7.8 years).
At a median follow-up of 1.5 years (range, 0.4 – 2.9 years), recurrences occurred in three patients, with a rate of recurrence-free survival, using Kaplan-Meier estimates, of 62% and a rate of overall survival of 100%.
Rates of morbidity associated with transplantation were no higher than those observed in established standards for the donors or recipients, the authors note.
Among transplant recipients, three patients had no Clavien-Dindo complications; three had grade II, and four had grade III complications. Among donors, five had no complications, four had grade I, and one had grade III complications.
All 10 donors were discharged from the hospital 4 to 7 days after surgery and recovered fully.
All three patients who experienced recurrences were treated with palliative chemotherapy. One died of disease after 3 months of treatment. As of the time of publication of the study, the other two had survived for 2 or more years following their live donor liver transplant.
Patient Selection Key
The authors are now investigating tumor subtypes, responses in CRC liver metastases, and other factors, with the aim of developing a novel screening method to identify appropriate candidates more quickly.
In the meantime, they emphasize that indicators of disease biology, such as the Oslo Score, the Clinical Risk Score, and sustained clinical response to systemic therapy, "remain the key filters through which to select patients who have sufficient opportunity for long-term cancer control, which is necessary to justify the risk to a living donor."
Sapisochin reports receiving grants from Roche and Bayer and personal fees from Integra, Roche, AstraZeneca, and Novartis outside the submitted work. Shah has disclosed no relevant financial relationships.
JAMA Surg Published March 30, 2022. Full text, Commentary
Credits:
Lead Image: Dreamstime
Image 1: Dr Gonzalo Sapisochin
Medscape Medical News © 2022

Cite this: Nancy A. Melville. Live Donor Liver Transplants for Patients With CRC Liver Mets - Medscape - Apr 06, 2022.