Even by cautious calculations, the worldwide incidence of cutaneous melanoma is high and predicted to rise sharply over the next 2 decades, cancer epidemiologists warn.
An estimated 325,000 people worldwide received a new diagnosis of cutaneous melanoma in 2020, and if present trends continue, the incidence of new cases is predicted to increase by about 50% in 2040, with melanoma deaths expected to rise by almost 70%, Melina Arnold, PhD, from the Cancer Surveillance Branch of the International Agency for Research on Cancer in Lyon, France, and colleagues reported.
"Melanoma is the most lethal form of skin cancer; this epidemiological assessment found a heavy public health and economic burden, and our projections suggest that it will remain so in the coming decades," they wrote in a study published online in JAMA Dermatology.
In an accompanying editorial, Mavis Obeng-Kusi, MPharm and Ivo Abraham, PhD from the Center for Health Outcomes and PharmacoEconomic Research at the University of Arizona, Tucson, commented that the findings are "sobering," but may substantially underestimate the gravity of the problem in low- and middle-income countries (LMIC).
"The study by Arnold et al. brings to the fore a public health concern that requires global attention and initiates conversations particularly related to LMIC settings, where the incidence and mortality of melanoma is thought to be minimal and for which preventive measures may be insufficient," they wrote.
Down Under Nations Lead
Arnold and colleagues looked at data on age-standardized melanoma incidence and mortality rates per 100,000 person-years (PY) by country, each of 20 world regions as defined by the United Nations, and according to the UN's four-tier Human Development Index, which stratifies countries into low-, medium-, high-, and very high-income categories.
As noted previously, the researchers estimated that there were 325,000 new melanoma cases worldwide in 2020 (174,000 cases in males and 151,000 in females). There were 57,000 estimated melanoma deaths the same year (32,000 in males and 25,000 in females.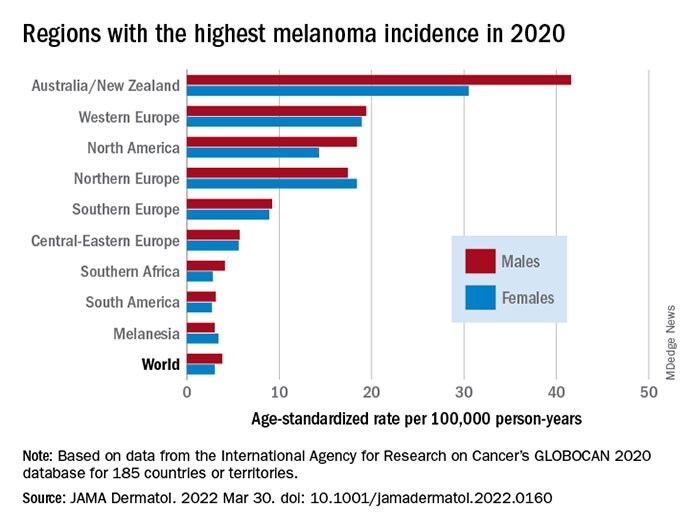 The highest incidence rates were seen in Australia and New Zealand, at 42 per 100,000 PY among males and 31 per 100,000 PY in females, followed by Western Europe, with 19 per 100,000 PY in both males and females; North America, with 18 and 14 cases per 100,000 PY in males and females, respectively; and Northern Europe, with 17 per 100,000 PY in males and 18 per 100,000 PY in females.
In contrast, in most African and Asian countries melanoma was rare, with rates commonly less than 1 per 100,000 PY, the investigators noted.
The melanoma mortality rate was highest in New Zealand, at 5 per 100,000 PY. Mortality rates worldwide varied less widely than incidence rates. In most other regions of the world, mortality rates were "much lower," ranging between 0.2-1.0 per 100,000 PY, they wrote.
The authors estimated that, if 2020 rates remain stable, the global burden from melanoma in 2040 will increase to approximately 510,000 new cases and 96,000 deaths.
Public Health Efforts Needed
In their editorial, Obeng-Kusi and Abraham pointed out that the study was hampered by the limited availability of cancer data from LMICs, leading the authors to estimate incidence and mortality rates based on proxy data, such as statistical modeling or averaged rates from neighboring countries.
They emphasized the need for going beyond the statistics: "Specific to cutaneous melanoma data, what is most important globally, knowing the exact numbers of cases and deaths or understanding the order of magnitude of the present and future epidemiology? No doubt the latter. Melanoma can be treated more easily if caught at earlier stages."
Projections such as those provided by Arnold and colleagues could help to raise awareness of the importance of decreasing exposure to UV radiation, which accounts for three-fourths of all incident melanomas, the editorialists said.
The study was funded in part by a grant to coauthor Anna E. Cust, PhD, MPH. Cust reported receiving a fellowship from the Australian National Health and Medical Research Council outside the submitted work. Arnold had no conflicts of interested to disclose. Abraham reported financial relationships with various entities. Obeng-Kusi had no disclosures.
This story originally appeared on MDedge.com, part of the Medscape Professional Network.
Credits:
Lead Image: iStock/Getty Images
Image 1: MDedge News
Medscape Medical News © 2022

Cite this: Global Melanoma Incidence High and on the Rise - Medscape - Apr 05, 2022.