Norman E. "Ned" Sharpless, MD, has announced that he is stepping down as director of the National Cancer Institute (NCI), a position he has held since 2017.
Acting as NCI director has been the "the highlight of my career," he said in a press statement, adding that he is "honored to have had the chance to serve my country in this role, alongside so many talented scientists and administrators."
He will continue as director through April 29. NCI principal deputy director Douglas R. Lowy, MD, will serve as acting director until a permanent director is appointed by President Biden.
Lowy previously served as acting NCI director from April 2015 to October 2017, following the resignation of Harold Varmus, MD, and again for 7 months in 2019 while Sharpless served as acting commissioner of the US Food and Drug Administration.
"Champion of Health Equality"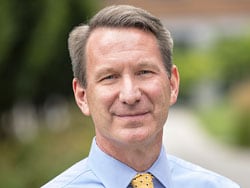 The NCI praised Sharpless' tenure as director, noting that he "has championed health equity; developed important programs in data science, including the Childhood Cancer Data Initiative; and advocated forcefully for policies to ensure continued support for investigator-initiated research in cancer and diversity in the cancer research workforce." He created the NCI's Equity and Inclusion Program in the summer of 2020.
Danielle Carnival, PhD, White House Cancer Moonshot coordinator, credited Sharpless with progress toward the goals of the President's Cancer Moonshot initiative.
"The President's goal of ending cancer as we know it today is grounded, in part, in the work of scientific discovery that Ned Sharpless has led at NCI," she said in the statement.
"We have an audacious but achievable goal to reduce the cancer death rate by at least half in 25 years and to improve the experience of all whose lives are impacted by cancer — working across government to develop and deploy additional ways to prevent, detect and treat cancer — and Dr Sharpless contributed greatly to that vision," she commented.
US Health and Human Services Secretary Xavier Becerra added that Sharpless is "a true public servant," and specifically highlighted his "contributions to the COVID-19 response and his work to minimize the pandemic's impact on people with cancer."
Head Large Cancer Center
Just before taking on leadership of the NCI, Sharpless had been director of the Lineberger Comprehensive Cancer Center at the University of North Carolina.
That gave Sharpless a "a unique perspective," according to the American Cancer Society in its statement. "He understood acutely where the gaps were in funding cancer research, as well the importance of getting access to patients for the latest breakthroughs. That perspective is one of the things that made him such an exceptional NCI director."
The ACS also noted that "his strong presence and collaborative approach have proven pivotal in securing significant funding increases for NCI — from $5.7 billion to $6.9 billion — which will help develop new preventive, diagnostic, and curative treatments in years to come."
Sharpless "will be missed at NCI, but his legacy at the Institute will continue to benefit cancer patients and their care for years to come," the ACS added.
The announcement of his resignation evoked many responses from the cancer research community on Twitter, including tributes from leaders such as Julie Gralow, MD, former president of the American Society of Clinical Oncology, who tweeted a thank you "for all you've done to improve cancer outcomes and the lives of cancer patients."
There is no official announcement of where Sharpless will land next. In an interview with The Cancer Letter, he said that he was looking forward to taking a break and then, perhaps, rejoining academic oncology.
"I had always thought of myself as being a member of academia. I expect eventually, I'll end up in an academic institution," he said. "I liked doing that before, and I expect I might do that again."
In the same interview, Sharpless said that diversity among leaders and decision-makers at NCI is critical going foward. "Cancer affects everyone, including women and people who are not white. And so, the leadership of this institution should be as diverse as the American public."
Sharon Worcester is an award-winning medical journalist at MDedge News, part of the Medscape Professional Network.
For more from Medscape Oncology, join us on Twitter and Facebook
Credits:
Images: Cade Martin/NCI
Medscape Medical News © 2022

Send news tips to news@medscape.net.
Cite this: Norman Sharpless, MD, to Step Down asNCI Director - Medscape - Apr 04, 2022.