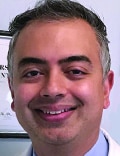 In the opinion of Seemal R. Desai, MD, dermatologists are obligated to tell their patients with melasma that their condition is a chronic disease with no cure.
"We have to set expectations upfront, because you all know the history," Desai, founder and medical director of Innovative Dermatology in Dallas, said at the annual meeting of the American Academy of Dermatology. "You get someone better, their melasma gets lighter, and then they're lost to follow-up for a year. Then they're back to your office after that beach vacation because their melasma has come back with a vengeance because they were out in the sun too much. We have to tell our patients that melasma therapy is a journey of skin lightening but it's not going to be a one-stop shop of getting it completely cured."
As for treatment of melasma, "hydroquinone is still our workhorse, our gold standard." Desai said. "I tell patients, 'I'm going to keep you on it for 16 weeks. Then you're going to come back. I'm going to see where you are, and we'll move into the nonhydroquinone therapies once your disease is under control.' "
However, new therapies for melasma are needed because long-term use of hydroquinone can lead to complications such as ochronosis, nail discoloration, conjunctival melanosis, and corneal degeneration.
Emerging Treatments
A growing number of synthetic and natural agents have emerged as off-label, second-line treatments for melasma, including azelaic acid, which inhibits tyrosinase and mitochondrial enzymes. Desai described azelaic acid as his "go to" nonhydroquinone option for skin lightening. In one study, 20% azelaic acid was used twice daily in 155 patients with facial melasma. Of these, 73% showed improvement after 6 months of therapy. Side effects were minimal and included erythema, pruritus, and burning.
Another option is topically compounded methimazole, a potent peroxidase inhibitor that causes morphologic change in melanocytes. "You can get it compounded as a 5% cream," he said of the antithyroid agent. "It's not that expensive, and even high concentrations are not melanocytotoxic. There's minimal systemic absorption because the molecule is large, so there really is not any effect on TSH [thyroid-stimulating hormone] or T4 levels."
Kojic acid dipalmitate, an antibiotic produced by many species of Aspergillus and Penicillium, can also be used as a second-line melasma treatment. Unlike kojic acid, kojic acid dipalmitate is more stable to light, heat, pH, and oxidation, and is also compatible with most organic sunscreens. It works by inhibiting tyrosinase. "It's already available overseas and will soon be available in the U.S. as a derivative of kojic acid," he said.
There is also vitamin C serum, which reduces tyrosinase activity via an antioxidant effect. "When you combine it with azelaic acid or sunscreen, vitamin C helps to augment the response," Desai said. In one study that compared 5% ascorbic acid with 4% hydroquinone, 62.5% vs. 93% of patients improved, respectively, but side effects were more prominent in those who received 4% hydroquinone (68.7% vs. 6.2%).
An additional off-label option for melasma is oral tranexamic acid, which controls pigmentation by inhibiting the release of inflammatory mediators, specifically prostaglandins and arachidonic acid, which are involved in melanogenesis.
Desai often uses a dose of 325 mg twice daily. "Think of tranexamic acid as an anti-inflammatory," he said. Tranexamic acid is contraindicated in patients who are currently taking or have previously taken anticoagulant medications; those who are pregnant or breastfeeding, or are smokers; and in those with renal, cardiac, and/or pulmonary disease. It has a half-life of about 7.5 hours, so the twice daily dosing "is quite effective," he said.
"Do I leave my patients on this for years at a time to see if it's going to work? No. When this works in treating melasma it works very quickly. I tell patients they're going to see results in the first 8-12 weeks. That's the beauty of using this orally."
Another emerging therapy is Rubus occidentalis (black raspberry), a botanical-based ingredient in a 3% topical suspension that was compared with 4% hydroquinone in a randomized placebo-controlled trial. In the study, efficacy of Rubus occidentalis was considered comparable to that of hydroquinone. "This not only blocks melanogenesis, it also helps to block melanosome transfer," said Desai, who is a past president of the Skin of Color Society.
Another natural option for melasma patients is topical cysteamine, which is the simplest aminothiol physiologically produced in human cells from the essential amino acid cysteine. "This is great for patients with recalcitrant disease, or for patients who, after 12-16 weeks of hydroquinone, you want them to have a break. I use it as a 5% concentration, and it works nicely," he said. Cysteamine is also highly concentrated in human milk.
Desai disclosed that he performs clinical trials and consulting for many companies including L'Oréal, Galderma, Allergan, and AbbVie.
This article originally appeared on MDedge.com, part of the Medscape Professional Network.
Credits:
Lead Image: Getty Images
Image 1: Dr Seemal Desai
Medscape Medical News © 2022 WebMD, LLC

Send comments and news tips to news@medscape.net.
Cite this: Topical Options for Treating Melasma Continue to Expand - Medscape - Mar 26, 2022.