During a recent virtual medical malpractice trial, the judge called a break, and the participants left their screens. When the trial resumed a short time later, one juror was missing. The court called his phone, but there was no answer.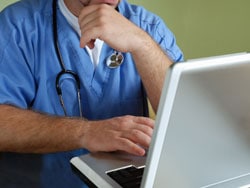 "Everyone had to keep waiting and waiting while the bailiff kept trying to call," recalled Elizabeth Leedom, a medical malpractice defense attorney based in Seattle. "The juror fell asleep."
The sleeping juror caused a significant delay in the trial, Leedom said. Finally, he woke up, and the trial was able to continue.
In another instance, a potential juror showed up drunk to a virtual jury selection. The man was slurring his words as he answered questions, Leedom said, and when asked if he was okay, he admitted that he had a drinking problem. The judge asked whether he had consumed alcohol, and the man admitted that he'd been drinking that day. He was excused from jury selection.
These alarming incidents are among the mishaps that happen during virtual medical malpractice trials. Since the pandemic started, many courts have moved to virtual settings to slow the spread of COVID-19. Although some courts have now shifted back to in-person trials, some areas continue to mandate virtual malpractice trials, hearings, and depositions.
Such trials can save money and are convenient, but legal experts say virtual trials present serious challenges for physicians and raise concerns about fairness. Some jurors are not taking virtual cases seriously or do not stay focused on the subject matter, according to attorneys.
"Virtual trials are not as fair to physicians as in-person trials," said Andrew DeSimone, a medical malpractice defense attorney based in Lexington, Kentucky. "It's too easy not to pay attention in a virtual setting. And when you are dealing with complex medical topics, juror attention is a paramount issue."
Casual Settings, Constant Interruptions During Jury Selections
Understanding and reaching the jury have been the greatest challenges with virtual and hybrid trials, said Laura Eschleman, a medical liability defense attorney based in Atlanta. Hybrid trials are part virtual and part in-person.
Eschleman has participated in jury selections via Zoom in which jurors lounge in bed during the process and spouses and children waltz into the room as they please, she said.
"With over 36 Zoom boxes of potential jurors, assessing each potential juror was difficult to say the least," she said. "[Jury selection] has always been an opportunity to introduce the defendant physicians to the jurors as humans; doing it virtually took that away. It is difficult to humanize a box on a screen."
Regarding one virtual jury selection, Eschleman said the court had narrowed the pool to a final 12 jurors when one juror's wife burst into his room and started yelling in front of his computer.
The judge allowed her to speak, and the crying woman begged the judge not to select her husband for the trial because it would disrupt the couple's child care. After a lengthy exchange, they learned that the child was 16 years old and had his own car. The husband disagreed with his wife and wanted to remain a juror.
"This would have never happened had the twelfth juror been called to an in-person jury selection," Eschleman said.
Keeping juries focused while the trial is underway can also be a problem, DeSimone said. He describes the courtroom during malpractice trials as a theater of sorts. Jurors watch intently as witnesses testify, evidence is presented, and the judge gives instructions. During virtual trials, however, watching through a screen doesn't always yield the same captive audiences, he said.
"During Zoom, it's much harder to connect with the jury because they won't be as tuned into it," he said. "If the jury believes the physician is empathetic, conscientious, caring, and compassionate, they will give the physician the benefit of the doubt, even if something went wrong or a bad outcome occurred. Developing that connection through good eye contact, being a teacher, and showing compassion is the most important thing a physician can do when testifying."
A related challenge is that medical experts can't connect as well with jurors, and some may have trouble conveying their message from a screen, said Evan Lyman, a medical malpractice defense attorney based in White Plains, New York.
"Some experts like to get out of the witness box and kind of take over the courtroom with a laser pointer or a white board," he said. "For some, that's what makes them effective experts. Some experts lose their touch when they can't do that."
Technical difficulties during virtual trials can cause further woes, said Kari Adams, vice president of claims for Physicians Insurance – A Mutual Company. She recalled a recent case in which technical problems arose during the defense attorney's closing arguments.
"It's hard to see our defense attorneys who are used to using all of their advocacy skills, all of their charisma trying to convey it in a virtual format," she said. "When it's disrupted, it can really throw things. A lot of their advocacy and personality can play through, but it's just a little less in that forum."
Doc Fights Against Virtual Trial
When Texas cardiologist Amin Al-Ahmad's malpractice trial was changed to a virtual format because of COVID-19 concerns, Al-Ahmad and his attorneys fought the move.
They argued that the malpractice case was too complex for a virtual format and that a video trial would deprive Al-Ahmad of his rights to due process, including the right to trial by jury.
Al-Ahmad's case involved allegations that he had failed to promptly diagnose and treat an atrial esophageal fistula, resulting in a patient's stroke and ongoing neurologic problems. The trial was expected to last up to 10 days. Nine witnesses were expected to testify, and $1 million in damages were at stake, according to court documents.
"The length of trial anticipated, complexity of the medical issues, the confidential medical information at issue, and the number of anticipated medical records exhibits lead to a real risk of juror 'Zoom fatigue,' even if the trial is not interrupted with technology glitches, such as jurors dropping off the link or sound loss," Al-Ahmad's attorneys wrote in a petition to the Texas Supreme Court. "[T]he risks of forcing [the defendants] to trial through the procedure of a remote or virtual jury trial are numerous. Not least of these is the risk that [defendants'] relators will be prevented from presenting an adequate defense or being able to fully preserve error during a virtual trial."
Another concern regards the lack of uniformity from county to county in conducting a virtual trial, said David A. Wright, an attorney for Al-Ahmad. Some counties don't permit them, while others permit parties to opt out of virtual trials, he noted.
"Even those that hold virtual trials seem to have different procedures and rules," he said. "Travis County, where I have tried my virtual cases, has iPads that they provide to each juror so that they are limited to using just the county iPad for the trial. Others, I have heard, permit jurors to use their own devices. There are simply no uniform rules."
Despite requests to the trial court and petitions to the appellate and Texas Supreme Court, Al-Ahmad lost his bid to have his trial delayed until in-person trials resumed. The Texas Supreme Court in late 2021 refused to halt the virtual trial.
Al-Ahmad, based in Austin, declined to comment through his attorney. Wright said the court's denial "was not unexpected."
Al-Ahmad's virtual trial went forward in October 2021, and the jury ruled in his favor.
"We were very pleased with the jury's verdict," Wright said.
Are Virtual Trials Ending in Higher Awards?
In addition to jurors' not taking their roles as seriously, the casual vibe of virtual trials may also be diminishing how jurors view the verdict's magnitude.
"Virtual trials don't have the gravity or the seriousness of a real trial," Leedom said. "I don't think the importance of the jury's decision weighs on them as much during a Zoom trial as it does an in-person trial."
Alarmingly, Leedom said that in her experience, damages in virtual trials have been higher in comparison with damages awarded during in-person trials.
Adams agrees with this observation.
"We'll still win cases, but we're concerned that in the cases we lose, the damages can be slightly higher because there hasn't been that interpersonal connection with the defendant," she said. "It almost becomes like monopoly money to jurors."
Remember These Tips During Virtual Trials
Physicians undergoing virtual trials may have better experiences if they keep a few tips in mind.
DeSimone emphasizes the importance of eye contact with jurors, which can be tricky during virtual settings. It helps if physicians look at the camera, rather than the screen, while talking, he said.
Physicians should be cognizant of their facial expressions as they watch others speak.
"Don't roll your eyes like, 'Oh my gosh, he's an idiot,' " DeSimone said. "Keep a poker face. Be respectful of what's going on. Don't be lulled into letting your guard down."
Before the virtual trial, practice the cross examination and direct examination with your attorney and record it, Leedom said. That way, doctors can watch how they present on video and make necessary changes before the real trial. Lighting is also important, she noted. Her firm provides special lamps to clients and witnesses for virtual trials and proceedings.
"The lighting makes a huge difference," she said.
Its also a good idea for physicians to have a paper copy of the records or exhibits that are going to be used so it's easy for them to flip through them while on the screen. Physicians should also be mindful of how they come across during video depositions, which are sometimes played during virtual trials, Adams said.
"If you're not looking professional during the video deposition ― you're eating, you're not dressed well ― the plaintiff's attorney will take the most inopportune segment of the deposition and portray the physician as, 'Look, here's someone who was careless in the medical care, and look, they don't even look professional when they're testifying about this horrifying experience,' " she said. "They'll use the clips to make a very careful provider appear distracted."
Are Virtual Trials and Hearings Here to Stay?
Whether virtual malpractice trials continue will largely depend on the location in which physicians practice. Some insurance carriers are opting to continue virtual trials, but in some areas, trials are being delayed until in-person proceedings can resume, Adams said. Some areas never adopted video trials and never ceased in-person trials.
"I think it's going to be very regionally based," she said. "Some of the smaller, rural counties just don't have the capacity or the resources to continue, so they'll probably just go back to in-person."
Not all virtual proceedings are problematic for physicians, say legal experts. Virtual depositions can be beneficial for doctors because they are less intimidating and confrontational than in-person depositions, Lyman said.
Additionally, virtual mediations can take much less time than in-person mediations, Adams said. Video depositions and mediations also save travel costs and reduce time missed from work for physicians.
"But I hope we all go back to in-person trials," Leedom said. "Even here in King County, [Washington,] where we've done federal and state court trials by Zoom, I'm hopeful that it will go back to in-person trials."
Alicia Gallegos is a reporter for Medscape Business of Medicine and is based in the Midwest. She has previously written for the American Medical News, the ACP Internist, and the AAMC Reporter. Contact Alicia at agallegos@medscape.net or via Twitter at @Legal_med
For more news, follow Medscape on Facebook, Twitter, Instagram, and YouTube.
Credits:
Images: Zen2000/Dreamstime
Medscape Medical News © 2022

Cite this: Alicia Gallegos. Drunk, Sleeping Jurors During Virtual Malpractice Trials - Medscape - Mar 24, 2022.