Carrie Crook had just become a modern-day Cinderella when her girlfriend, a fellow student at Tulane University School of Medicine, popped the question during the annual Muses Parade in New Orleans. Just about 2 weeks later, Crook learned she had matched into a residency program. So the couple had double the celebration, but a lot to consider in terms of their relationship over the next few years.
Danielle Krakosky, 28, is a third-year med student at Tulane University School of Medicine, and Crook, 26, is a fourth-year student who last week matched to the University of California, San Francisco. So while Krakosky continues at Tulane, her fiancé will be headed across the country for a residency in ob/gyn — her top choice.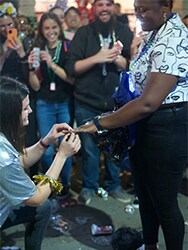 "It was something we discussed thoroughly before I made my rank list," Crook told Medscape Medical News, "and Danielle was so supportive through the entire process. This is the bittersweet part of the match because it often marks a time where your loved ones and friends will be spreading across the country to pursue their specialty training."
The couple is gearing up for the change, "but we are already working on ways to make the physical distance feel a little shorter by planning frequent visits," Crook said. "Until I move, we are just trying to enjoy as much time together as possible.
Meanwhile, memories of the recent betrothal are still fresh in their minds.
As part of the city carnival celebration, a muse on a float handed Crook one of the coveted glittery shoes — a trademark of the parade — decorated for the occasion with the question: "Marry Me, Carrie?"
On cue, Krakosky got down on a knee and presented the engagement ring to Crook.
"I knew for a while she was the one I wanted to spend the rest of my life with," Krakosky told Medscape Medical News. "We had talked about our future together for some time."
Krakosky had arranged the marriage proposal with a member of the all-women Krewe of Muses, Ragan Gankendorff, who is a medical school administrator at Tulane. Orchestrated by Krakosky with the help of Crook's sister and other friends, Gankendorff knew to stop at the appropriate location along the parade route and ensure only Crook received the sought-after shoe.
Krakosky wanted the engagement to involve the city of New Orleans that brought the couple together — they met in an anatomy class 3 years ago — and for friends to be able to celebrate afterwards. The timing was perfect, Krakosky said, because it also came before Crook's graduation; she's a year ahead of her partner.
"It's a special thing to get a shoe," Krakosky said. "I think it was super special for us."
Crook told Medscape she had her suspicions when her sister took her to get a manicure several days before the parade. Her main concern about such a proposal was: "I hope a flash mob around me doesn't start dancing."
But when she texted friends to ask their opinions, "They said: 'I don't think so. During a Mardi Gras parade? That would be hilarious.' " Turns out they were in on the surprise.
As far as visions she had about a marriage proposal, Crook said, "This was way more interesting and fun than I could ever imagine."
For Krakosky, the proposal "went exactly as I pictured, the planning and buildup. I wanted as many close friends as possible when the shoe-drop happened." The reason: To ensure Crook got the shoe, instead of it being ripped from her grasp, and that she was surrounded by familiar faces instead of strangers on the parade route, Krakosky said.
She recalled the puzzle pieces that fell into place to prepare for the event. For instance, she was supposed to take a test the next day and asked to take it before the parade so she'd be able to celebrate afterwards. And a friend who was supposed to come to the parade came a day earlier for the proposal.
"Carrie's sister went up a few blocks and told the float driver where to stop," Krakosky said. "Everything came together…I told everyone this is how I want it to go and it was perfect."
For more news, follow Medscape on Facebook, Twitter, Instagram, YouTube, and LinkedIn
Credits:
Images: Carrie Crook
Medscape Medical News © 2022

Send news tips to news@medscape.net.
Cite this: Match Day Doubles the Joy for Med Students Newly Engaged at Mardi Gras - Medscape - Mar 24, 2022.