One nurse is headed to federal prison and another faces a similar fate for participating in a pair of prison contraband schemes.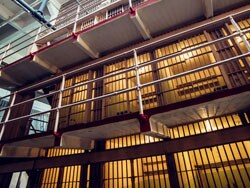 Former contract nurse Joseph Nwancha, RN, 41, of Baltimore, Maryland, was sentenced to 30 months in federal prison followed by 3 years of supervised release for his role in a scheme to smuggle narcotics, tobacco, cell phones, and other contraband into a state prison.
In his plea deal, Nwancha said that he was regularly the on-duty nurse during evenings and nights at Maryland Correctional Institute Jessup (MCIJ), which housed approximately 1100 male inmates. This made it possible for him to have private contact with inmates without prison employees or other inmates observing the interactions.
According to court documents, beginning in September 2017, Corey Alston, an inmate at the medium-security prison, began bribing Nwancha to bring contraband into the prison. The inmate's sister, Ashley Alston, discussed the bribe payments with Nwancha via text messages and later met with Nwancha to give him money. In his plea deal, Nwancha also admitted to having similar arrangements with other inmates.
On November 28, 2017, Nwancha was stopped at MCIJ and was found to be in possession of approximately 230 g of K2, a synthetic cannabinoid, intended for Alston and other inmates, according to the court documents. A cell phone recovered from Nwancha contained text-message conversations discussing bribe payments and other details related to the smuggling operation. The next day, Nwancha fled to Dublin, Ireland, where he remained until his arrest and extradition, the document says.
According to the Maryland Board of Nursing, Nwancha earned his license to practice in 2013, and it expired in 2019.
The Washington Post reported that Nwancha was part of a smuggling ring involving at least 25 people, including corrections officers, in which conspirators would receive "bribes, kickbacks, and sexual favors" in exchange for smuggling contraband into the facility.
Jeane Arnette, RN, of Leavenworth, Kansas, pleaded guilty to a scheme in which she used her role as a nurse to smuggle contraband, including cell phones, into the Leavenworth Detention Center.
Arnette, 61, pleaded guilty on Mach 10 to conspiracy to provide contraband to federal prison inmates. The Kansas City Star says Arnette worked at the prison from August 2020 through September 2021 and allegedly attempted to smuggle contraband on at least 15 occasions to one inmate. Investigators alleged she was paid through Cash App for the transactions.
She is scheduled to be sentenced June 9 and faces a maximum penalty of 5 years in prison.
New York Nurse Indicted in COVID-19 Vaccine Card Scam
A New York licensed practical nurse faces charges of conspiring to defraud the US Department of Health and Human Services and conspiring to commit forgery in a scheme to distribute and sell false COVID-19 vaccination cards.
According to the indictment, Steven Rodriguez, of Long Beach, New York, 27, a nurse at a Hempstead, New York–based clinic, conspired with Jia Liu, 26, of Queens, New York City, who is a member of the US Marine Corps Reserve, to provide the fake vaccination cards. The cards were sold to unvaccinated Marine Corps reservists who did not want to comply with US Department of Defense vaccination regulations.
In the scheme, Liu purchased stolen, blank COVID-19 vaccination cards from Rodriguez, then forged and distributed them for profit. Liu also directed buyers to meet Rodriguez in person at the healthcare clinic where, rather than administer the vaccination, Rodriguez would destroy the vial of vaccine intended for that patient, then provide a forged vaccination card. Rodriguez then made false entries in immunization databases indicating that the buyer had been vaccinated. Liu was also charged with one count of conspiring to defraud the Department of Defense, according to prosecutors.
Using code words such as "gift cards," "Pokemon cards," and "Cardi Bs," the men sent messages on encrypted messaging apps and on social media to inform potential buyers of the opportunity to buy the fake cards, prosecutors said.
Overall, according to the indictment, Rodriguez and Liu distributed at least 300 stolen or false COVID-19 vaccination cards, created more than 70 false entries in immunization databases, and destroyed multiple doses of COVID-19 vaccine. "The defendants put military and other communities at risk of contracting a virus that has already claimed nearly one million lives in this country," Breon Peace, US Attorney for the Eastern District of New York, said when announcing the charges.
Rodriguez's lawyer said in an email to The New York Times that the charges are "disturbing" but added, "This young man has no prior record and has a good family, which is why he was released on an unsecured signature bond with the consent of the government."
Rodriguez acquired his LPN license in 2018, and it was valid as of press time, according to the New York Office of the Professions database.
Liu, who also faces charges in connection with the January 6 riot on Capitol Hill, was released on a $250,000 bond to home detention with GPS monitoring, according to the same report.
If convicted, the men could each face up to 10 years in prison.
Pennsylvania Nurse Practitioner Faces 22 Felony Charges
A Bradford County, Pennsylvania, nurse practitioner is facing nearly two dozen felony violations of state law.
Stephanie King, CRNP, 45, of Ulster, Pennsylvania, is accused of prescribing medicines without a collaborating physician, as well as with multiple counts of false billing.
The felony charges include three violations of the state's Controlled Substance, Drug, Device and Cosmetic Act; two counts of insurance fraud; six counts of Medicaid fraud; six counts of forgery; two counts of tampering with public records; and three counts of theft by deception.
According to local press reports, King was the owner and operator of the Center for Holistic and Integrative Mental Health in Athens, Pennsylvania. The charging documents allege that beginning in November 2016, King entered into a sexual relationship with a patient and billed a private insurer for their trysts. King subsequently entered a relationship with another patient. Although she discontinued medical care for this patient after the affair began, she continued to prescribe controlled substances for him, according to the indictment.
In addition, prosecutors allege that King renewed previous collaboration agreements without the knowledge of her physician collaborators. Under Pennsylvania law, nurse practitioners are required to enter into collaborative agreements with Pennsylvania-licensed physicians in order to perform medical diagnoses and prescribe controlled substances.
The investigation found that King falsely billed more than $300,000 to private insurers and $100,000 to the Commonwealth of Pennsylvania for services that did not meet acceptable medical treatment standards. In addition, she is alleged to have written more than 3750 prescriptions to patients during the time she did not meet the State of Pennsylvania's requirements to prescribe.
Her license, originally obtained in 2011, was suspended on March 25, 2020.
Massachusetts Nurse Pleads Guilty of Tampering With Patients' Fentanyl
A Massachusetts nurse was charged with and has agreed to plead guilty to one count of tampering with a controlled substance while working in the postsurgery recovery unit at a Massachusetts hospital as well as at an outpatient vascular surgery center.
According to the charging documents, Hugo Vieira, 41, of Berkley, Massachusetts, removed fentanyl from vials meant for patients undergoing or recovering from surgery. He then replaced the fentanyl with saline. Investigators identified 60 tampered vials at the vascular surgery center and two at the hospital.
Viera faces up to 10 years in prison followed by 3 years of supervised release and a fine of up to $250,000 for the tampering charge.
For more news, follow Medscape on Facebook, Twitter, Instagram, and YouTube.
Credits:
Images: Mykyta Starychenko/Dreamstime
Medscape Medical News © 2022

Cite this: Avery Hurt. Prison Smuggling Schemes Net Jail Time, Charges Against Nurses - Medscape - Mar 24, 2022.