The stress of living through a pandemic may cause brain inflammation even in those uninfected with SARS-CoV-2, a new study suggests.
Healthy individuals who tested negative for the virus that causes COVID-19 had elevated levels of inflammatory markers known to be involved in depression, stress, and mental fatigue. The study indicates a possible link between pandemic-associated stressors and neuroimmune responses.

"The most important finding is the evidence of neuroinflammation in non-infected, otherwise healthy participants, which may explain the variety of sickness-behavior-like symptoms experienced by many during the pandemic," lead author Ludovica Brusaferri, PhD, a postdoctoral research fellow at Massachusetts General Hospital and Harvard Medical School in Boston, told Medscape Medical News.
The study was published online February 16 in Brain, Behavior, and Immunity.
Impact of Pandemic Stress?
Reports of psychological distress have increased considerably in the United States during the pandemic, including among those not infected with SARS-CoV-2.
To better understand the effects of the pandemic on brain and mental health, the investigators retrospectively analyzed data collected from 57 people who were enrolled as control subjects for unrelated studies before the pandemic began.
They also enrolled 15 people living in Massachusetts during that state's 2-month lockdown/stay-at-home order from March to May 2020, all of whom had tested negative for COVID-19 antibodies.
The investigators used PET and MRI imaging and blood sample analyses to investigate whether there were any differences in the brains of healthy people before and during the pandemic following the lockdown.
Compared with the control group, the pandemic cohort had elevated levels of 18 kDa translocator protein (TSPO) and myoinositol, inflammatory markers in the brain. Increased TSPO has been associated with depression and suicidal thoughts and elevated myoinositol has been linked to schizophrenia.
Blood levels of two inflammatory markers, interleukin-16 and monocyte chemoattractant protein-1, were also elevated in the pandemic cohort, although to a lesser extent.
TSPO levels were especially high in participants in the pandemic cohort who reported moodiness and mental and physical fatigue compared with those reporting few or no symptoms.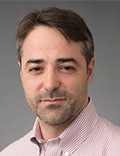 "These findings provide support to a role for neuroinflammation in stress, an observation that, if replicated, might help guide the development of novel treatments focused on the reduction of brain inflammation," study author Marco Loggia, PhD, co-director of the Center for Integrative Pain NeuroImaging at Mass General and Harvard Medical School, told Medscape Medical News.
Although the data showing increased neuroinflammation was collected when participants were under a stay-at-home order, the researchers said it's not clear that this was the cause.
"We're not saying it is the lockdown that was causing it," Loggia said. "It could have been social isolation, changes in diet, or changes in exercise patterns. We don't know exactly what the cause was so, may be."
A Significant Contribution
Commenting on the study for Medscape Medical News, Ning Quan, PhD, professor of biomedical science in the Schmidt College of Medicine at Florida Atlantic University, Boca Raton, said although questions remain, the findings offer valuable information.
"This study contributes significantly to our understanding of how pandemic stress might impact our brain and behavior," Quan said. "The main advance that this paper provides is that fatigue or brain fog could be induced in individuals with COVID infection during the pandemic."
However, Quan added, the study has a number of limitations, including a small sample size, which makes it difficult to generalize the results.
"Another issue is the subjects of the study all lived in Massachusetts," Quan added. "Subjects from different states or different countries could yield different results."
The study was funded by the National Institutes of Health and by The Landreth Family Foundation. The Study authors and Quan have disclosed no relevant financial relationships.
Brain Behav Immun. Published online February 16, 2022. Full text
For more Medscape Neurology news, join us on Facebook and Twitter
Credits:
Lead Image: Dreamstime
Image 1: Ludovica Brusaferri, PhD
Image 2: Marco L. Loggia, PhD
Medscape Medical News © 2022

Send news tips to news@medscape.net.
Cite this: 'Pandemic Brain' Not Limited to Patients Infected With COVID-19 - Medscape - Mar 22, 2022.