The pediatric oncology unit in Kyiv's National Cancer Institute is empty, with all the children evacuated to safer hospitals in Western Ukraine or further, making it a good place to talk on Zoom.
Against a backdrop of colorful animals painted on the wall, Oleksandr Stakhovskyi, MD, PhD, speaks optimistically about the future of his city, his country, and even his patients, despite acknowledging that his surgical hands are now trained to use a machine gun.
"It's not as bad as last week," he laughs, explaining that residents of Kyiv are more relaxed now, despite the air raid sirens, because the city's anti-missile system has thus far kept them safe.
Even still, missiles have continued hitting civilian residences and Stakhovskyi, a urologic-oncology surgeon, has evacuated his wife and children out of the country, as have 70% of his colleagues. But for those who stayed in Kyiv, there is a strong resolve.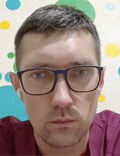 "People working in IT, in law, in other professions — they just took the guns and stayed in Kyiv," he told Medscape Medical News. "They are just civilians, armed, trying to protect and fortify Kyiv — to make it unbreakable." Stakhovskyi doesn't have a background in the military, but he now knows how to use a machine gun. "I am a super-specialized oncologist, [but] I realize if I leave right now it will give the Russians momentum to come in. The longer it takes, the weaker the opponent army will become, and we are more and more optimistic."
In Kyiv, Stakhovskyi is working half the time at the cancer hospital and the other half at the nearby military hospital, but he said so far war casualties are minimal within the city, and even the flow of patients with cancer has reduced.
"I had my surgeries planned up until the end of March, but when the war started, they were all postponed," he said. Emergency cancer surgeries have continued, and now there is talk of resuming some others. "We will stratify patients into categories based on need," he said. "For those patients whose surgery can basically stop the disease and they don't need neoadjuvant chemo, we'll probably be doing those."
Medical oncology clinics have also resumed, said Stakhovskyi, but the volume of patients is low, because many have left the city. An estimated 3.3 million people have left Ukraine since the Russian invasion on February 24.
Across the country, in Lviv near the Polish border, another surgical oncologist tells a different story. Andriy Hrynkiv, MD, from Lviv Regional Cancer Center, says his hospital has seen a dramatic increase in patients, displaced internally from areas where the medical infrastructure has collapsed.
"Russian forces have destroyed more than 117 hospitals, 43 ambulances have been shot at, 6 doctors have been killed, and 13 wounded," Hrynkiv said. In the city of Mariupol, "doctors and patients have been taken hostage," he said, used by Russian forces as a human shield. In Kharkiv, with approximately 1.5 million residents, the only oncologic hospital has been destroyed.
There is a shortage and instability of medical supplies including all iodine-containing medications that citizens are stocking up on in the face of a potential nuclear attack, he said.
Hrynkiv was speaking on a webcast organized by the American Society of Clinical Oncology (ASCO) and European Cancer Organisation (ECO).
The two organizations are collaborating with each other and the World Health Organization to create a special network that is aiming to connect professionals, academic and clinical centers, and patient groups.
Additionally, the Ukranian Society of Clinical Oncology (USCO), cofounded by Stakhovskyi, is trying to keep patients connected with nongovernment organizations.
"These patient organizations moved west when the war started, but they still use us to help them make contact with foreign doctors," he said. "We have tried to centralize this process but it's very difficult because patients and organizations are also calling doctors and centers directly looking for treatment options."
He says USCO is also coordinating the distribution of a donation of immunotherapy pembrolizumab (Keytruda) from pharmaceutical company Merck Sharp & Dohme. "It's a huge influx of this drug," he says. "They've promised something like 2000 doses to cover 230 patients for 3 months at least. Usually this is not an easy drug to access for people in Ukraine because it's really expensive."
Stakhovskyi said the optimism he feels is fueled by the support that Ukrainians feel from the rest of the world.
"We see the reaction of our international colleagues. It is so impressive and touching — lots of my ex-professors are texting me and sending me messages from all over the place, from Germany, from Canada, from France, from the United States," he said. "And if we can be optimistic for ourselves, definitely that translates to our patients."
Kate Johnson is a Montreal-based freelance medical journalist who has been writing for more than 30 years about all areas of medicine.
For more news, follow Medscape on Facebook, Twitter, Instagram, YouTube, and LinkedIn
Credits:
Lead Image: Chris McGrath/Getty Images
Image 1: Kyiv National Cancer Instuitute
Medscape Medical News © 2022

Send news tips to news@medscape.net.
Cite this: Hands Trained for Surgery Now on Machine Gun: Kyiv Oncologist - Medscape - Mar 21, 2022.