Legal experts are divided on whether the US Supreme Court's eventual decision on the cases of two physicians convicted for illegal opioid distribution will have precedent-setting implications for medicine.
Attorneys for Xiulu Ruan, MD, and Shakeel Kahn, MD, both pain management specialists, argued — along with some medical organizations, business groups, and law professors, through friend of the court briefs — that the government's prosecution of opioid cases has had a chilling effect on legitimate prescribing for chronic or intractable pain.
They want juries to consider whether convicted doctors on trial prescribed in "good faith," requiring jurors to assess the doctor's subjective intent. Convictions typically have hinged on whether the prescribing could be considered within the usual standard of care.
The arguments were heard on March 1 in Ruan v. United States and Kahn v. United States, which were consolidated into one case.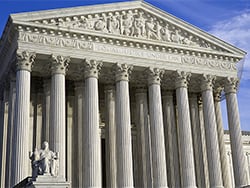 Kahn was convicted in 2019 on 22 counts for unlawfully prescribing opioids to rural areas around Fort Mohave, Arizona; Casper, Wyoming; and the Wind River Indian Reservation in Wyoming, for money laundering, and various other charges. A federal judge sentenced Ruan to 21 years in prison in 2017, for prescribing fentanyl off-label for neck, back, and joint pain, money laundering, receiving illegal kickbacks and billing practices that the government said was designed to "unlawfully enrich" the Alabama-based doctor and his partner.
Adam M. Gershowitz, JD, professor of law at William and Mary Law School in Williamsburg, Virginia, told Medscape Medical News that if the jury instructions are ultimately changed as a result of this case, he would not expect to see a flood of overturned convictions or fewer cases brought to trial.
Gershowitz, who analyzed 25 pill mill cases in 2020, said that federal prosecutors usually only seek a conviction when "there's lots of evidence that this person sells drugs." In addition, more than half of the cases don't go to trial because most of the defendants plead guilty, Gershowitz said.
Abbe R. Gluck, a professor of law and faculty director of the Solomon Center for Health Law and Policy at Yale Law School, New Haven, Connecticut, on the other hand, wrote on Scotusblog.com that the case raises "issues for health care, regulation, and criminal law that extend beyond the opioid crisis."
She said that many industries are looking for clarity on the government's culpability standard in order to get a clearer idea of when a company or individual who breaks a law or regulation would be held accountable.
Justices Ponder Intent
At oral arguments on March 1, Ruan's attorney, Lawrence S. Robbins, said that his client's case should be overturned or that he should get a new trial because the trial judge told the jury it could only convict Ruan if he demonstrated both a lack of good faith and that he had not prescribed within the standards of medical practice. Robbins said it behooved the government to prove beyond a reasonable doubt that Ruan had not acted in good faith.
Kahn's attorney, Beau Brindley, argued that the Supreme Court had found in a previous case that the purpose of the Controlled Substances Act (CSA) was only to prohibit the use of prescriptions to engage in drug trafficking. If all a court had to do was prove "that a doctor acted outside the usual course of practice without reference to the purpose of the prescription, then doctors can be convicted for failing to follow medical norms even if they…never prescribed for an illegitimate reason," said Brindley. "This allows conviction of doctors who misapprehend the extent of their obligations but are not drug dealing as conventionally understood," he told the Justices.
The Justices probed the lawyers. If a doctor violated the objective standard "but might have legitimately thought that the standard was somewhat different," he "should not be sent away for 20 years to prison, right?" Justice Brett Kavanaugh asked Brindley. The lawyer answered, "yes."
Justice Samuel A. Alito Jr. asked Brindley if a physician should be acquitted even if he "sincerely thinks that a practice that is objectively outlandish" is "the legitimate practice of medicine?"
Answered Brindley, "Yes, because that doctor is not drug trafficking as conventionally understood." He later told Alito that he didn't think a jury was likely to acquit, however, if "all the objective evidence comes in" that the prescribing was not for a legitimate medical purpose.
But Alito countered, "No, it's not likely, but that's what your interpretation means."
Exploring "Legitimate Medical Purpose"
Both Ruan and Khan were convicted with objective evidence indicating they had prescribed outside practice norms. Khan was convicted in 2019 for selling opioids for cash, illegal distribution that resulted in the overdose death of a patient and use of a firearm "in the furtherance of a drug trafficking crime."
Ruan and his partner John Couch, MD, wrote almost 67,000 prescriptions in a year, and although the government acknowledged that some patients received legitimate care, "the jury heard evidence that many patients rarely saw either of the doctors," according to a Department of Justice statement.
The two also received illegal kickbacks from Subsys maker Insys Therapeutics and were among the top prescribers in the US of that painkiller. They purchased a large amount of Abstral maker Galena Pharmaceuticals stock and then sought to manipulate the stock price. The federal government showed that the two opened their own pharmacy inside their pain clinic and filled 91% of the Subsys and Abstral prescriptions they wrote at the pharmacy
After their convictions, the government seized several houses, beach condos, bank accounts, and 23 luxury cars, including multiple Bentleys, Lamborghinis, Mercedes, and Ferraris. Each physician also agreed to an additional $5 million money judgment.
Both Khan and Ruan argued in their briefs that they were acting in good faith at all times.
Deputy Solicitor General Eric Feigin, arguing on behalf of the federal government, said that Ruan and Kahn were attempting "to be free of any obligation even to undertake any minimal effort to act like doctors when they prescribe dangerous, highly addictive, and, in one case, lethal dosages of drugs to trusting and vulnerable patients."
He agreed with Khan and Ruan's attorneys that the burden of proof is on the government, but that the burden is to prove that a "defendant was not even attempting to recognizably practice medicine," not that he or she had not acted in good faith.
Asked Kavanaugh: " 'legitimate medical purpose,' don't you agree that's a somewhat vague term?" Feigin replied, "No I don't."
Justice Neil Gorsuch suggested that maybe the government might have to prove the defendant had criminal intent when the convictions for opioid cases often lead to 20-plus-year sentences.
"You can't be convicted so long as you took an honest effort to prescribe for a legitimate medical purpose," answered Feigin.
Outcome Unclear
Court watchers said that unlike in many cases, the Justices did not give much indication of their ultimate decision.
"In the end it was not clear what direction the court is likely to take," wrote Gluck after the arguments.
"It's very hard to predict what the court is going to come out with here," agreed Gershowitz.
If the Justices decide that the juries in the Khan and Ruan cases were given the wrong instructions, then the decisions will be reversed and the two cases will be retried, said Gershowitz.
But that would not necessarily release a flood of new trials, he said. Jury instructions and interpretations vary by each federal circuit. And, for a case to have a chance at a new trial or reversal it would have to not be final yet, said Gershowitz.
Alicia Ault is a Lutherville, Maryland-based freelance journalist whose work has appeared in publications including JAMA, Smithsonian.com, the New York Times, and the Washington Post. You can find her on Twitter @aliciaault.
For more news, follow Medscape on Facebook, Twitter, Instagram, YouTube, and LinkedIn
Credits:
Images: Dreamstime
Medscape Medical News © 2022

Send news tips to news@medscape.net.
Cite this: Will Physician Intent Matter in SCOTUSPill Mill Cases? - Medscape - Mar 17, 2022.