Like many, Anna Stasiv, APRN-FNP, is keeping a close eye on Ukraine these days. Not only is the Eastern European country her birthplace, but it also is where her friend and colleague Natalia Iantsevych, APRN-FNP, is currently assisting.
The pair of Ukrainian-born nurses, who practice in Maine and are longtime friends, are dividing their efforts. Stasiv organizes collection and shipment of needed medical supplies from the US to the Ukrainian city of Lviv, where she's from, and Iantsevych delivered some products she brought with her to medical personnel there. She's also helping care for the wounded in Lviv.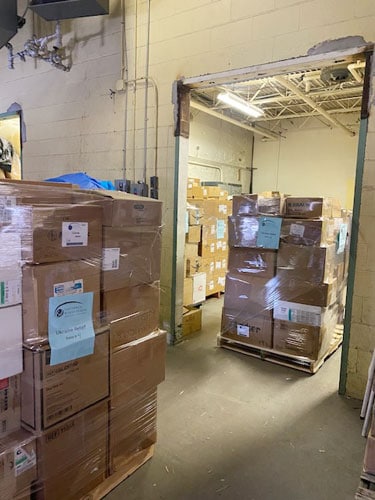 A shipment from Maine to Ukraine.
"I feel frustration and anger that they are going through this, and we want to help," Stasiv told Medscape Medical News.
Lviv is in the western part of the country, which is thus far safer than rest of the country, Stasiv explained.
"Natalia [is providing] helping hands in the hospitals as they are so short-staffed and overwhelmed," Stasiv said. "My responsibility is also to support Natalia while she is there, whether it is shipping any specific medical supplies that she or the facility she is in needs, transferring funds or anything else she might need."
Ukraine is not accustomed to advanced practice providers such as NPs, and Iantsevych had to show proof of her Advanced Practice Registered Nurse license with additional support documents, Stasiv said.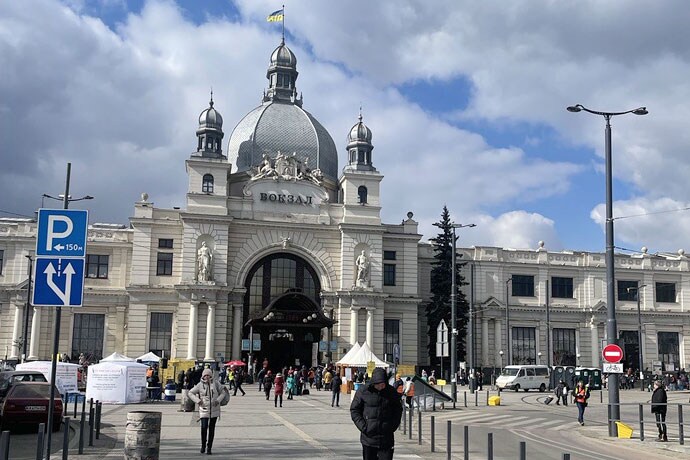 Train station in Lviv, Ukraine
So far, a GoFundMe account Stasiv started recently, "Freedom For Ukraine," has raised more than $15,000 toward a $20,000 goal. The goal was originally set at $10,000, but when that was reached in 3 days, it was increased.
Stasiv has been keeping in touch with medical friends in Ukraine to determine the needs. She also received a list of needed medical supplies from a charitable humanitarian foundation in the Lviv region.
A company with a warehouse in North Carolina donated a large amount of fracture splints and braces, which have already been shipped to Ukraine.
Partners for World Health in Portland, Maine, donated 23 pallets of medical supplies this week, Stasiv said. And a handful of other hospitals, companies, and individuals in Maine are either fundraising, donating, or collecting medical supplies. Some of the products already went with Iantsevych to Ukraine.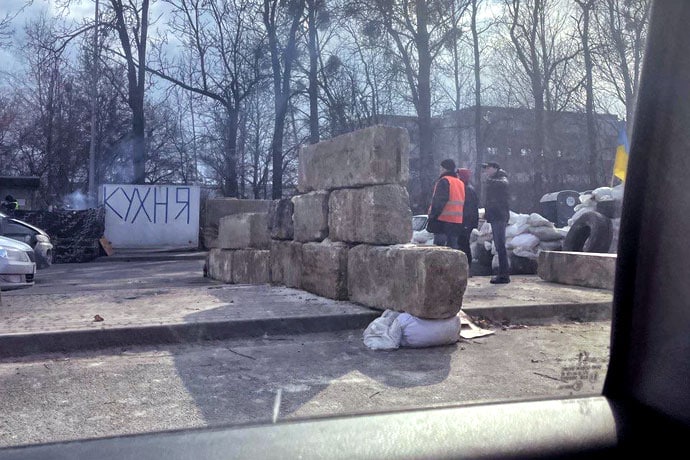 A barricaded street in Lviv, Ukraine. The sign says "kitchen."
The GoFundMe collections will cover shipping costs, buying additional medical supplies that haven't been donated, and for direct aid to orphanages.
In the fund description, Stasiv wrote: "On February 24, 2022, Russia launched a military attack on my country of Ukraine. The situation in Ukraine is really devastating. People need food, access to medications and basic human needs. Hospitals need more medical personnel and more supplies…We can only win this if we stand together from all over the world."
Stasiv told Medscape, "It's devastating from so many angles…People are injured and leaving their homes behind to go to other countries. It's just a complete mess."
She said she visited the country once or twice a year before the pandemic, but has stayed in close touch with friends and family since then.
"I see my parents on a regular basis as they visit us often. They were supposed to visit us this spring but then this happened. So now we pray they stay safe and we will be able to see them in the near future.
"These are regular people struggling to put food on the table, to get diapers for their kids. Even if the war ended tomorrow, physically, emotionally, and financially, the devastation will take generations to recover from."
For more news, follow Medscape on Facebook, Twitter, Instagram, YouTube, and LinkedIn
Credits:
Images: Anna Stasiv
Medscape Medical News © 2022

Send news tips to news@medscape.net.
Cite this: Helping the Homeland: Two Ukrainian NPs in US Organize Supply Chain - Medscape - Mar 16, 2022.