Interventional cardiologist José Eduardo Sousa, MD, PhD, who helped revolutionize the treatment of coronary artery disease with drug-eluting stents, died Sunday in Brazil at the age of 88.
In 1966, Sousa performed the first coronary angiography in Brazil and in 1986 became the first to implant the Palmaz-Schatz stent in a human being, according to the Brazilian Society of Hemodynamics and Interventional Cardiology, which announced the loss of its first president on Twitter.
In 1999, Sousa and colleagues conducted the first-in-man trial of a drug-eluting stent coated with sirolimus, reporting no re-stenosis, an Achilles heel of stenting at that time, at 8-month follow-up in 30 consecutive patients.
Patrick Serruys, MD, PhD, co-author of those seminal results, told theheart.org | Medscape Cardiology, "It's a very sad day because he was a wonderful person and we interacted at a critical moment in cardiology."
Serruys recalled those hectic early days with Sousa treating 15 patients in 2 days and returning a few months later to perform follow-up coronary angiography and what was then a novel technique, intravascular ultrasound, in a single day. They celebrated with champagne and by 8 PM he was on his way back to his home in the Netherlands.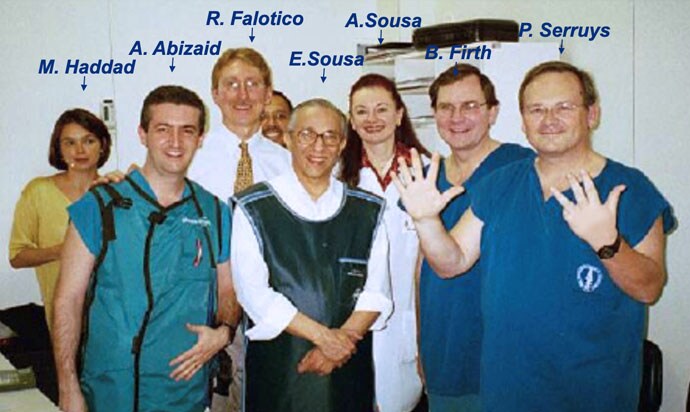 Dr José Eduardo Sousa helped revolutionize the treatment of coronary artery disease with drug-eluting stents and is considered a pioneer in the field of interventional cardiology.
"We opened a new era," said Serruys, now with National University of Ireland, Galway. "The first-in-man is something very difficult because you have such a moral responsibility and we had to explain the stent is eluting a drug that is basically used in cancer. The patient has to listen to you and trust in you as a physician."
That task was made easier because Sousa had great empathy for the patient and understood what they were enduring, Serruys said. "He was a gentle, bespectacled man — that's how I'll always remember Eduardo."
On Twitter, cardiologists responded to the news, heralding Sousa as the "father of drug-eluting stents" and a "giant" in the field of interventional cardiology.
https://twitter.com/GuiAttizzaniMD/status/1503027164727418895
Roxana Mehran, MD, Icahn School of Medicine at Mount Sinai in New York City, tweeted: "He led the world in innovative technologies, the 1st to perform procedures we now take for granted with drive, humility, and love for his [patients]."
https://twitter.com/Drroxmehran/status/1503149371122147339
Gregg Stone, MD, also with Mount Sinai, said Sousa was "one of a kind, a pioneer, and role model who meant so much to medicine."
https://twitter.com/GreggWStone/status/1503245456830255105
Sousa was born January 30, 1934 in Pedreiras, Brazil and completed his medical degree at the Federal University of Pernambuco in Brazil in 1958, according to the Brazilian Academy of Medicine. He went on to complete a pediatric cardiology specialization at Harvard University in 1963, a fellowship in coronary arteriography at the Cleveland Clinic, and a doctorate in cardiology from the University of São Paulo in 1969.
Sousa was the technical director of the Dante Pazzanese Cardiology Institute in São Paulo between 1983 and 2004, and directed its Interventional Center in Structural Heart Diseases. He also served as a professor and advisor at the University of São Paulo since 1993.
He published more than 550 articles, participated in more than 120 research projects, and has over 210 published book chapters.
Sousa is survived by his wife, Amanda, and a daughter, Andrea.
Follow Patrice Wendling on Twitter: @pwendl For more from theheart.org | Medscape Cardiology, follow us on Twitter and Facebook .
Credits:
Lead Image: Moment/Getty Images
Image 1: Dr. Patrick Serruys
Medscape Medical News © 2022

Send news tips to news@medscape.net.
Cite this: José Eduardo Sousa, 'Father' of Drug-Eluting Stents, Dies at 88 - Medscape - Mar 14, 2022.