Twelve physicians in Michigan and Ohio were sentenced to prison because of their involvement in distributing 6.6 million opioid pills, according to the US Department of Justice (DOJ). The defendants' activities also resulted in more than $250 million in false billings.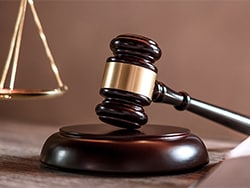 "It is unconscionable that doctors and healthcare professionals would violate their oath to do no harm and exploit vulnerable patients struggling with addiction," said Assistant Attorney General Kenneth Polite Jr. of the Justice Department's Criminal Division in the announcement. "These are not just crimes of greed, these are crimes that make this country's opioid crisis even worse–and that is why the department will continue to relentlessly pursue these cases."
Francisco Patino, MD, 66, a Wayne County, Michigan-based emergency medicine physician and part-owner of one of the clinics involved, purchased cars, jewelry, and vacations as a result of the fraudulent activity, according to federal officials. He will face sentencing at a later date on a variety of counts related to defrauding the United States, healthcare fraud, money laundering, and wire fraud after his conviction in a 2021 trial.
Prosecutors also allege he laundered money through a diet program and spent funds on sponsoring mixed martial arts fighters, the Detroit News reported.
Mashiyat Rashid, Patino's business partner and part-owner of the Tri-County Wellness Group, was sentenced to 15 years in prison and ordered to pay more than $51 million in restitution in connection with his guilty plea to one count of conspiracy to commit healthcare fraud and wire fraud, in addition to one count of money laundering. As a result of the scheme, Rashid bought courtside tickets to the NBA Finals, expensive real estate, and private jet flights, according to the DOJ.
Gold bars, indoor basketball courts, luxury cars, and swimming pools were purchases secured by other defendants who were involved in the fraudulent scheme.
Court documents and evidence show that the physicians required that patients receive unnecessary and costly back injections in return for opioids, per the agency charged with enforcing federal law. The scheme, which took place from 2007 to 2018, involved a network of pain clinics across multiple states. Referred to as "pill mills" by the DOJ, the pain clinics dispensed the high-dosage prescriptions, such as oxycodone, to drug dealers and patients with opioid use disorder.
The procedures, billed to insurance, were for facet joint injections. According to the DOJ, the injections were chosen because they generated high reimbursements rather than being medically necessary.
The Detroit News reported in September that some of the medically unnecessary drugs prescribed by Patino, which included fentanyl, oxycodone, and oxymorphone, per an indictment, were resold "on the street." Patino wrote prescriptions for more than 2.2 million pills between 2016 and 2017.
Patino and Rashid join physicians and others in the healthcare field, who are charged or sentenced for their involvement in the scheme. In total, five physicians were convicted in two separate trials and 18 defendants pleaded guilty, per the DOJ. Meanwhile, seven defendants await sentencing.
Included in this group were:
Spilios Pappas, MD, 63, an emergency medicine specialist in Lucas County, Ohio, sentenced to nine years in prison and ordered to pay $32.2 million in restitution

Joseph Betro, DO, 60, an emergency medicine physician from Oakland County, Michigan, sentenced to nine years in prison and ordered to pay $27.4 million in restitution

Tariq Omar, MD, 63, a pulmonologist from Oakland County, Michigan, sentenced to eight years in prison and ordered to pay $24.2 million in restitution

Mohammed Zahoor, MD, 53, a neurologist from Oakland County, Michigan, sentenced to eight years in prison and ordered to pay $36.6 million in restitution
The four physicians worked at various clinics under the Tri-County Wellness Group, operated by Rashid, according to federal officials. During their employment with the clinics, they defrauded Medicare of more than $150 million through the scheme that involved opioids for medically unnecessary services, the DOJ noted.
Shortly after being indicted, Pappas posted a fundraising page for his legal services, claiming he and the other doctors had no idea what was going on and was "sickened and nauseous" when learning of the details of the case.
More than $16 million was forfeited by the United States from the defendants, according to the DOJ.
Aine Cryts is a veteran health IT and healthcare writer based out of Boston.
Credits:
Images: Dreamstime
Medscape Medical News © 2022

Send news tips to news@medscape.net.
Cite this: 12 Physicians Sentenced in Illegal Opioid, Billing Fraud Scheme - Medscape - Mar 10, 2022.