In young French children, food protein–induced enterocolitis syndrome (FPIES) tends to arise before 6 months of age and be caused by a few specific foods, according to a February 17 study in Clinical and Translational Allergy.
Children usually outgrow this rare non-IgE-mediated food allergy by the time they begin school, but for some, the condition may last well into childhood.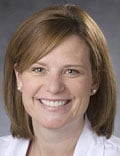 "In this group of French children, cow's milk, hen's egg, and fish were the most common triggers of FPIES reactions," Amy P. Stallings, MD, an associate professor of pediatrics and the program director of pediatric allergy and immunology at Duke University Health System in Durham, North Carolina, told Medscape Medical News. "This differs from the results of other FPIES studies, particularly those in the United States, which have found oat and rice to be the most common triggers overall, followed by cow's milk, soy, and egg."
Stallings, who was not involved in the study, added in an email that the variation in FPIES food triggers by region and population "may be due to differences in feeding practices, microbiomes, genetics, and other factors."
To describe FPIES characteristics and risk factors in French children, lead author Anaïs Lemoine, MD, a pediatrician and specialist in pediatric gastroenterology and food allergy at Trousseau Hospital in Paris, and her colleagues reviewed the medical records of 179 consecutive children treated for the condition at two academic clinics between January 2014 and April 2020.
Children Outgrow FPIES Within a Few Years
Overall, 53.1% of the participants were boys. The median age at onset of first FPIES symptoms was 5.8 months. In the 192 FPIES cases the researchers retrospectively investigated, the main offending foods were cow's milk (60.3%), hen's egg (16.2%), and fish (11.7%). In almost all (94.4%) cases, only one food provoked FPIES reactions.
By age 5 years, FPIES tended to resolve. By that age, children were 90.7% likely to outgrow FPEIS to milk; 87.1% likely to outgrow FPEIS to hen's egg; and 38.1% likely outgrow FPEIS to fish. Reintroducing the food within 12 months after the first reaction increased the risk of failure.
Children with severe acute FPIES had a higher risk of delayed resolution (relative risk [RR], 3.3; 95% CI, 1.2 – 9.2) and of persistent FPIES (RR, 3.3; 95% CI, 1.2 – 9.2), but not of IgE sensitization, the researchers report. Personal or familial atopic history were not risk factors for persistent FPIES.
For children who became tolerant — who no longer reacted adversely to exposure to trigger foods — IgE sensitization against the foods was not linked with longer FPIES duration and was not a risk factor for oral food challenge failure.
Foods That Cause FPIES Vary Worldwide
The authors write that other studies in the literature link protein intolerance to different foods, including fish (54%) in Greece and Spain (70.6%), rice in Australia and the US, and oats (34.5%) in Taiwan, while soy is often reported in North America, Israel, Australia, and elsewhere.
"Food habits, geographic origins, genetic factors, microbiota, and other environmental pre‐ or postnatal factors may explain these differences," they write.
Stallings finds it "very interesting that rice and oat, the most common triggers for FPIES overall, were not common triggers in this group."
Although the researchers limited their study to French children, whose specific triggers may not apply to children elsewhere, Stallings calls the relatively large population they investigated to be a strength and their findings to be relevant to providers everywhere.
"These findings help pediatricians and allergists know what to expect in terms of age of onset, trigger foods, and most likely age of outgrowing the allergy," she said.
FPIES Is Not Well Understood and May Be More Common Than Recognized
Jodi A. Shroba, MSN, RN, CPNP, the coordinator for the Food Allergy Program at Children's Mercy Kansas City, Missouri, emphasized the importance of taking patient histories to help diagnose FPIES.

"FPIES is still an enigma to healthcare providers. In the absence of diagnostic biomarkers, diagnosis is based completely on history," Shroba, who also was not involved in the study, told Medscape Medical News.
"The timing of the reintroduction challenge is vitally important," she added in an email. "Challenges can be time consuming and anxiety provoking, so a better understanding of optimal timing for successful challenge helps improve patient care."
Stallings advises clinicians to consider FPIES in their pediatric patients who have repetitive vomiting.
"FPIES is likely more common than is recognized, as the vomiting is often initially thought to be due to viral illness or some other trigger."
Stallings and Shroba join the authors in recommending more related research.
"Many gaps in understanding of FPIES still exist, and continued research describing the characteristics, diagnostic testing, and pathophysiology of this disease is warranted," Shroba said.
The authors, Stallings, and Shroba have disclosed no relevant financial relationships.
Clin Transl Allergy. Published online February 17, 2022. Full text
For more news, follow Medscape on Facebook, Twitter, Instagram, and YouTube.
Credits:
Lead Image: iStock/Getty Images
Image 1: Duke University
Image 2: Children's Mercy Kansas City
Medscape Medical News © 2022

Cite this: Lorraine L. Janeczko. Study Finds Main Triggers of Rare Food Allergy in French Children - Medscape - Mar 09, 2022.