Looking at the empty pharmacy shelves in the Ukrainian provincial hospital near the Polish border, and the antiquated Soviet medical equipment, Health Director of UK-Med Dr Ram Vadi is already formulating plans for the NGO's deployment of medical and humanitarian aid - not just to support the 10-km column of fleeing families currently backing up to the nearby border, but for the next wave of injured and traumatised refugees from the bombed cities.
It took just 4 days for the two-man team - consisting of Vadi and Humanitarian Director Tom Godfrey - to fly into Warsaw representing a UK independent NGO with more than 25 years experience of emergency response, link with Polish partners PCPM (Polish Centre For International Aid), set up a base in the Polish town of Rzesow about an hour from the border, and check out the hospital in the Rava-Rus'ka area over the border they will use to focus their medical offering.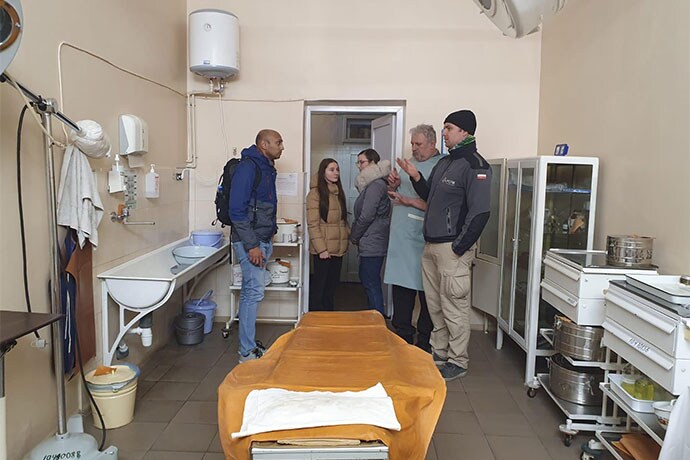 UK Med - which provided prolonged support in the Sarajevo conflict in the 1990s and most natural disasters since 1987 - was the first NGO to have crossed into Ukraine. It is a self-sufficient team whose primary function is as an EMT (Emergency Medical Team). The aim is to bring the care that's needed by invitation, where it's needed without having any impact on the local area, apart from what they deliver.
"We're planning to stay out here for a minimum of 6 months given that the situation is so fluid," says Vadi, gloomily. "It depends on how the conflicts play out, but all the signs are that the push from Russia is going to be much stronger, which means that more people will move from the cities. So it may be longer."
Medical Supplies and Staff Needed
The needs are huge and urgent. Vadi lists paracetamol (acetaminophen), surgical drugs and equipment, antibiotics, infusion fluids, bandages, and swabs as items in desperate need. Even before the conflict the medical services in this part of Ukraine were weak and underfunded.
So far Vadi and Godfrey's work has been mainly assembling rapid and flexible plans, and supplying blankets and hot drinks as thousands of women and children mass on the border in freezing temperatures. But the situation is volatile and they need bring in the right resources for the local conditions - whilst they can.
This week, UK-Med flew in three more staff (a Portuguese paediatric nurse, a British paramedic, and a consultant orthopaedic surgeon) to begin working in the Ukrainian hospital (not named for security reasons) where they are based. Plans are in place to fly in an emergency department doctor, plus three to four people to support the work in the hospital and to assess what care to take further into the Ukraine.
It is a daunting task. The 30-bed Ministry of Health hospital, with the capacity to expand to 100 beds has only one surgeon - a trauma surgeon. General surgery and obstetric skills are critically lacking given the demographic of the columns of fleeing refugees. The hospital also has a young inexperienced anaesthetist they want to upskill to enable him to provide broader services. Many staff have left the hospital, leaving only two to three nurses on shift during the day, and one doctor and one nurse at night.
Setting Up Mobile Care
Drawing on a register of nearly 1000 NHS and international health experts, the aim is to build up to a team of 15-20 from UK-Med, working from the hospital alongside a similar sized contingent from PCPM. Until now UK-Med was one of the few organisations to have crossed into Ukraine from Poland.
Now other international NGOs and UN organisations have arrived in Eastern Poland, the location of the largest exodus from Ukraine is, including UN OCHA (United Nations Office for the Coordination of Humanitarian Affairs), Team Rubicon from the US, and the Christian missionary Samaritans' Purse.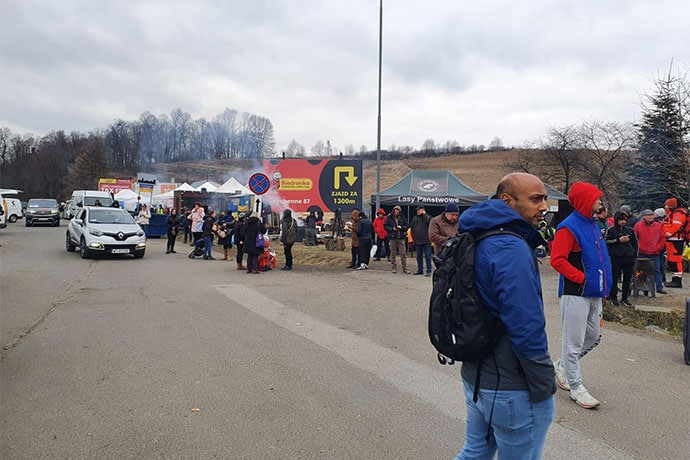 They are also setting up several mobile clinics. As Vadi explains: "One of the things we have learned is that we can support a structure but people can't always get here. But given the huge distances that people are travelling, if they are injured or require too long a wait, we would go to them. We'd move around in a car with a driver a doctor and basic medical equipment, to either stabilise a patient or transfer them.
"We've heard reports of people delivering on the border because there's no services and of children passing away because of the cold. We can offer immediate services. If you need to do a delivery, you can do it in a vehicle. You can warm a child and provide some basic treatment with the aim of getting them to the hospital for any further care or surgical treatment they might require."
Canadian-born Vadi, 37, is passionate about his work. After studying medicine at the University of Zagreb in Croatia, specialising in emergency medicine, he gained a professional diploma in reproductive health in developing countries from the Liverpool School of Tropical Medicine, a Double Masters of Science in public policy and human development from United Nations University and Maastricht Graduate School of Governance, and a Professional Graduate Certificate in business economics from Harvard University.
A Deteriorating Situation
It is a deteriorating situation. He knows that within days the nature of the conflict could alter and teams will probably be seeing injured and traumatised patients suffering from blast injuries, gunshot wounds, and burns, not to mention patients with exacerbations of chronic illnesses, or who simply become ill.
Given that UK-Med is preparing for a protracted humanitarian crisis in an area underfunded before Putin launched his war on Ukraine, the work has to be sustainable. "We need to incorporate training and capacity building for the the local staff and bring in resources," he explains. "It's not a case of responding and going, without leaving anything behind. In a conflict zone, the staff may leave and they never return. So, we would like to build up the skills levels so that when we eventually leave, the local staff are much more able to stand on their own feet."
UK-Med is also looking at importing psychosocial support and at the possibility of treating the effects of nuclear radiation.
There is also important work to be done on how patients are brought into the hospital, moved and housed after admission and that they receive the best standard nursing care. COVID infection is still a concern and children's routine vaccinations will have been disrupted by the conflict, so the medical teams are expecting outbreaks of diseases like measles.
Driving back from the hospital at night, Vadi and Godfrey heard reports that three children had died of cold. The humanitarian workers in the area are certain that food supplies will soon become scarce.
To provide the necessary medical staffing and resources for a long campaign of support in a deteriorating situation UK-Med needs donations. Details of UK-Med's emergency funding campaign for Ukraine can be found on www.uk-med.org.
Credits:
Thumbnail: T. Godfrey
In-Article: T. Godfrey
© 2022 WebMD, LLC

Send comments and news tips to uknewsdesk@medscape.net.
Cite this: Rachel Pugh. On the Frontlines: Delivering Care to Refugees Fleeing Ukraine - Medscape - Mar 08, 2022.