Six key bacterial species of the gut microbiome have been identified as predictors of the development of type 2 diabetes, according to results from a 15-year follow-up study of more than 5000 people in Finland.
"We are not aware of previous long-term prospective studies of the associations between type 2 diabetes and the gut microbiome similar to the current study," state the authors of the study, published online January 31 in Diabetes Care.
Though requiring further validation, the results "build on and extend previous mainly cross-sectional evidence and further support links between dietary habits, metabolic diseases, and type 2 diabetes that are modulated by the gut microbiome," the authors write.
The findings are from a prospective study of data on fecal samples from 5572 people in Finland in 2002 in the FINRISK 2002 population cohort. In 2017, the samples were sent for sequencing as follow-up.
Of note, the study excluded people with prevalent diabetes at baseline, including those being treated with antidiabetic drugs such as metformin.
Four Species, Two Clusters Associated With Type 2 Diabetes Development
Over a median follow-up of 15.8 years, 432 (7.8%) participants went on to have a diagnosis of type 2 diabetes, and the presence of four species and two clusters at baseline were significantly associated with the development of type 2 diabetes.
The four species include Clostridium citroniae (hazard ratio [HR], 1.21; unadjusted P = .02), C. bolteae (HR, 1.20; unadjusted P = .01), Tyzzerella nexilis (HR, 1.17; unadjusted P = .03), and Ruminococcus gnavus (HR, 1.17; P = .04).
And the two positively associated clusters mostly consisted of the same species (both HR, 1.18).
Importantly, the associations were nearly the same among participants in eastern and western Finland, which are known for having unique genetic as well as lifestyle differences that impact morbidity and mortality.
"Three of these taxa could be clustered together by proportional abundance in both geographic areas, and combined abundance of the four taxa was also predictive of incident type 2 diabetes," the authors write.
They note that the identified species have been previously associated with type 2 diabetes and appear to be linked in some ways to the quality of diet and with other metabolic diseases, such as fatty liver disease.
C. citroniae, for instance, has been associated with trimethylamine N-oxide (TMAO), a compound likely linked to the intake of red meat, and the authors note that a direct association between red meat intake and type 2 diabetes risk has been known for more than 15 years.
TMAO has also been associated with adipose tissue inflammation and impeded hepatic insulin signaling, which are all involved in increased insulin resistance, high blood glucose levels, and type 2 diabetes, the authors explain.
R. gnavus has been previously associated with obesity in humans and animals. And the bacterial species is also "potentially related to glucose metabolism regulation and linked to increases in inflammatory cytokines, both of which are related to type 2 diabetes pathophysiology," the authors report.
Stepping Stone Toward Improved Prediction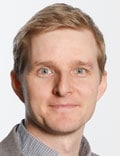 Co-author Teemu J. Niiranen, MD, PhD, of the Division of Medicine, Turku University Hospital, Finland, noted that, while prior studies have linked type 2 diabetes with distinctive characteristics of gut microbiome composition, most studies have not included prospective data, and long-term studies have been lacking.
Furthermore, many of the studies could have been confounded by the use of antidiabetic drugs that could influence gut microbiome composition, including metformin, which was excluded in the current study.
"We avoid several of the biases related to cross-sectional studies, such as the confounding effects of diabetes medications," Niiranen told Medscape Medical News.
"We also know the temporal sequence of the exposure and the outcome, and that the changes in the gut microbiome preceded the development of diabetes," he said. "All in all, a cohort study like this provides a much greater level of evidence than cross-sectional studies."
Niiranen noted, however, that "although we demonstrate that certain gut microbiome changes are associated with greater risk of future diabetes, we are still quite far from clinical use."
In addition to needing to replicate the results in other ethnic groups and locations, "we would need to find optimal clinical cut-offs for clinical decision-making and demonstrate the amount increase in predictive ability compared with conventional diabetes risk factors," he said.
The study nevertheless "serves as a stepping stone toward the goal of improved prediction and the development of effective treatments for type 2 diabetes through modification of the gut microbiome," the authors write.
As recently reported by Medscape Medical News, other research has shed light on gut bacteria that appear to be linked to the prevention rather than the development of diabetes, identifying species that help produce butyrate, a short-chain fatty acid that may in fact provide protection against type 2 diabetes.
And additional research does suggest potential clinical implications. Efforts to improve insulin sensitivity via the gut through fecal microbial transplantation are also making headway, with an oral capsule formulation showing benefit among patients with severe obesity.
The research was funded in part by grants from the Finnish Cultural Foundation, the Finnish Foundation for Cardiovascular Research, the Emil Aaltonen Foundation, the Finnish Medical Foundation, the Sigrid Jusélius Foundation, and the Academy of Finland.
Diabetes Care. Published online January 31, 2022. Abstract
For more diabetes and endocrinology news, follow us on Twitter and Facebook.
Follow Medscape on Facebook, Twitter, Instagram, and YouTube.
Credits:
Lead Image: Burgstedt/Dreamstime
Image 1: Pasi Leino/University of Turku
Medscape Medical News © 2022 WebMD, LLC

Send comments and news tips to news@medscape.net.
Cite this: Gut Microbiome Species Predict Type 2 Diabetes - Medscape - Mar 07, 2022.