One match made; two more to go.
Fourth-year students at the University of Iowa's Carver College of Medicine in Iowa City, Liana Meffert and her soon-to-be-fiancé Soham Ali are hoping to land the same residency on Match Day (March 18), or at least a program in the same city.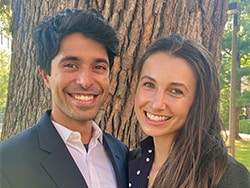 About 80% of their residency interviews fell into these two categories. To increase their odds of remaining close, most of the interviews were for residencies in big cities, where several programs might be located.
But the couple, who have been dating for most of medical school, are willing to sacrifice being together to find the best fit, they told Medscape Medical News.
Meffert, 29, is pursuing emergency medicine, and Ali, 26, internal medicine. Ali was tutoring a preclinical science class when they met. "I did not need a tutor, but I wanted to get to know the tutor better," Meffert joked. A year ahead of her, he spent an extra year in research so they could finish med school together.
They didn't apply to all the same residencies, but there was a lot of overlap, Meffert said.
"We would prefer to match [than not], with a guarantee of a job so we can be physicians," she stressed. Ali chimed in, "We have to make compromises. If we choose to be far away, it definitely would be tough." Still, Ali said he would rather his intended enjoy her residency than the couple be together and she be unhappy with her choice.
"The relationship I can control," he explained. "Going forward, if we are in the same location and it's not what we thought it would be, it's not something we can do anything about."
Meffert understands the cost of choosing program over person. "We have spent so much time and energy" in medical training. "I want him to go to the best program. Part of supporting the relationship is supporting the individual." And turning to Ali, she said, "I want to see you do cool things."
Being a couple matching together "everyone agrees is exponentially harder," Meffert said.
"I'm glad we are on the same page about things," Ali added. The magnitude of the moment isn't lost on Meffert. "There are two distinct forks in the road, two life decisions. The relationship is kind of the third person in the decision."
The couple has already experienced being apart, as Ali did a year of clinical rotations in Des Moines, about two hours away from Meffert. They saw each other every few weeks to a month.
Meffert said she also is preparing for Match Day decisions by focusing on her mental and emotional health, including her recent reading material: "A Mindfulness-Based Stress Reduction Workbook." While she hasn't followed all the workbook's teachings, the couple has incorporated a gratitude exercise into their daily routine. Every day, they tell each other what they're grateful for, Meffert said.
The couple also blocks out time not to talk about their residencies. "If we talked about residency all the time, we would not be in good shape," she said.
Ali recounted a time when the couple were in rotations at different times and barely saw each other. "We were really two ships passing in the night. We'd go several days and not do much with each other." Instead, they left daily summary texts for each other and notes around their apartment with quick check-ins just to catch up, he said.
Going through residency together will be another shared experience for the couple. It's the life Meffert envisioned for herself, being able to share the passion she has for her profession with her partner.
"There's so much we don't have to explain about the match list," she said, "why we are tired from interviews," among other issues in medical training. It makes for a stronger union the couple is willing to test over time.
For more news, follow Medscape on Facebook, Twitter, Instagram, and YouTube.
Credits:
Images: Soham Ali and Liana Meffert
Medscape Medical News © 2022

Cite this: Roni Robbins. Making the Match as a Medical Couple - Medscape - Mar 03, 2022.