Editor's note: Find the latest COVID-19 news and guidance in Medscape's Coronavirus Resource Center.
New cases of COVID-19 in U.S. children dropped for the fifth consecutive week, but the rate of decline slowed considerably, according to the American Academy of Pediatrics and the Children's Hospital Association.
Compared with the 2 previous weeks, when new cases fell by 52.7% and 41.9%, the number of child COVID cases for the week of Feb. 18-24 declined by 27%, with almost 127,000 reported. The national count of new cases has now fallen for five straight weeks since peaking Jan. 14-20, and this week's figure is the lowest since the pre-Omicron days of mid-November, based on data collected by the AAP and CHA from 49 states (excluding New York), the District of Columbia, New York City, Puerto Rico, and Guam.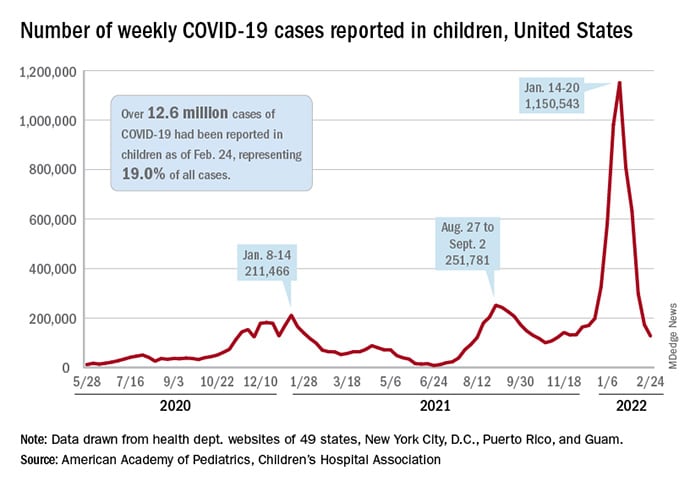 Over 12.6 million pediatric cases have been reported by those jurisdictions since the start of the pandemic, representing 19.0% of all cases in the United States, the AAP and CHA said in their weekly COVID report.
The highest cumulative rate among the states, 27.5%, can be found in Vermont, followed by New Hampshire (26.7%) and Alaska (26.6%). Alabama's 12.1% is lower than any other jurisdiction, but the state stopped reporting during the summer of 2021, just as the Delta surge was beginning. The next two lowest states, Florida (12.8%) and Utah (13.9%), both define children as those aged 0-14 years, so the state with the lowest rate and no qualifiers is Idaho at 14.3%, the AAP/CHA data show.
The downward trend in new cases is reflected in other national measures. The daily rate of new hospital admissions for children aged 0-17 years was 0.32 per 100,000 population on Feb. 26, which is a drop of 75% since admissions peaked at 1.25 per 100,000 on Jan. 15, according to the Centers for Disease Control and Prevention.
The most recent 7-day average (Feb. 20-26) for child admissions with confirmed COVID-19 was 237 per day, compared with 914 per day during the peak week of Jan. 10-16. Emergency department visits with diagnosed COVID, measured as a percentage of all ED visits by age group, are down even more. The 7-day average was 1.2% on Feb. 25 for children aged 0-11 years, compared with a peak of 13.9% in mid-January, the CDC said on its COVID Data Tracker. The current rates for older children are even lower.
The decline of the Omicron surge over the last few weeks is allowing states to end mask mandates in schools around the country. The governors of California, Oregon, and Washington just announced that their states will be lifting their mask requirements on March 11, and New York State will end its mandate on March 2, while New York City is scheduled to go mask-free as of March 7, according to District Administration.
Those types of government moves, however, do not seem to be entirely supported by the public. In a survey conducted Feb. 9-21 by the Kaiser Family Foundation, 43% of the 1,502 respondents said that all students and staff should be required to wear masks in schools, while 40% said that there should be no mask requirements at all.
This article originally appeared on MDedge.com, part of the Medscape Professional Network.
Credits:
Lead Image: E+ / Getty Images
Image 1: American Academy of Pediatrics; Children's Hospital Association
Medscape Medical News © 2022 WebMD, LLC

Cite this: Children and COVID: New Cases Down to Pre-Omicron Level - Medscape - Mar 01, 2022.