How does a podcast series end up in the US Library of Congress as a historical document?
Given recent events, it happens when it's a series called Stories from a Pandemic, one of a few different collections from The Nocturnists.
Based out of San Francisco, The Nocturnists is an independent storytelling community for healthcare workers. Created and hosted by Emily Silverman, MD, an internist at the Zuckerberg San Francisco General Hospital and assistant professor of medicine at the University of California San Francisco (UCSF), The Nocturnists began in 2016 as a series of live shows. Later, the events were recorded and launched in the podcast format that is currently available on the Nocturnists' website and other podcast platforms.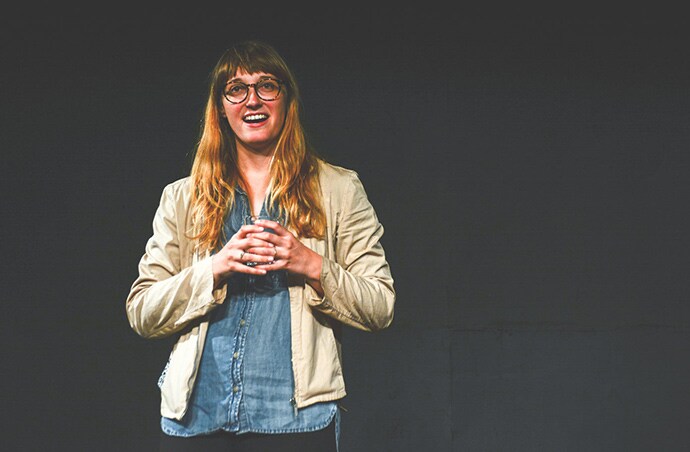 Emily Silverman, MD, founder of The Nocturnists
On the Nocturnists' website, Silverman writes that she always wanted to be a doctor ever since childhood, but things changed when she went into residency.
"I was spending more time with computers than with people," Silverman says. "I felt pressure to be efficient and skip over the human stories of my patients."
The Nocturnists' executive producer, Ali Block, MD, a family medicine practitioner at the Contra Costa Regional Medical Center in Martinez, California, says it was an on-the-job personal conflict that led Silverman to create the Nocturnists.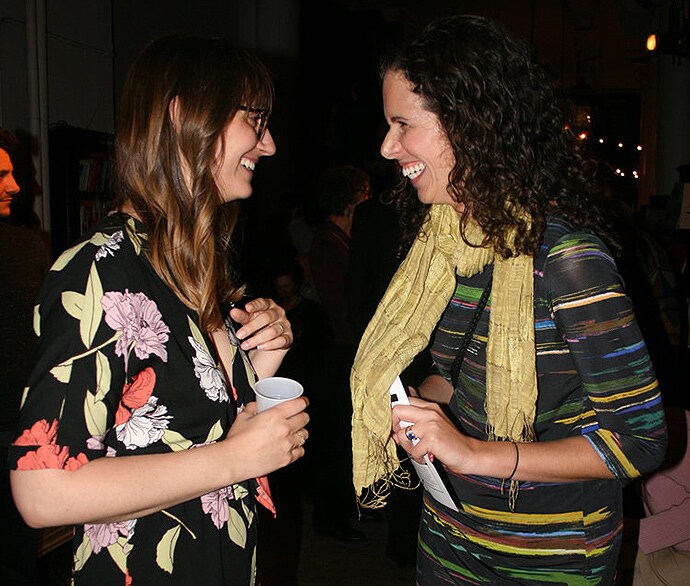 Emily Silverman, MD, left, and Ali Block, MD, the podcast's executive producer
"Emily was struggling with the same thing a lot of residents and physicians struggle with," Block told Medscape Medical News, "which is feeling disconnected from her patients, really disconnected from her own humanity, disconnected from her artistic side and self because of the long hours and the dehumanization that comes with medical training in terms of how we interact with our patients."
When Silverman was faced with a new closeness to her patients' suffering and questions about what it means to be a doctor, the Nocturnists was born.
An Opportunity to Humanize Healthcare Workers
In 2016, Silverman and Block put together a small storytelling event for fellow residents. The residents showed up, wanting to talk, listen, and be heard. They shared their stories of caring for their patients. After the event, Silverman and Block realized they'd struck something special and wanted to create a bigger and more sustainable version: live events.
Their first live event as The Nocturnists was at a small Black box theater in San Francisco. Again, people showed up. There were storytellers from different medical careers whom Silverman and Block had worked with ahead of time, to make sure they felt confident. There were live musicians playing alongside each story.
"It was a really lovely evening," Block says, "and sort of catharsis of coming together, a shared understanding. I think we see the role of healthcare storytelling as being twofold. One is the personal impact of being able to have that moment of sharing your story and taking these experiences you've had and turning them into something powerful and beautiful, and the other is on the side of the listener and receiver."
Block explains that the stories give an opportunity for the listener to humanize healthcare workers. It normalizes their experiences and helps put a face on what Block describes in the general public as "this sort of faceless healthcare worker."
The events became more and more popular, so The Nocturnists put on larger live events and started to sell out venues. So the idea was floated around to take the most successful stories and turn them into podcast episodes that would offer additional interviews with the storytellers to elaborate on some of the themes. Silverman says she didn't realize she was founding an organization when those first live shows were held in 2016. There were funds to raise, grants to write, and teams to organize, but pretty soon, The Nocturnists podcast was churning out consistent episodes.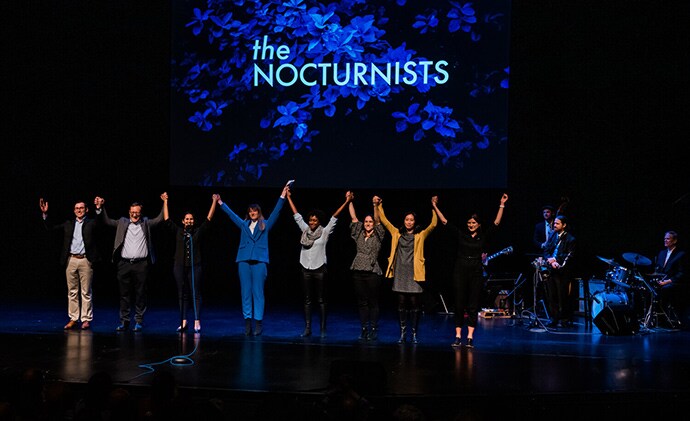 The Nocturnists speakers after an event in San Francisco
"For 'classic' episodes, we invite storytellers into the studio to be interviewed by me, and we pair that with their live story," Silverman told Medscape Medical News. "For 'conversations' episodes, we invite book authors and documentary filmmakers into the studio for the same. For our themed series, the process is much more involved, and includes tons of meetings for creative brainstorming, scriptwriting, listening to rough cuts and revising them, etc."
According to Silverman, the question has always been: "How do we put this art to work to make healthcare more humane and sustainable?"
Black Voices in Healthcare
One of the aforementioned "themed series" from the Nocturnists is Black Voices in Healthcare , consisting of 10 episodes with stories from Black healthcare workers. From June-September 2020, the series highlighted stories about racism in healthcare workplaces, as well as stories of Black joy and excellence. The series came about as a reaction to the murder of George Floyd in May of that year.
Ashley McMullen, MD, currently a primary care physician at the San Francisco VA Medical Center, didn't have any previous experience in hosting or podcasting, but when Silverman and Block reached out to her about hosting the series, the goal of it called to her: "I felt very passionate about the work so I just kind of dove in and took a chance," she said.
It wasn't, however, McMullen's first exposure to The Nocturnists. Silverman was two years ahead of McMullen in residency, so while their training didn't overlap, McMullen was aware of The Nocturnists, and a fan of Silverman's work. She was also a part of the last live show The Nocturnists did before the pandemic, a sold-out show at the Yerba Buena Center for the Arts in San Francisco.
"I told a story speaking to my own experience as a Black woman," McMullen said, "about transitioning my hair from straightening it to wearing it natural and the process of self-acceptance, and Emily and I became tight after that. We spoke after the show about our own personal experiences in that realm."
McMullen was dealing with her own emotions around the George Floyd murder, receiving outreach from others ("Not a lot of which was deeply helpful or meaningful," she says), and observing the "reckoning" regarding race that the country was experiencing. It was then that Silverman reached out, hoping to use her platform to bring to light the experiences of Black workers in healthcare. With Kimberly Manning, MD, an internist at Atlanta-based Grady Memorial Hospital and medical educator at Emory University School of Medicine, already on the project, McMullen hopped aboard and the group began running with ideas.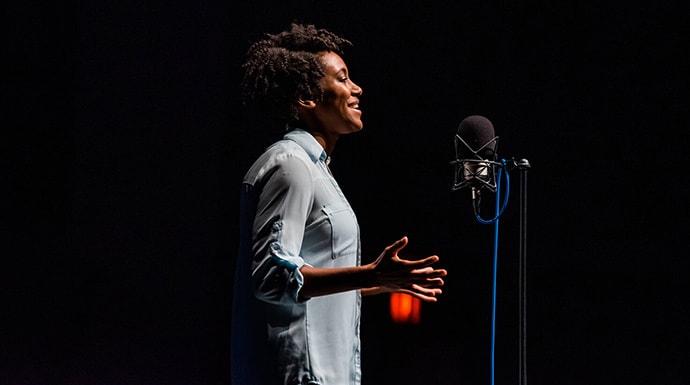 Ashley McMullen, MD, speaks about her experience as part of a live event.
They put a call on social media for submissions from Black healthcare workers and were overwhelmed with over 200 responses. McMullen says the experience was humbling, and affirmed the power of The Nocturnists' reach. Episodes were put together around a theme and from there, stories that spoke to that theme were selected and edited.
"You're trying to build this tapestry with each episode," McMullen says of the process. "You're trying to select stories that are told in a way that speak to emotion, and not necessarily editorializing, and then trying to specifically select stories that kind of fit together in a larger narrative arc."
The Black Voices in Healthcare series was honored by The Webby Awards in 2021, and it isn't difficult to see why. Marginalized people often have their stories told for them by those who may not understand the complexities of their situations. It was important for The Nocturnists, with its platform, to elevate the voices that needed to be heard at that time. McMullen says that the power of a story is that it's someone's lived experience; you cannot pick it apart or argue it. It was a catharsis for people in that community, but also a learning opportunity for others, at a pivotal point in time.
"I think what came out of the collective experience of George Floyd was people are suddenly aware that things are happening right under our noses or under our radar," McMullen says. "For some of us, this is not anything new. For many folks, it was a very challenging awakening. So stories stand on their own and they're powerful. There's something uniquely human about a story that allows people to digest and understand complexity, especially something as complex as race and identity in America."
Stories From a Pandemic
So back to the original question: What is the Stories from a Pandemic series and how did it end up in the Library of Congress?
The Nocturnists had been "chugging along," Block says, putting out episodes, and hosting live events since 2016. It was that big Yerba Buena Center show (a huge deal for the Nocturnists' small team and budget) that was the last live event before the pandemic hit the US. Silverman and Block had spent the past few years creating a space around healing healthcare burnout and humanizing medical professionals to others, and could see the signs on the horizon. They had heard about how healing the experiences had been for storytellers, and wanted to continue to offer that throughout whatever happened, as it happened.
Block said: "We realized we were uniquely well-positioned to gather stories from healthcare workers because we had this pretty big following of healthcare workers across the country, and across the world, who were then experiencing this once-in-a-lifetime medical trauma and healthcare worker event in the history of science and medicine."
They put out the call, asking for healthcare workers to send in their thoughts as "2 weeks off" became mask mandates and 6-feet-apart, and then spikes and ICU capacity. The model for curating episodes of the podcast had been more polished before, but time was of the essence, and they wanted to capture the truthful and raw experience.
"We said, just take your phone and when you're walking home at night or when you're lying in the call room, when you can't sleep at night, just record what you're thinking," Block recalls.
Overnight, 200 healthcare workers signed up to put their stories onto the Nocturnists' platform. Each week for 10 weeks, The Nocturnists' creative team of three listened to the audio clips and stitched them into the 10-episode series Stories from a Pandemic. It allowed those working in medicine or hospitals, or anyone risking their lives and health, to listen in and find solidarity in the stories, joyful or tragic, and the healthcare workers telling them.
Silverman says that sharing stories is a way to "metabolize one's own experience." It allows one to make meaning out of a shared experience, like the pandemic, and build a community that helps reduce that sense of isolation.
The result, and what the Library of Congress acquired, were more than 700 audio diaries from healthcare workers sharing thoughts and experiences from the frontline in real-time as the pandemic unfolded.
Like Block explained, improving the patient–physician relationship is a large part of what The Nocturnists hope to accomplish, for both the physician and the patient to be able to see each other as human. Block also adds that there's a conversation to be had about the way the public has adopted the "valorizing" of healthcare workers that prevailed in March 2020 and onwards, and how the effect on those workers has actually been more distancing.
"There's been a lot of pushback about military analogies and again, the language around heroism," Block says. "Healthcare workers aren't heroes and didn't sign up to be heroes. We're just doing our jobs."
Of the language that turns healthcare workers into "faceless heroes," Block explains: "In some ways, it gives people an out for really feeling responsible, to just kind of call someone a hero and say, 'Oh, well I made a donation or I put something nice on my Facebook feed about how much I love nurses and doctors.' But I think actually thinking about their experiences and the conditions they're working under is more nuanced."
For more news, follow Medscape on Facebook, Twitter, Instagram, and YouTube. Here's how to send Medscape a story tip.
Credits:
Images: Jen Olenik
Medscape Medical News © 2022

Send news tips to news@medscape.net.
Cite this: Making Healthcare More Humane: The Story Behind The Nocturnists Podcast - Medscape - Feb 28, 2022.