Pediatric radiologist William Northway, Jr, MD, who discovered the lung condition bronchopulmonary dysplasia (BPD) in premature newborns, has died at the age of 89.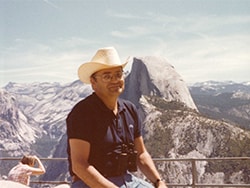 His work led neonatologists to improve care for preterm infants. "He was the first person to recognize that while we were supporting these babies with mechanical ventilation and oxygen, we also were causing harm," David Cornfield, MD, a professor of pediatric pulmonary medicine at Stanford University in California, told Medscape Medical News. Cornfield worked with Northway toward the end of Northway's nearly 50-year career at Stanford. "Because of that recognition, we as a discipline over the subsequent 20 years were able to more carefully refine our treatments and do so in manner than led to less damage and greater preservation of life," Cornfield continued.
Northway died at home in San Carlos, California, on January 26 from complications of Alzheimer's disease.
Born in 1932 in San Francisco, California, Northway grew up in Palo Alto and attended Stanford University for both college and medical school. He also completed his medical residency at the institution. After finishing a year-long residency in pediatric radiology at the Necker–Enfants Malades Hospital in Paris, France, he returned to Stanford in 1964 as an assistant professor of radiology and pediatrics.
Soon after, Northway began noticing patterns in the chest x-rays of preterm infants who had been on ventilators. In these chest x-rays, the lungs had a sponge-like appearance from scarring, and clinically, these babies had difficulty breathing and low blood oxygen levels. Northway connected the infants' clinical symptoms to those x-ray findings and detailed a new lung condition, which he named bronchopulmonary dysplasia (BPD).
His research in BPD and its progression was published in The New England Journal of Medicine in 1967.
"It was one of the first articles that showed the added benefit of having different specialties looking at the same patient," said Sergio Golombek, MD, MPH, senior attending neonatologist at State University of New York Downstate Health Sciences University in Brooklyn, in an interview with Medscape. Golombek also heads the History Committee of the American Academy of Pediatrics Section of Neonatal-Perinatal Medicine. By combining expertise from radiology, pathology, and pediatrics, Northway and his two co-authors "were able to realize that there was something going on with these babies."
Throughout his career, Northway was always eager to understand the clinical histories of patients to inform his reading of images, Cornfield noted. "For most radiologists, their interest really is in the film in front of them. Whereas with Dr Northway, I found his curiosity about the patient's course, history, and the entirety of the patient to be quite remarkable for any physician, let alone for a radiologist," he said. "He never failed to impress with his remarkable sense of curiosity, his deep knowledge base, and his profound humility."
Outside of work, Northway loved the outdoors, and each summer took his family on a camping trip to Yosemite in California. He also was a fan of magic. He belonged to the International Brotherhood of Magicians and occasionally performed magic for children.
Northway formally retired in 1998 but continued to teach and work at Stanford until 2013. He is survived by his wife Linda, son David, two brothers, and two grandchildren. His son William died in 2016.
Northway's contributions to neonatal medicine can't be overstated, both Cornfield and Golombek agreed. "He started a movement to improve care, because if he had not described this pattern in preterm babies," Golombek said, "I don't know what neonatology would be today."
For more news, follow Medscape on Facebook, Twitter, Instagram, and YouTube.
Credits:
Lead Image: National Institutes of Health
Image 1: The Northway Family
Medscape Medical News © 2022

Cite this: Lucy Hicks. William Northway, Influential Pediatric Radiologist, Dies at 89 - Medscape - Feb 25, 2022.