Medical students who are underrepresented in medicine are more prone to exhaustion-related burnout, according to a new study. Researchers assessed ways that the learning environment, which includes the social, mental, and physical space, contributes to burnout.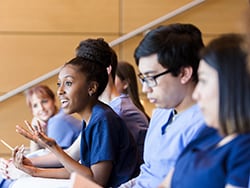 According to the study in JAMA Network Open, medical students from racial and ethnic groups that are underrepresented in medicine, which include Alaska Native, Black, Hispanic/Latinx, Native American, and Pacific Islander persons, are more likely to experience both racial discrimination and exhaustion-related burnout than their peers. Other medical students are more likely to experience disengagement-related burnout.
Researchers define exhaustion-related burnout as the amount of mental and physical exhaustion experienced by medical students during their medical school education. The disengagement subscale measures students' level of interest and engagement with medical schoolwork.
According to the study, burnout experienced by underrepresented groups is "likely multifactorial." Researchers suggest that their experience with burnout could be caused by a resiliency or survival bias, the burden of increased responsibility, or recurrent discrimination. A 2007 study found that medical students from underrepresented groups may be more resilient to obstacles as a result of overcoming substantial educational, professional, cultural, and racial challenges in their lives.
"Creating and maintaining a diverse physician workforce is an important part of providing the best possible care for patients, and identifying discrimination as [a] potential source of burnout is important as institutions work to create such a workforce," Jamieson O'Marr, a third-year medical student at Yale Medical School and the study's lead author, told Medscape Medical News.
He pointed to a 2009 study that found that physicians who self-identify as a member of an underrepresented race or ethnic group were "significantly more likely" to have left at least one job as a result of workplace discrimination. O'Marr said the new study in JAMA Network Open demonstrates that "it is possible that these events could begin in medical school and potentially earlier."
It's notable that although medical students from underrepresented groups are more likely to have symptoms of cognitive and physical exhaustion and experience racial discrimination, the rates of burnout experienced by medical students of all races and backgrounds are similar, according to the study; the rate of burnout is modestly higher among students from underrepresented races and ethnic backgrounds.
The increase in diversity-related initiatives at medical schools may help explain the different experiences with engagement-related burnout among medical students of different races and ethnicities, write the authors.
Support for Student Groups, Faculty Diversity Can Help
Physicians can help drive change that supports underrepresented groups in the classroom and the hospital-based learning environment, said O'Marr, who also wants medical schools to support identity-aligned groups such as the Student National Medical Association (which helps underrepresented minority medical students) and the Latino Medical Student Association.
Another recommendation from O'Marr: Medical schools can expand the number of faculty members from Alaska Native, Black, Hispanic/Latinx, Native American, or Pacific Islander groups; faculty members representing these communities can also serve as mentors and role models to students, he said.
The study also highlights that medical students from underrepresented communities have "lower positive perceptions of student-faculty interactions in the medical school environment compared with their counterparts [of other races]."
To support the well-being and academic success of medical students from underrepresented racial and ethnic groups, medical schools "must invest in evaluating their learning environments to ameliorate root causes of discrimination, mistreatment, and undue burdens placed on students who are [from underrepresented communities]," write the authors.
In addition, the American Medical Association provides guidance to medical schools to promote well-being among medical students. This includes the following:
Recognize shared responsibility. While medical students should be encouraged to engage in self-care activities, such as eating a healthy diet and getting the appropriate amount of sleep, institutions and faculty must launch strategies and dedicate staff resources to address well-being among students.

Measure well-being among students. Medical schools should assess well-being among students regularly, aggregate the results across their student population, and compare the results with national benchmarks.

Optimize the curriculum. Pass-fail grading is one way to reduce burnout, lower stress levels, and reduce dropout rates.
Included in the retrospective cross-sectional study in JAMA Network Open were responses from 26,567 medical students who graduated from allopathic medical schools in the United States in 2016 and 2017 and who completed the American Medical Colleges Graduation Questionnaire.
Almost 15% (14.9%) of respondents are from underrepresented races and ethnicities, and more than half (54.9%) of students from underrepresented backgrounds are women. The analysis was conducted between December 2019 and July 2020.
Aine Cryts is a veteran health IT and healthcare writer based out of Boston.
For more news, follow Medscape on Facebook, Twitter, Instagram, and YouTube.
Credits:
Lead Image: Getty Images
Medscape Medical News © 2022

Cite this: Underrepresented Racial, Ethnic Med Students Face Unique Burnout Risks: Study - Medscape - Feb 24, 2022.