Although we are more connected than ever before, it's impossible to keep up to date with all the news, triumphs, and defeats we feel we are meant to be aware of. Sometimes, in the chaos of all this, the positive stories get swept aside by more breaking news. We miss the celebrations of innovation, heroism, and kindness.
For this reason, Medscape compiled 5 stories healthcare professionals may have missed last month that are certain to remind them about the good in the world and the reasons why it's important to look out for one another.
Off-Duty Doc Saves Car Crash Victim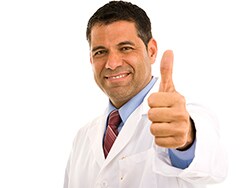 Emergency medicine physician Joshua Rosen, MD, from Reading Hospital in West Reading, Pennsylvania, was recently honored with a citizenship award from the state police after stopping to aid a woman whose vehicle had been struck by another car while trying to exit a highway. According to the Reading Eagle, when Rosen arrived on the scene, Monica Genovese was trapped in her car, asking another woman who stopped for her cell phone so she could make one last call to her daughter.
Genovese credits Rosen's humanitarianism and quick thinking for saving her life. When she heard his voice, Genovese said she was hearing "my guardian angel."
Actress Jennifer Garner Bakes for Healthcare Workers
Although the ritual evening clapping for healthcare heroes has stopped, actress Jennifer Garner decided thanks are still in order. Recently, Garner delivered homemade cookies to the medical professionals at LAC+USC Medical Center. Garner captioned the video she posted to her Instagram, "For a happy day — show your local 🌟 First Responders 🌟 some love. They are still in the thick of it and miles past burn out."
Not only did Garner make the day for countless doctors and nurses, she also shined a light on the massive amounts of stress and anxiety that have been placed on healthcare workers over the past 2 years.
Retired Doc Converts Home Into Museum for Model Trains
Sometimes, there's nothing better than fantasizing about the first year of retirement during a lunch break on a stressful day. There are truly endless possibilities and when Brad Marples, MD, a retired otolaryngologist in Topeka, Kansas, imagined his retirement, he thought that he would have a lot more downtime.
Instead, Marples has been hard at work in a new way, spending the majority of his days in the old home he bought to store his collection of model trains, according to local television station KSNT. Marples has also offered to help fix up older model trains that people might have stored in their attics to spread the joy that he has found in them. Additionally, Marples allows scheduled tours of his house if visitors are curious about the inner workings of a 'train house.'
Physician Creates Wacky Igloos and Creative Chalk Art
Matt Allred, DO, an ob/gyn at the Madison Women's Clinic in Rexburg, Idaho, clutched a mug that said "Easy as Pi" as he sat down for an interview with the child journalist Emmy Eaton inside the massive igloo he built in his backyard.
Eaton runs a web series through East Idaho News and Idaho Falls Pediatrics where she profiles different people of local and national fame with seven questions. Last month, she decided to talk to Allred, who spends his free time making impressive creative projects. From sidewalk chalk murals in his driveway to Mario Kart-themed Hot Wheels races for his family's YouTube channel, Allred is always working on something new. Previously, Eaton did a news report about Allred's colorful, illuminated igloos on The Drew Barrymore show.
Surgeon Performs Lifechanging Procedure — for Free
Conrado Estrada was tired of the burden that going out in public entailed. People constantly gawked and stared at him for something he couldn't change: his nose.
Six years ago, Estrada noticed pimple-like growths on his nose that quickly proliferated. All the doctors he went to prescribed treatments that did little to nothing. That was until he took a painting job at the house of Thomas Romo III, MD, the head facial plastic surgeon at Lenox Hill Hospital in New York City. Romo offered Estrada a free procedure, according to WABC.
Estrada said he struggled with believing in Romo's generosity even as they started moving forward with plans for the operation. His life has been completely changed with the remarkable transformation. Romo stressed that plastic surgery isn't just cosmetic, but also has medical importance, and Estrada is the prime example of that. Not only is Estrada feeling better about going out, but also his breathing and speaking has vastly improved.
For more news, follow Medscape on Facebook, Twitter, Instagram, YouTube, and LinkedIn
Credits:
Images: E+/Getty Images
Medscape Medical News © 2022

Send news tips to news@medscape.net.
Cite this: Some Good News: Doc Saves Car Crash Victim; Retired Doc's Model Train Museum - Medscape - Feb 24, 2022.