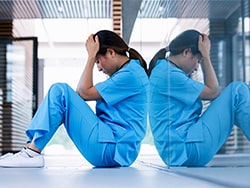 The pandemic has created an enormous amount of stress for nurses and exacerbated problems these professionals already faced, including violence in the workplace. In 2021, National Nurses United, the nation's fastest-growing union of registered nurses (RNs), surveyed 5000 of its members and found, among other things, that roughly 31% of hospital RNs are seeing an uptick in workplace violence.
To get a fuller picture of nurses' experience and concerns, the Medscape Nurse Career Satisfaction Report 2021 was released in late 2021. For the report, Medscape surveyed more than 10,700 nurses and analyzed the results by specialty.
Several questions in the survey dealt with on-the-job abuse, and the results were sobering. Nurses have indeed faced an alarming amount of abuse — verbal, emotional, physical, and sexual. The abuse is coming largely from patients, though visitors, colleagues, managers, and physicians were cited as perpetrators as well.
"Physical — and even verbal — abuse takes a toll on people," says Jenn Schmitz, MSN, president of the Emergency Nurses Association. She points out that it is difficult for nurses to provide care when they are facing abuse.
Threats and Humiliation in the Workplace
Schmitz acknowledges that everyone in healthcare is frustrated, patients as well as professionals. Longer wait times for patients and increased patient volume, coupled with anxious patients and overworked professionals, can often "snowball into a challenging situation between patients and healthcare workers. We are seeing more outbursts in people," she says, "and [nurses] are treated poorly."
The results of the Medscape report show that this treatment was more of an issue for women than for men. Of a total of 2514 nurses reporting abuse, only 391 men said they'd been abused on the job.
Across all specialties, the most common form of abuse nurses experienced on the job was verbal. RNs reported verbal abuse more often than did LPNs and APRNs (58% vs 49% and 47%, respectively). For the purposes of the survey, verbal abuse was defined as "name-calling, threats, and cursing."
The verbal abuse came overwhelmingly (roughly three quarters, across all specialties) from patients. However, RNs were more likely than the other specialties to cite visitors and physicians as sources of some of the verbal battering. LPNs, on the other hand, were more likely to finger coworkers, managers, and administrators.
On the other hand, emotional abuse — defined as "bullying, intimidation, or humiliation" — more often came from supervisors, with roughly half of all incidents, regardless of nursing specialty, coming from managers or administrators. Male RNs reported higher rates of emotional abuse from visitors than did female RNs (34% vs 23%), as well as higher rates of emotional abuse from patients (53% for male RNs and 38% for female RNs).
Nurses Experiencing Physical Abuse
Abuse of nurses was not limited to verbal and emotional attacks, though the rate of physical abuse varied among nursing specialties, with 22% of RNs, 17% of LPNs, and 8% of APRNs reporting being subjected to physical abuse. Physical abuse was defined as "kicking, punching, spitting, biting, slapping, pushing, pulling, or harming with an object or weapon."
As with verbal abuse, physical abuse was far more likely to come from patients, though APRNs were less likely (70%) to cite patients as the perpetrators than were RNs (88%) and LPNs (85%). Younger nurses — 45 years and younger — were more likely to report physical abuse than older ones, though RNs older than 45 years were more likely to say the physical abuse came from coworkers or physicians.
Nurses faced sexual abuse as well. The survey defined sexual abuse as any of the following: harassment or misconduct; unwanted sexual texts or emails; comments about anatomy or body parts; propositions to engage in sexual activity; being asked repeatedly for a date; offer of a promotion in exchange for a sexual favor; deliberately infringing on body space; unwanted groping, hugging, or physical contact; deliberate fondling of self; grabbing body parts; rape. Some variety of this type of abuse was reported by more than 1 in 10 nurses, with RNs and LPNs more likely to suffer sexual abuse than APRNs.
Unfortunately, only a minority of nurses who experienced any of these types of abuse — verbal, emotional, physical, or sexual — reported the incident: roughly 1 in 5 LPNs and RNs, and 15% of APRNs. Of those who did report the incident, more than half said the issue was not resolved to their satisfaction.
For more news, follow Medscape on Facebook, Twitter, Instagram, and YouTube.
Credits:
Lead Images: Dreamstime
Medscape Medical News © 2022

Cite this: Avery Hurt. Amid Pandemic, Nurses Also Facing Variety of Workplace Abuse: Survey - Medscape - Feb 23, 2022.