After the American Academy of Pediatrics (AAP) began recommending vitamin K shots for newborns in 1961, infant bleeding as a result of vitamin K deficiency plummeted. The life-threatening disorder is so rare that some parents now question the need for injections to safeguard against it.
The situation amounts to "a failure of our success," Ivan Hand, MD, a co-author of a new AAP statement on vitamin K, told Medscape Medical News. Much like diseases that can be prevented with vaccines, vitamin K deficiency bleeding isn't top of mind for parents. "It's not something they're aware of or afraid of," he said.
In 2019, however, the AAP listed public education about the importance of the shots in its 10 most important priorities.
The policy update urges clinicians to bone up on the benefits and perceived risks of vitamin K deficiency, which is essential for clotting, and to "strongly advocate" for the shot in discussions with parents who may get competing messages from their social circles, the internet, and other healthcare professionals.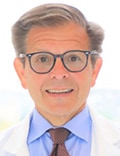 Hand, director of neonatology at NYC Health + Hospitals Kings County in Brooklyn, said clinicians walk a line between educating and alienating parents who favor natural birth processes. "We're hoping that by talking to the families and answering their questions and explaining the risks, parents will accept vitamin K as a necessary treatment for their babies," he said.
Vitamin K does not easily pass through the placenta and is not plentiful in breast milk, the preferred nutrition source for newborns. It takes months for babies to build their stores through food and gut bacteria.
Infants who do not receive vitamin K at birth are 81 times more likely to develop late-onset vitamin K deficiency bleeding, which occurs a week to 6 months after birth, according to the Centers for Disease Control and Prevention. One in five babies with the disorder dies and about half have bleeding in the skull that can lead to brain damage.
New Dosing for Premature Infants
The AAP's new statement, published today in the journal Pediatrics, reaffirms the administration of a 1-mg intramuscular dose for infants weighing more than 1500 grams, or about 3 lb 5 oz, within 6 hours of birth. For premature infants who weigh less, the guidance recommends an intramuscular dose of 0.3 to 0.5 mg/kg.
The group notes that oral preparations of vitamin K have proven less effective because of malabsorption and challenges with adhering to dosing regimens.
The document also warns that breastfed babies can experience vitamin K deficiency bleeding even if they have received the shot because concentration of vitamin K often wanes before a baby starts eating solid food. The disorder "should be considered when evaluating bleeding in the first 6 months of life, even in infants who received prophylaxis, and especially in exclusively breastfed infants," it states.
Accounts of parental refusals date back to 2013, when the CDC reported four cases of deficiency bleeding in Tennessee. The infants' parents said they declined vitamin K because they worried about increased risk of leukemia, thought the injection was unnecessary, or wanted to minimize the baby's exposure to "toxins." Leukemia concern stemmed from a 1992 report linking vitamin K to childhood cancer, an association that did not hold up in subsequent studies.
More recent research has documented parental concerns about preservatives and injection pain as well as distrust of medical and public health authorities. Some parents have been accused of neglect for refusing to allow their babies to receive the shots.
Phoebe Danziger, MD, a pediatrician and writer in rural Michigan who has studied parental refusal of standard-of-care interventions, called the document a "welcome update" to the AAP's last statement on the topic, in 2003. She told Medscape that lower dosing for premature infants may reassure some vitamin K-hesitant parents who worry about one-size-fits-all dosing.
But Danziger added that "evidence is lacking to support the claim that pediatricians can really move the needle on parental hesitancy and refusal simply through better listening and more persuasive counseling." She said the AAP should do more to address "the broader social climate of mistrust and misinformation" that fuels refusal.
Hand and Danziger have disclosed no relevant financial relationships.
Pediatrics. Published online February 22, 2022. Full text
Mary Chris Jaklevic is a healthcare journalist based in the Midwest.
For more news, follow Medscape on Facebook, Twitter, Instagram, YouTube, and LinkedIn
Credit:
Lead Image: iStock/Getty Images
Image 1: NYC Health + Hospitals
Medscape Medical News © 2022

Send news tips to news@medscape.net.
Cite this: Pediatrics Group Stresses Benefits of Vitamin K Shots for Infants - Medscape - Feb 22, 2022.