The history of humans and horses is an old one. One of the earliest depictions of horses, found in the ancient Lascaux cave paintings, is estimated to be between 15,000 and 17,000 years old. In 2300 BC, the first horse was domesticated; there are even reports of equine therapy dating back to 600 BC. And though equine therapy is fairly common today, Michele Alba, MD, is  helping to put a new twist on the ancient practice.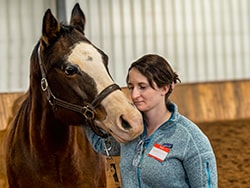 After witnessing the ramifications of the pandemic on her peers — and herself — the family medicine physician knew something needed to be done.
"Physicians have been walking in uncharted territory for a long time now," Alba told Medscape Medical News. "The demand from COVID has gone beyond just patient care. We are modeling resiliency as well as having to learn new bedside communication as we work virtually and with people who are very anxious."
In the past, Alba and her team at Banner Health in Colorado have found unique ways to bond and maintain camaraderie, such as adventure courses and mazes that help manage stress and aid in team building. This year, though, they decided to try something different: equine-assisted therapy.
Alba created Stables to Stethoscopes in partnership with Hearts & Horses Therapeutic Riding Center in Loveland, Colorado. Alongside the riding center's Associate Executive Director, Tamara Merritt, Alba has built a program that helps foster communication, leadership, and resiliency.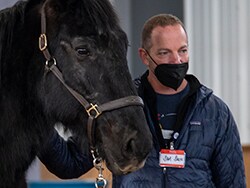 "Humans and horses have worked together for hundreds of years," Alba said. "Horses have been used to reconnect people with their bodies. Working with horses is amazing for communication, too, because trying to move a 1200-pound horse is impossible with force; you need to lead with influence and not power."
This past January, 20 physicians participated in two 4-hour-long events that launched Stables to Stethoscopes. Each physician was paired with their very own horse to learn with. "So far we've had great results reported back to us," Alba said. "We've heard people say that they've been more confident at work and in leadership positions, they've improved their work-life balance, experienced greater mindfulness, and formed better relationships with patients. We are trying to cut back on people leaving work feeling overwhelmed and losing fulfillment from practicing medicine."
According to Alba, horses are especially helpful when it comes to coping with burnout because they offer nonjudgmental feedback and physicians have increased awareness from interacting with something new.
"Horses are great at teaching leadership and communication. Horses provide experiential learning and target concepts that are more challenging to develop in a classroom setting," Merritt added. "The ranch helps things like verbal and nonverbal communication styles become more concrete and understandable."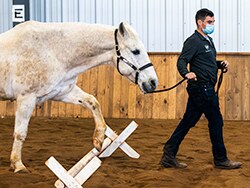 As the pandemic continues to wear on and new information is constantly arising, communication with both patients and peers is especially important for physicians.
"When you're in medical school, you're trained all about medicine and you become an expert in disease and pathology," Alba said. "But you don't learn communication skills with patients or how to be leaders. The pandemic has made more doctors rely on those skills."
Stables to Stethoscopes was made free for physicians and resident physicians who took part thanks to funding, including from Hearts & Horses. Michele Alba is currently looking to expand the program for a wider range of physicians as well as nurses. Additionally, she is hoping to see equine-assisted learning become part of the curriculum for residents so they can hone these important interpersonal skills.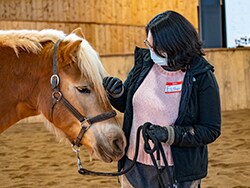 Merritt stressed the positive assets that equine-assisted learning can offer: "We teach good horsemanship. The connection and bond with a horse come from a deep appreciation for patience and gentleness, sensitivity, and a key awareness to how you're showing up when working with a horse."
Along with the program for medical professionals, Hearts & Horses also offers programs for youth at risk, veterans, individuals suffering from Alzheimer's disease or dementia, and therapy services where doctors can meet clients on horses.
"We provide people hope who might not otherwise have had it," Merritt said. "Every day we are changing lives for individuals, reframing how they see the world for themselves."
Follow Medscape on Facebook, Twitter, Instagram, and YouTube.
Credits:
Lead Image: Tamara Merritt
In-Article: Tamara Merritt
Medscape Medical News © 2022 WebMD, LLC

Send comments and news tips to news@medscape.net.
Cite this: How to Ease Physician Burnout? A Horse, of Course! - Medscape - Feb 15, 2022.