The American College of Sports Medicine (ACSM) has issued new recommendations for exercise/physical activity in people with type 2 diabetes, which update a 2010 joint ACSM/American Diabetes Association position statement.
The guidance has been published in the February issue of Medicine & Science in Sports & Exercise.
"This consensus statement provides a brief summary of the current evidence and extends and updates the prior recommendations," the authors explain.
In the past decade, there has been a "considerable amount" of research about exercise in people with type 2 diabetes, they add, while the prevalence of diabetes has steadily increased.
The updated recommendations have been "expanded to include physical activity — a broader, more comprehensive definition of human movement than planned exercise — and reducing sedentary time," the authors note.
"The latest guidelines are applicable to most individuals with diabetes, including youth, with a few exceptions and modifications," lead author Jill A. Kanaley, PhD, said in a press release from the ACSM.
The key takeaway is that "all individuals [with type 2 diabetes] should engage in regular physical activity, reduce sedentary time, and break up sitting time with frequent activity breaks," said Kanaley, a professor in the Department of Nutrition and Exercise Physiology, University of Missouri, Columbia.
"Exercise can play an important role in managing type 2 diabetes, and workouts can be modified to fit the abilities of most people," she stressed.
And those with type 2 diabetes who want to lose weight "should consider workouts of moderately high volume for 4 to 5 days per week," she added.
Six Key Tips for Physical Activity in Adults With Type 2 Diabetes
The consensus statement gives six key tips for physical activity in adults with type 2 diabetes, as follows.
Regular aerobic exercise improves glycemic management; meta-analyses have reported fewer daily hyperglycemic episodes and reductions in A1c of 0.5%–0.7%.

High-intensity resistance exercise, when performed safely, is better than low-to-moderate intensity resistance exercise for glucose management and attenuation of insulin levels. Resistance exercise typically results in improvements of 10% to 15% in strength, bone mineral density, blood pressure, lipid profile, skeletal muscle mass, and insulin sensitivity.

Exercise after meals, such as taking a walk after dinner at one's own pace, takes advantage of the blood glucose-stabilizing effects of exercise.

Reduce sedentary time by taking regular breaks for small "doses" of physical activity, which can modestly attenuate postprandial glucose and insulin levels, particularly in individuals with insulin resistance and a higher body mass index.

To prevent hypoglycemia during or after exercise, people taking insulin or insulin secretagogues should increase carbohydrate intake, or if possible, reduce insulin.

People who are taking beta blockers should not rely on a heart monitor to measure workout intensity. They could ask a certified exercise professional about using ratings of perceived exertion to track how a workout feels.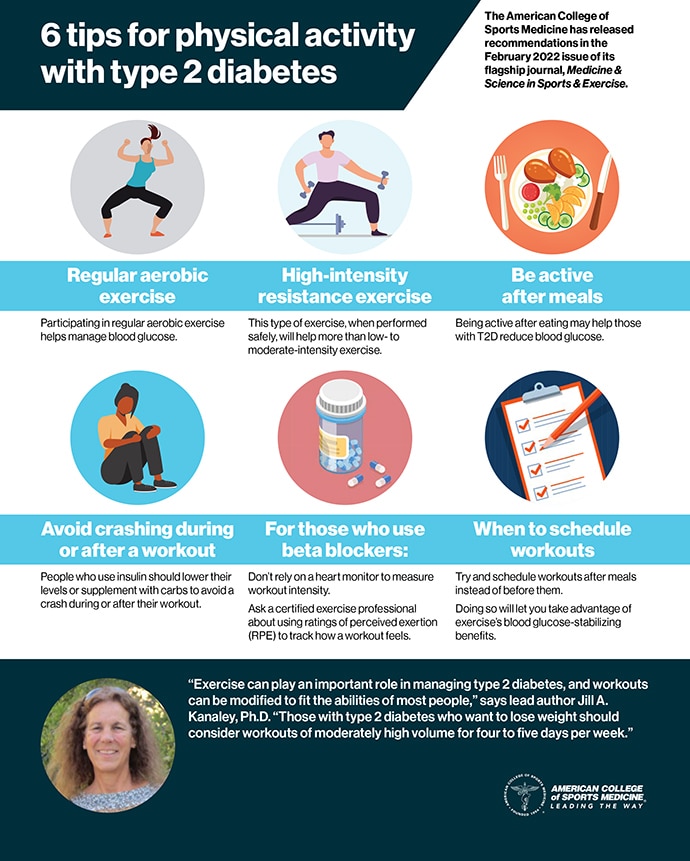 Other Recommendations
The consensus statement also summarizes precautions that people with complications of type 2 diabetes (such as neuropathy, retinopathy, kidney disease, and hypertension) should take.
Low impact exercises for flexibility can help introduce sedentary people to physical activity, the consensus group writes. Balance exercises can be helpful for older adults.
Weight loss > 5% can benefit A1c, blood lipid, and blood pressure levels. Moderate exercise 4 to 5 days a week can reduce visceral fat.
In studies of youth with type 2 diabetes, intensive lifestyle interventions plus metformin were not superior to metformin alone for managing glycemia. Physical activity goals are the same for youth with or without diabetes.
Pregnant women with diabetes should participate in at least 20 to 30 minutes of moderate-intensity exercise most days of the week.
Participating in an exercise program before and after bariatric surgery may enhance surgical outcomes.
Kanaley has reported receiving a grant from the National Institutes of Health. Disclosures for the other authors are listed in the article.
Med Sci Sports Exerc. 2022;54:353-368. Full Text
For more diabetes and endocrinology news, follow us on Twitter and Facebook.
Credits:
Lead Image: Olga Shcherenko | Dreamstime.com
Infographic: American College of Sports Medicine
Medscape Medical News © 2022 WebMD, LLC

Send comments and news tips to news@medscape.net.
Cite this: Update on Advice for Physical Activity in Type 2 Diabetes - Medscape - Feb 11, 2022.