Eloise Quetel is no germaphobe.
For 4 years now she has been preserving and restoring historical human remains, hundreds of centuries-old bones and wet specimens. In her lab under one of the libraries of Sorbonne University in Paris, Quetel opens up ancient jars containing syphilis specimens, skin affected by smallpox, hips lesioned by measles. She cleans bones, refills conservation solutions, scrapes ancient mold — sometimes by hand.
Quetel is the first woman to take care of the collection known as the Dupuytren Museum, which has been closed to the public since 2016. Under her care are over 15,000 anatomic and pathologic specimens that are not only vital to the history of medicine but can also teach us valuable lessons on doctor-patient relationships or the importance of environment for human health — and even, perhaps, help us better understand the evolution of viruses.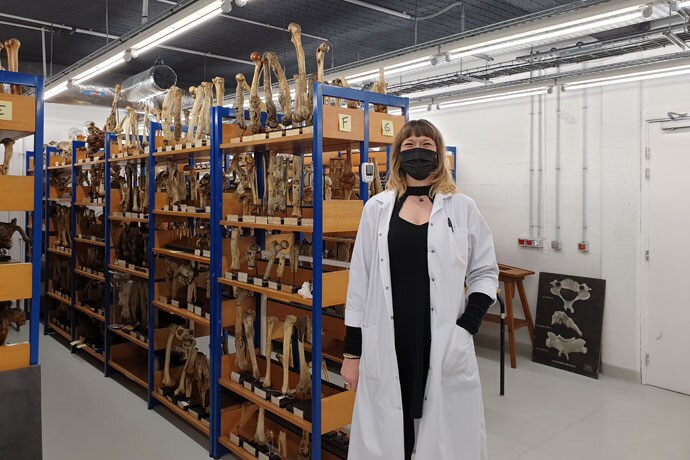 Eloise Quetel in her lab at Sorbonne University
On the day I visit the Sorbonne University, the library is full of masked students busily tapping on their laptops in the brightly lit, modern space. I follow Quetel through a plain white door into the underbelly of the library, where a maze of narrow corridors leads to a room housing the anatomic and pathologic Dupuytren collections. Before we enter, Quetel warns me that the place is not for the squeamish — some of her visitors have been close to fainting.
How Dupuytren Got Its Name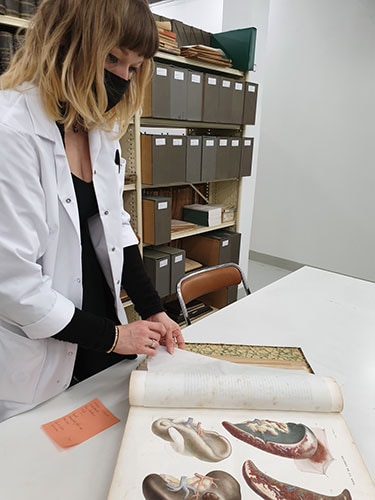 The first thing I see, however, is a room stacked with ancient books, including Anatomie Pathologique du Corps Humain, an 1842 atlas of pathology that boasts medical illustrations of unrivalled beauty (it also describes multiple sclerosis for the first time). Here, Quetel also shows me a simple portrait of Guillaume Dupuytren, a French doctor considered one of the greatest surgeons of the 19th century, and whose name the collection now carries.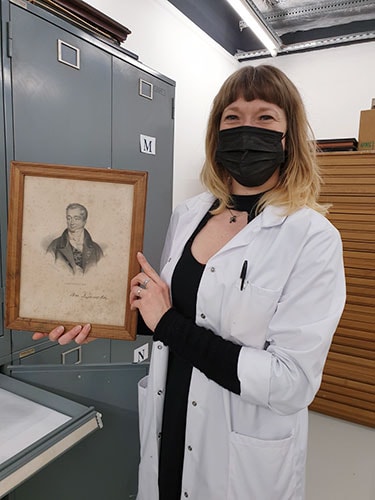 Dupuytren was not only a highly accomplished doctor but a wealthy one too — he profited substantially from both his fame and his work as a personal medic to the French king Louis XVIII. Upon his death in 1835, Dupuytren bequeathed 200,000 francs, a considerable fortune back then, for the establishment of a pathologic anatomy collection in Paris. The Dupuytren Museum opened a mere few months later, soon counting 6000 specimens: books, drawings, scientific instruments, dry mounted bones, anatomic waxes, and various tissues preserved in fluids.
The heyday of the collection lasted a century. In 1937, the Dupuytren Museum closed for the first time, since the location where the specimens were housed fell into disrepair. The collection suffered. Some pieces were lost, others improperly stored in the cellars of the University of Paris — including many stashed by the boiler room. Thirty years later the museum opened once again, inviting the public to view the historical specimens at the Faculty of Medicine of the University of Paris.
Yet the Dupuytren collection didn't regain its 19th century fame. The timing was bad. On one hand, Quetel tells me, in the beginning of the 20th century, medicine was becoming very much oriented toward the micro vs the macro — looking under the microscope, performing various tests and scans instead of seeing the patient as a whole. The doctors and researchers, fascinated by new technologies, lost interest in the Dupuytren collection. "Histology came, and radiographs, and it was easier to see into the body, so why keep the entire arm?" Quetel says.
On the other hand, the public started viewing the place as a "monstrosity museum," which was reflected in the way press wrote about the collection. This is why Quetel believes that it's not enough to display specimens on the racks — you need to add context and educate visitors so that they learn something about medicine and the human condition in general. That, she says, is now part of her job, too.
The Collection's Most Famous Specimens
Next Quetel leads me into a full of bones, shelves of skulls, femurs, ribs, and complete skeletons. Here also is the collection's oldest specimen: a skeleton of Elisabeth Quériau, a young woman who died in 1752 of what was assumed to be "softening of the bones" due to her many closely spaced pregnancies (in fact, we now know that she suffered from rickets). The skeleton is tiny, badly misshapen, and bizarrely dark brown, which, Quetel tells me, is the consequence of a too generous application of varnish, used to discourage mold and insect infestations.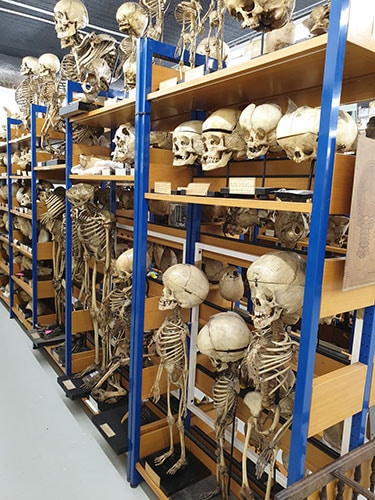 Insects and mold are something that Quetel has to worry about, too. When she arrived to work on the collection in 2017, she was warned that a part of it that was housed in the basement of a Parisian hospital was in particularly poor shape. There was a problem with water damage from above, and the ceiling had partially collapsed. "I saw bones laying in the storage area full of water, without electricity — it was a mess," Quetel says. She still has many specimens to clean that are covered not only in dust and mold but also in tiny flakes of the ceiling's plaster, which cling stubbornly to the ancient bones.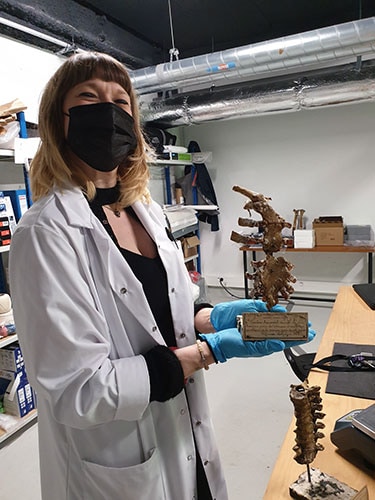 Another challenge with restoring the collection, Quetel says, is that there was no standardization of how to preserve human remains in the 18th and 19th centuries, so the pieces have been prepared with vastly heterogeneous techniques — bones painted with multiple types of varnish, wet specimens placed in various types of containers, with different sealants and preserving liquids. So far, Quetel has restored over 500 specimens, adjusting her approach each time. "It's case by case," she says.
One of the pieces she has recently restored is also the most famous: the brain of Louis Victor Leborgne, or "Monsieur Tan." An epilepsy sufferer who was hospitalized at the age of 30 when he lost his ability to speak (he could only utter the word "tan," hence his nickname), Leborgne spent 21 years in various hospitals in Paris, while his health got progressively worse, including paralysis of the limbs.
After Tan's death in 1861, his brain was studied by Paul Broca, a famed anatomist. Broca managed to pinpoint the damaged area in the posterior infernal frontal gyrus of Tan's left hemisphere — an area which the anatomist deemed vital in language processing. That region became known as Broca's area, while Monsieur Tan became one of the most famous patients in the history of medicine.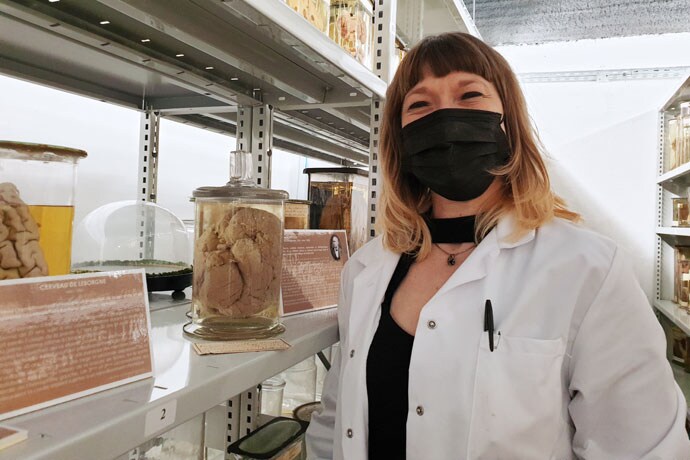 The 19th century brain of Louis Victor Leborgne, or "Monsieur Tan," which led celebrated anatomist Paul Broca to the discovery that Broca's area is involved with language.
Not Finished Making Medical History
Quetel believes that Tan's brain could still be interesting to researchers — it could be investigated with 3D MRI imaging, for instance (a CT scan in the 1980s revealed that the lesions went deeper than Broca assumed). In fact, many of the museum's specimens could be employed to push medicine forward. Quetel is now collaborating with a group of international researchers working on sequencing old measles genomes. They plan to retrieve the virus's genetic material from one of the collection's wet pieces — a pelvis of a girl who succumbed to measles in 1906 that could provide the oldest measles virus genome to date.
"We are interested in the origin of the virus as a human disease and how viral diversity was affected by broad-scale vaccination programs," says Ariane Düx, disease ecologist at Robert Koch Institute, Berlin, and one of the researchers working on the project.
Quetel imagines similar work could be done with other pathogens, too. "We do have syphilis cases, tuberculosis specimens, we have nearly every pathology you can find," she says.
As we move away from jars of wet specimens (the fetuses are indeed troubling) and toward shelves of art-like anatomica waxes, Quetel points out other ways, besides research, in which Dupuytren collection could still influence medicine.
The museum presents, for instance, a very different picture to the modern approach to doctor-patient relationships — and not only because of its focus on the whole body instead of cells and tests and scans. The detailed patient histories that go along many of the specimens show a much more personalized, deeper engagement, something that Quetel believes would be vital to show 21st century medicine students, like the ones I've seen on their laptops in the library.
For the general public, there is an important message here, too, she says, as she points out anatomic waxes of people born with deformities due to environmental contamination or poor diet — a message of how mistreating the planet and our own bodies can lead to pathology. It's not a new story but one that is now more important than ever.
All these messages are ones that Quetel hopes to showcase when part of the collection reopens to the public — although it's impossible to say when that might happen. For now, she still has thousands of specimens to catalogue, label, and restore. And there may still be surprises along the way.
Quetel has recently rediscovered, for example, Monsieur Tan's skull hidden among the other dusty, moldy specimens — "a medical history treasure we didn't even know we possessed."
Marta Zaraska is a science journalist based in France and the author of "Growing Young: How Friendship, Optimism and Kindness Can Help You Live to 100."
For more news, follow Medscape on Facebook, Twitter, Instagram, and YouTube.
Credits:
Lead Image: Martin Bureau/AFP via Getty Images
All Other Images: Marta Zaraska
Medscape Medical News © 2022

Send news tips to news@medscape.net.
Cite this: An Exceptional Specimen: Behind the Scenes at a Famed French Anatomic Museum - Medscape - Feb 08, 2022.