In 2020, it was hard to imagine that the situation could get worse for doctors.
But 2021 presented a new set of challenges. As quarantines lifted and physicians tried to get back to work, they were forced to deal with reduced staff, continuing COVID stress, and pandemic-related anxieties about family and loved ones.
Medscape's National Burnout and Depression Report 2022 asked more than 13,000 physicians from 29 specialties to share details about their lives and struggles with burnout and depression this past year. The results paint a picture of physicians trying to fulfill their mission to care for patients, but struggling to maintain their own well-being amid a global pandemic.
Burnout Bump
In last year's report, 42% of physicians said they were burned out. This year, that number increased to 47%. Perhaps not surprisingly, burnout among emergency physicians took the biggest leap, increasing from 43% last year to 60% this year. Critical care (56%), ob/gyn (53%), and infectious disease and family medicine (both at 51%) rounded out the top five specialties with doctors experiencing burnout in 2021.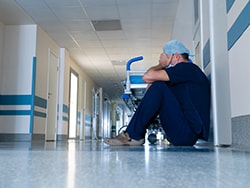 Burnout has typically been a greater problem for women than men physicians, and the pandemic hasn't changed that. "There's no question that women have reported far more role strain during the pandemic than men," says Carol A. Bernstein, MD, psychiatrist at Montefiore Health System and professor and vice chair for faculty development and well-being at the Albert Einstein College of Medicine in New York. And indeed, 56% of women and 41% of men reported burnout in this year's survey.
The causes, however, weren't especially pandemic related — or at least not directly. As in previous surveys, the major contributing factor to burnout was too much paperwork (60%), such as charting and other bureaucratic tasks. Treating COVID-19 patients was cited as the major source of stress by 10% of respondents. Thirty-four percent said too many hours at work was the biggest contributing factor to burnout.
The Nature of the Beast
What is burnout like for these doctors? One described the conditions that lead to burnout like this: "I barely spend enough time with most patients, just running from one to the next; and then after work, I spend hours documenting, charting, dealing with reports. I feel like an overpaid clerk." Another said, "Where's the relationships with patients that used to make this worthwhile?" Others fingered staffing shortages at work or an overwhelming home life: "Staff calls in sick; we're all running around trying to find things and get things done. It never ends."
Of those who do experience burnout, the problem reaches beyond the workplace, with 54% saying that their burnout has a strong/severe impact on life and 68% reporting that burnout affects their relationships. One respondent said, "I'm always tired; I have trouble concentrating, no time for the children, more arguments with my hubby." Another put it this way: "Home is just as busy and chaotic as work. I can never relax."
It doesn't help matters that physicians are likely to think they're the only professionals experiencing job burnout. For example, only 36% of respondents believe teachers experience comparable burnout, yet more than 41% of teachers leave the profession within 5 years of starting — often due to burnout.
When it comes to methods for coping with burnout, exercise is the clear favorite, with 63% of respondents saying exercise helps maintain their mental health. Forty-one percent talk with family members or close friends. However, less healthy coping mechanisms were cited as well, such as isolating themselves from others (45%), sleeping (41%), and eating junk food (35%) or drinking alcohol (24%).
When it comes to trying to alleviate burnout, 29% have tried meditation or similar stress-reduction techniques, while others have reduced their work hours (29%) or changed their work settings (19%).
"Now I Feel Like There's No Hope"
About a fifth of physicians (21%) said they suffered from clinical depression, and 64% reported feeling "blue, down, or sad." One physician characterized their depression this way: "I used to think my life would be great. Now I feel like there's no hope, this will never get better, I'll never be happy."
Of doctors reporting depression, 53% said their illness did not affect their interactions with patients, while 34% said depression caused them to be more easily exasperated by patients.
When asked about seeking help for depression, about half (49%) said they believed they could deal with emotional stress on their own. Unfortunately, fear of medical boards finding out keeps 43% of physicians from reaching out for help, according to the survey.
For more news, follow Medscape on Facebook, Twitter, Instagram, and YouTube.
Credits:
Lead Image: Dreamstime
Medscape Medical News © 2022

Send news tips to news@medscape.net.
Cite this: Physician Burnout, Depression Compounded by COVID: Survey - Medscape - Jan 21, 2022.