As a fourth-year medical student at the University of New Mexico Health Sciences Center, Danielle Rivera used a motorized scooter when on hospital grounds instead of having to be on her feet for hours. She has several conditions that developed after getting mononucleosis more than 5 years ago — similar to the effects of long COVID — that cause severe fatigue and prevent her from standing for any length of time.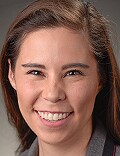 The conditions include post-viral syndrome or fatigue, or more formally myalgic encephalomyelitis/chronic fatigue syndrome (ME/CFS), and postural orthostatic tachycardia syndrome (POTS) which affects blood flow — usually lightheadedness, fainting and an uncomfortable, rapid increase in heartbeat — when she stands.
Despite facing more physical challenges than her peers, the 30-year-old Rivera told Medscape Medical News she is determined to become a doctor and pave the way for other students with disabilities to follow. But she wishes it didn't have to be so difficult. She graduated in December, a semester behind her classmates, delayed because of the paperwork to prove her disability and receive extra testing provisions.
"I had accommodations both at UNM and for the standardized tests. For me, I needed accommodations to manage my [POTS] symptoms and my brain fog and fatigue throughout the long testing day."
Rivera told Medscape, "My school was really supportive with accommodations, so I didn't have too much trouble until it came time for the Step exams." The National Board of Medical Examiners (NBME), which oversees the three-step United States Medical Licensing Examination (USMLE), required a significant amount of information, such as medical, academic, and personal records to document her disability and prove the need for testing accommodations, Rivera said.
Documentation also included her history of testing accommodations in high school and previous standardized testing. The process involved finding a doctor who specialized in these conditions and could formally diagnose her beyond what her personal doctor diagnosed.
Even after she submitted the documentation, the school requested further information. The extensive research meant Rivera couldn't graduate with her class, and as a result, won't be matched for a residency program in psychiatry for another year, she claims.
Out of a handful of students in her class who received various accommodations from their school for their disabilities, Rivera believes she's the only one to receive testing accommodations from the NBME. "Some were denied, [others] didn't want to go through the process, or felt it was not worth it," she said.
In recent months, several groups — from students to researchers — have campaigned for reforms so that medical students with disabilities have an easier time on their path to becoming doctors, with the hope that medical schools will modernize their policies to treat students with disabilities like other diversity issues.
According to the Journal of the American Medical Association, 3% of the country's doctors and about 5% of the nation's medical students are disabled. Meanwhile, the Centers for Disease Control and Prevention report that 26% of American adults have some form of disability.
"Committed to Diversity"
Barbara Del Duke, NBME's director of communications, told Medscape the three-step USMLE series "is committed to diversity, equity, and inclusion in medicine. As part of this commitment, reasonable and appropriate accommodations are provided to individuals who demonstrate they are disabled within the meaning of the Americans with Disabilities Act (ADA)."
Although Del Duke couldn't share confidential information about individual examinees, she explained the general process. She said USMLE provides guidelines to help students determine the most appropriate documentation to show an impairment and need for testing accommodations.
"Occasionally, additional documentation is requested as part of the process to make a more informed decision and to better understand how to meet an examinee's needs when taking USMLE," she said.
The USMLE and its Disability Services Unit "provide a variety of accommodations to support examinees and are committed to the efficient and timely processing of requests for accommodations." It's up to individual schools how they use the USMLE results in terms of promotion and graduation, Del Duke added.
She also explained how testing accommodations compare to progress on general accessibility, as required under the Americans with Disability Act, passed 30 years ago. "Accommodations vary based on an individual's situation. Overall, we will continue to strive to support exam access while ensuring test fairness and validity of USMLE through our research, operations, and partnerships with like-minded organizations."
The testing accommodations include guidelines for learning disorders, ADHD, visual impairments and psychiatric disorders, but not specifically for physical disabilities.
Rivera, who serves in the American Medical Association (AMA) Medical Student Section (MSS), proposed a resolution to the AMA House of Delegates asking for further testing accommodations for students with disabilities taking USMLE exams. The resolution is expected to be considered at its meeting next year.
Specifically, it called for the AMA to "collaborate with medical licensing organizations to facilitate a timely accommodations application process" and that the AMA, in conjunction with the NBME, "develop a plan to reduce the amount of proof required for approving accommodations to lower the burden of cost and time to medical students with disabilities."
Time Is of the Essence
Samantha "Sam" Schroth had just graduated college with a degree in animal science and was ready to begin veterinary school when her life changed dramatically. A week after graduating in May 2013, she was standing in the front yard of a friend's cabin when a dead tree fell on her, causing her to sustain a spinal cord injury that left her paralyzed from the waist down.
It led her to switch her medical focus from animals to people with a goal of educating people about those who identify as disabled. It also led to her becoming Ms. Wheelchair America in 2015, an advocate for people with disabilities.
A fifth-year graduate student at Northwestern University, Schroth is pursuing dual MD and PhD degrees. She considers herself a minority as a woman in medicine who also has a disability. "There are not enough of us who identify as having a disability in medicine. It is absolutely vital we increase the representation of the disabled population within the medical field."
Schroth, 30, feels fortunate that her medical school has been so supportive and accommodating to her as a student with a disability. She said she realizes other students aren't as fortunate, instead struggling to receive accommodations so they can study appropriately for their chosen profession.
"When it comes to testing accommodations, whether that be a part of my medical school curriculum or board exams, what is important is for me to have access to an accessible bathroom and sufficient break time to utilize that restroom."
Although this wasn't an issue during her regular school exams, she said she needed more time for the Step 1 board exam, learning there wasn't an accessible bathroom on the same floor as she took her test. "So during the middle of my exam I had to wait for an elevator to go to a different section of the building, find the bathroom, use it, and then return and hope I wasn't losing valuable testing time if my break time ran out."
Pushing for Change
Efforts to advocate for students with disabilities also include a recent petition to the Association of American Medical Colleges' Liaison Committee on Medical Education (LCME) from the 2-year-old Medical Students with Disability and Chronic Illness (MSDCI). The national student-led organization began at Stanford School of Medicine. The petition, presented to LCME last month, had more than 670 signatures advancing disability training as a requirement for accreditation of medical schools.
The petition was endorsed by a handful of disability advocacy groups, including the Society of Physicians with Disabilities, and several doctors known for being disability advocates.
MSDCI is currently writing a guide for medical students with disabilities applying for and receiving accommodations, according to the group's leaders. The guide covers student rights for accommodations, the role of disability service providers, receiving accommodations during the preclinical and/or clinical years, among other issues.
Several MSDCI members are also working with their respective institutions to revise their technical standards for admission to be more inclusive of students with disabilities and/or chronic illnesses.
For instance, Harvard Medical School's technical standards for admission, continuation, and graduation state that "a candidate for the MD degree must have abilities and skills in five varieties, including observation; communication; motor; conceptual, integrative, and quantitative; and behavioral and social. Technological compensation can be made for some handicaps in certain of these areas, but a candidate should be able to perform in a reasonably independent manner. The use of a trained intermediary means that a candidate's judgment must be mediated by someone else's power of selection and observation."
A note recently posted on Harvard's website states that the standards are "in the process of being revised and the updated version will be posted here upon approval."
In November, AMA Delegates adopted a policy that "urges" medical schools and graduate medical schools to take actions that include:
Creating standards that emphasize abilities rather than limitations

Providing a liaison who understands the Americans with Disabilities Act and related resources

Fostering "a supportive, inclusive environment where students feel comfortable accessing disability support services"
The policy also "encourages the development of transparent, equitable processes for evaluating disability accommodation requests during required testing and initial board certification examinations." Testing accommodations — such as providing extra time or "low-distraction environments" — are the most often requested among medical school students, the policy continued.
Rivera said she is comforted by the AMA policy and other efforts to support medical students with disabilities. "I think we are moving forward in a lot of ways I'm excited about." The reforms are progress from 5 years ago when she started medical school, she said.
"There is a certain level of 'ableism' in medicine," Rivera said. "We need to see disabled medical students and doctors be reflective of the percent of disabled people in the American population and help vastly more students get through applying and med school."
She noted that many students don't graduate in 4 years or at all, so there is a great need for better policies in medical school and residency.
"I'm very optimistic about all the efforts to create our own initiatives and push policies. I've started to see more collaboration. I'm optimistic, but I do think we have a long way to go."
For more news, follow Medscape on Facebook, Twitter, Instagram, YouTube, and LinkedIn
Lead Image: SDI Productions/Getty Images
Image 1: Danielle Rivera
Medscape Medical News © 2022

Send news tips to news@medscape.net.
Cite this: Advancing Testing Reforms for Medical Students With Disabilities - Medscape - Jan 20, 2022.