Early in December a jury awarded a couple $10 million in a case involving a hysterectomy that went badly wrong, according to a story in the New York Post, among other news sites.
In October 2018, Michele Nugent, 41, of Staten Island, New York, underwent the procedure at Richmond University Medical Center in West New Brighton. After giving birth to four children via cesarean delivery, she had developed scarring and was suffering from excessive and painful uterine bleeding.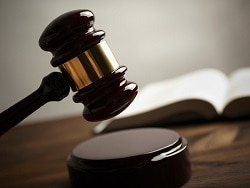 A few days after her hysterectomy, however, Nugent experienced what she described as the worst pain of her life, along with nausea, vomiting, and urinary leakage. She was brought to the hospital emergency department, where she was reportedly told by staff there that her symptoms were normal complications of her surgery and that the treating gynecologist would soon be in touch.
Despite these reassurances, Nugent's postsurgical issues continued to worsen over the next 10 days. Among other things, she lost almost complete control of her bladder, which required her to wear adult diapers. Still, her doctor's office told her to put off visiting until her next scheduled appointment.
At that meeting, which took place 13 days after Nugent's surgery, the gynecologist diagnosed a urinary tract infection and placed her on antibiotics. He also encouraged her to return to work the following week.
Nugent's problems persisted, however. At an office meeting that included 20 men, she suddenly lost complete control of her bladder, despite going regularly to the bathroom and wearing adult diapers. "Out of nowhere," she testified at trial, "I urinated all over myself and had to leave." The experience left her humiliated and embarrassed.
Several weeks later, Nugent consulted with a urologist, who soon repaired the cause of her urinary problems — a fistula between her vagina and bladder.
Though successful, the procedure still left Nugent with, what are for now at least, intractable symptoms. At night, she's forced to make multiple trips to the bathroom, and sex with her husband has become all but impossible because of the pain it elicits.
In reaching its verdict, the jury of four women and two men faulted the physician for not only performing a faulty surgery but for failing to identify and correct his mistake. In so doing, it concluded, he had departed "from good and accepted medical practice."
Jurors divided the $10 million judgment against him into two parts: $6.5 million for Nugent's past and future suffering, and $3.5 million to her husband for his past and future loss of consortium — that is, his loss of intimacy with his wife.
As for the medical center, the Nugents agreed to dismiss it from the case prior to trial.
Physician Accused of Gross Negligence Finally Surrenders His License
A California doctor under investigation multiple times during the past two decades has surrendered his medical license, as a story reported by Valley Public Radio indicates.
Since 1999, the Medical Board of California has opened three investigations against Bakersfield ob/gyn Arthur Park, MD, each involving accusations of gross negligence "following the deaths of mothers and/or their babies during childbirth." In 2000, and again in 2020, the board voted that Park should lose his license but then suspended its decision, which enabled Park to continue practicing under probation and on condition that he complete remedial education.
Early in 2021, however, the board filed yet another accusation against him, this one involving the 2019 death of Demi Dominguez and her newborn baby. According to the accusation, Dominguez died of preeclampsia because Park and a colleague failed to treat her high blood pressure prior to delivery. While doctors attempted to resuscitate her, Dominguez's son was delivered by emergency cesarean but died only a few hours later. The board said that Park was "grossly negligent in his care and treatment" and that his actions constituted "an extreme departure from the applicable standard of care."
Early last month, even before the board and attorney general's office had completed their investigations, Park agreed to surrender his medical license.
Patient advocates were pleased by the doctor's decision but also disappointed that he'd no longer be compelled to stand before a judge, as he had been scheduled to do in connection with the Dominguez case.
A review of public records by Valley Public Radio indicates that — between the various board accusations against him and an additional nine lawsuits alleging malpractice and other issues — at least two mothers and five children have died while under Park's care. Others whose delivery he oversaw claim their children were permanently injured during childbirth.
Although Park will be eligible to reapply for his license after 2 years, a representative of his medical office said Park had decided to retire from practicing medicine.
Delayed Cancer Diagnosis Prompts Med-Mal Suit
An Illinois woman who claims her doctor and his staff failed to follow up on her abnormal Pap smear has filed a malpractice suit against them and their medical group, reports a story in the Madison-St. Clair Record.
In early 2019, Lisa Albright visited the medical group after she had experienced pain during intercourse. A family nurse practitioner at the practice performed a Pap smear, and Albright was instructed to wait a few days and check her patient portal for the results. In her suit, Albright claims those results were abnormal. Despite this, neither the nurse practitioner nor anyone else at the practice scheduled a follow-up test or other diagnostic assessment.
Approximately 5 months later, Albright consulted a new physician, whose follow-up testing indicated that Albright had a cervical squamous cell carcinoma.
Albright's suit alleges that the diagnostic delay has, among other things, caused her to undergo multiple surgical procedures and treatments, face a shorter life expectancy, and endure a loss in the quality of her life.
At press time, Albright and her legal representative have not yet determined the amount they will ask for — it will be set after the severity and permanency of Albright's injuries have been more thoroughly investigated. But it's expected that they will seek damages, along with all legal and court expenses.
The defendants haven't responded to the plaintiff's suit.
The content contained in this article is for informational purposes only and does not constitute legal advice. Reliance on any information provided in this article is solely at your own risk.
Wayne J. Guglielmo, MA, is an independent journalist based in Mahwah, New Jersey.
For more news, follow Medscape on Facebook, Twitter, Instagram, YouTube, and LinkedIn
Credits:
Images: Getty Images
Medscape Business of Medicine © 2022

Send news tips to news@medscape.net.
Cite this: Doc's Botched Surgery Leads to Incontinence and $10 Million Judgment; More - Medscape - Jan 19, 2022.