An influential federal advisory panel endorsed flat across-the-board Medicare payment levels for clinicians for 2023, with several members raising the idea of a need for future increases.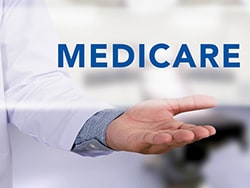 The Medicare Payment Advisory Commission (MedPAC) on Thursday voted unanimously to recommend that Congress stick with current law regarding Medicare's physician fee schedule. The bipartisan Medicare Access and CHIP Reauthorization Act (MACRA) was designed to reward clinicians through bonus payments while controlling costs with a freeze or small increases in what amount to base rates. As passed in 2015, MACRA mandated a 0.0% increase — basically, flat payments — for the Medicare physician fee schedule from 2020 to 2025.
Congress in late 2020, though, overrode MACRA and mandated for 2021 a one-time increase in payments of 3.75%. At a December 2021 MedPAC meeting, a member of this advisory commission, Lynn Barr, MPH, said the concept of freezing the physician fee schedule and applying bonuses through the Merit-based Incentive Payment System (MIPS) worked better in "a very low-inflation environment" than in the current one.
On Thursday, Barr said she hoped Congress would continue to intervene to adjust the Medicare physician fee schedule, due to concerns about inflation. Barr is the founder and executive chairwoman of Caravan Health, which works with clinicians in value-based payment models, such as accountable care organizations.
"We are experiencing an extraordinary amount of trauma in our physician workforce. It has gone beyond burnout," Barr said. "We're starting to see evidence of PTSD."
Given that, Barr said she worried about a freeze on the physician fee schedule as being perceived as "a slap in the face to people who are really on the front lines."
Fellow MedPAC members, including the panel's chairman, Michael E. Chernew, PhD, concurred with a need to reconsider how Medicare pays for clinicians' services. Chernew said there are questions about the "long-run sustainability" of the physician fee schedule, particularly in light of inflation concerns.
But the annual vote on payment recommendations to Congress was not the right venue to address their concerns, according to several MedPAC members. MedPAC votes each January on a set of recommendations that it presents to Congress in March on Medicare payment for the following year.
The current design of the physician fee schedule "is particularly problematic in a world of high inflation, and we need to think through exactly how that will play out," Chernew said. "The update recommendation turns out to be amongst the hardest places to do that."
Chernew said he would like to soon broadly consider issues of how Medicare pays the healthcare workforce.
Still, the American Medical Association (AMA) objected to the MedPAC vote affirming the current law — and freeze — on the Medicare physician fee schedule. In a statement, Gerald E. Harmon, MD, AMA's president, said the flat basic physician fee schedule for 2023 "imperils patient access to high-quality care as the costs to practice medicine continue to rise."
In AMA's calculations, adjusting for inflation in practice costs, Medicare physician payment has declined 20% from 2001 to 2020, Harmon said.
"The discrepancy between what it costs to run a practice and payment is sparking consolidation and driving physicians out of rural and underserved areas," Harmon said. "In addition to being asked to do more with fewer resources each year, physicians continue to face significant clinical and financial disruptions during the COVID-19 pandemic."
Advantage for Hospitals?
MedPAC members also expressed concern about the effects of MACRA-mandated freezes for the physician fee schedule on the medical profession.
Hospitals won't be as hampered by these pay limits as independent practices will be, giving them financial advantages, noted MedPAC member Lawrence Casalino, MD, PhD, of Weill Cornell Medical School. Maintaining the current MACRA freezes might thus play into a current trend in which more clinicians are seeking employment at hospitals, according to Casalino.
"Hospital employment of physicians may or may not be a good thing," Casalino said. "But if it happens, it should happen for good reasons, not because it's driven by differential updates" in Medicare payment rates.
There already are broad concerns about the pace at which hospitals are taking over medical practices and hiring formerly independent physicians. The Federal Trade Commission in 2020 announced a major study of the effects of physician group and healthcare facility mergers
Separately, an AMA analysis showed an acceleration of a trend away from private practice, defined as a practice wholly owned by physicians. The 2020 results found less than half — 49.1% — of doctors involved in patient care worked in a private practice, the AMA said in a report released this month. This marked the first time private practice was not the dominant approach since the AMA analysis began in 2012
Casalino also echoed Barr's concerns about the effect on the morale of physicians from continuing the MACRA-mandated freezes.
"It's been a tough time, and it's going on and on" for healthcare workers in general, Casalino said. "I'm hoping that we can consider these things during this coming year."
Among the 1.3 million clinicians who bill through Medicare's physician fee schedule, 55% are physicians. The remainder includes health professionals such as nurse practitioners, physician assistants, and physical therapists. Medicare in 2020 paid $64.8 billion under the physician fee schedule, which was $8.7 billion less than was spent in 2019, before the coronavirus pandemic, according to MedPAC staff. Congress separately provided "tens of billions of dollars in relief funds to clinicians," the agency staff noted.
Kerry Dooley Young is a freelance journalist based in Washington, DC. She is the core topic leader on patient safety issues for the Association of Health Care Journalists. Young earlier covered health policy and the federal budget for Congressional Quarterly/CQ Roll Call and the pharmaceutical industry and the Food and Drug Administration for Bloomberg. Follow her on Twitter at @kdooleyyoung.
For more news, follow Medscape on Facebook, Twitter, Instagram, and YouTube.
Credits:
Images: Dreamstime
Medscape Medical News © 2022

Send news tips to news@medscape.net.
Cite this: MedPAC Draws AMA Ire With Vote on 2023 Physician Pay - Medscape - Jan 14, 2022.